One of the big issues facing the natural world is human deforestation on an industrial scale. Illegal logging, land clearance and habitat destruction are causing all sorts of issues that seem near impossible to stop. One solution though, could be utilising drone power to plant trees on a previously unheard of scale.
The company looking to make this a reality is BioCarbon Engineering and it plans to use drones in a unique and innovative fashion: planting trees. Formed by ex NASA-engineer, Lauren Fletcher, BioCarbon is developing a system of pods, which can be fired into the ground by a drone, allowing it to plant a large number of trees in a short period of time.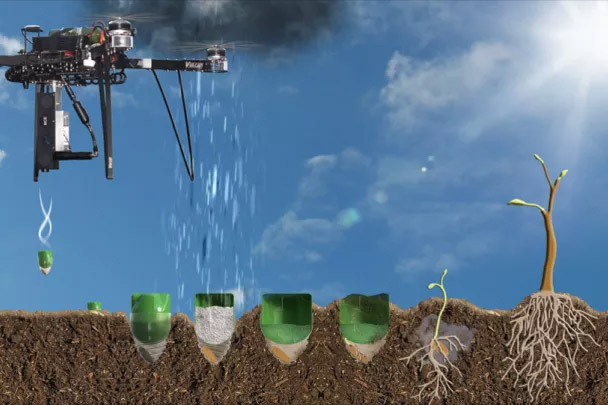 The system is a clever one, providing potentially a better starting point for saplings since the pods can be loaded with pre-germinated seeds and a nutritious hydro-gel, giving it all the minerals and moisture it needs to get started.
With just two drone operators handling a number of drones each – using automation to maximise the drone's capabilities and the humans to guide them – Fletcher believes it should be possible to plant upwards of 36,000 trees a day. That would work out to around a billion trees a year.
If that could be sustained, it would have a huge impact on the world's flora. While it wouldn't quite make up the shortfall between deforestation and reforestation (the current gap is said to be around 11 billion trees, as per The Independent) it would be a huge step in the right direction. If other companies got on board or BioCarbon was able to expand too, you could imagine that gap being closed quite quickly.
At this time the drones aren't ready for deployment, but prototypes have already impressed interested parties and a working version is expected to debut within the next few months. Earlier this year it took on extra investment from drone maker Parrot, to help continue the development of the seed-pod dispersal technology.
Discuss on our Facebook page, HERE.
KitGuru Says: This is an exciting idea. You can imagine fleets of hundreds of drones replanting huge swathes of land in no time at all.