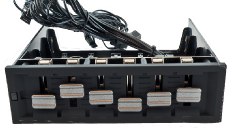 August 24th, 2011 at 8:31 am - Author
Installing the Sentry Mix involves selecting an available 5.25″ drive bay, sliding the unit into place and securing the Mix with the screws supplied by NZXT.
Here are two images with the NZXT Mix fan controller installed in our Phantom chassis. We must say it looks good and right at home.
The LCD's can be one of 5 colors; we can select between Red, Green, Blue, Orange or White. The full sized version of the lefthand image above is an animated .gif that will give us an idea what some of the colors look like.  We found the numbered LCD's are a touch on the bright side and unfortunately they can't be dimmed.
NZXT Sentry Mix Review

,