Advanced Micro Devices is working on a dual-chip graphics card with two code-named Hawaii graphics processing units (GPUs). The new flagship graphics solution will feature a liquid-cooling system and will be widely available from various manufacturers.
It took AMD over a year to develop a dual-chip graphics card with two Tahiti graphics chips. Being late to market, AMD Radeon HD 7990 did not manage to become truly popular since enthusiast-gamers already had Nvidia's GeForce GTX 690 and GeForce GTX Titan graphics boards. With dual-chip Hawaii solution, AMD will not make the same mistake again and be late to market with its new flagship graphics card.
At CeBIT 2014 trade-show AMD demonstrated its reference design Radeon R9 295 X2 graphics card with two Hawaii graphics chips, reports BouweenPC web-site. The graphics board clocks GPUs at 1GHz and uses a liquid cooling system akin to that of Asus Ares II solution.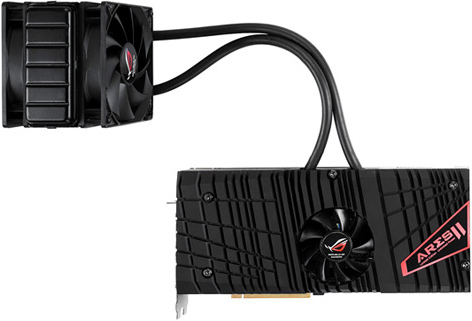 AMD's Radeon R9 295 X2 is projected to be launched in the coming weeks and will compete against rumoured Nvidia GeForce GTX graphics card with two GK110 graphics processors.
The price of a dual-chip Hawaii graphics solution should be rather high since it will feature an expensive printed-circuit board with two 512-bit memory buses, two high-end GPUs and an innovative cooling solution. Do not expect Radeon R9 295 X2 to cost less than $800.
AMD did not comment on the news-story.
KitGuru Says: The Radeon R9 295 X2 will likely become an ultimate solution for those who want to play in ultra-high-definition resolutions. Still, given the price, it will be a rather rare device.