Advanced Micro Devices on Thursday revealed all the details about its new family of graphics cards, the Radeon R9 and the Radeon R7 300-series. As reported, the whole lineup is based on existing graphics processing units with minor speed-bumps to improve performance in certain cases and games. The flagship Radeon R9 Fury-series adapters do not belong to the 300-series, but will co-exist with them in the market.
AMD uses existing code-named "Hawaii", "Tonga", "Pitcairn" and "Bonaire" graphics processing units for its new Radeon R7 and R9 300-series products. The company itself admits that the chips are rather mature, but claims that they were "reimagined" and actual products have been tailored for modern workloads. While this is true and the new Radeon graphics dapters can potentially deliver noticeable performance improvements over graphics cards based on the same chips, do not expect new performance levels from the upcoming Radeon 300-series offerings.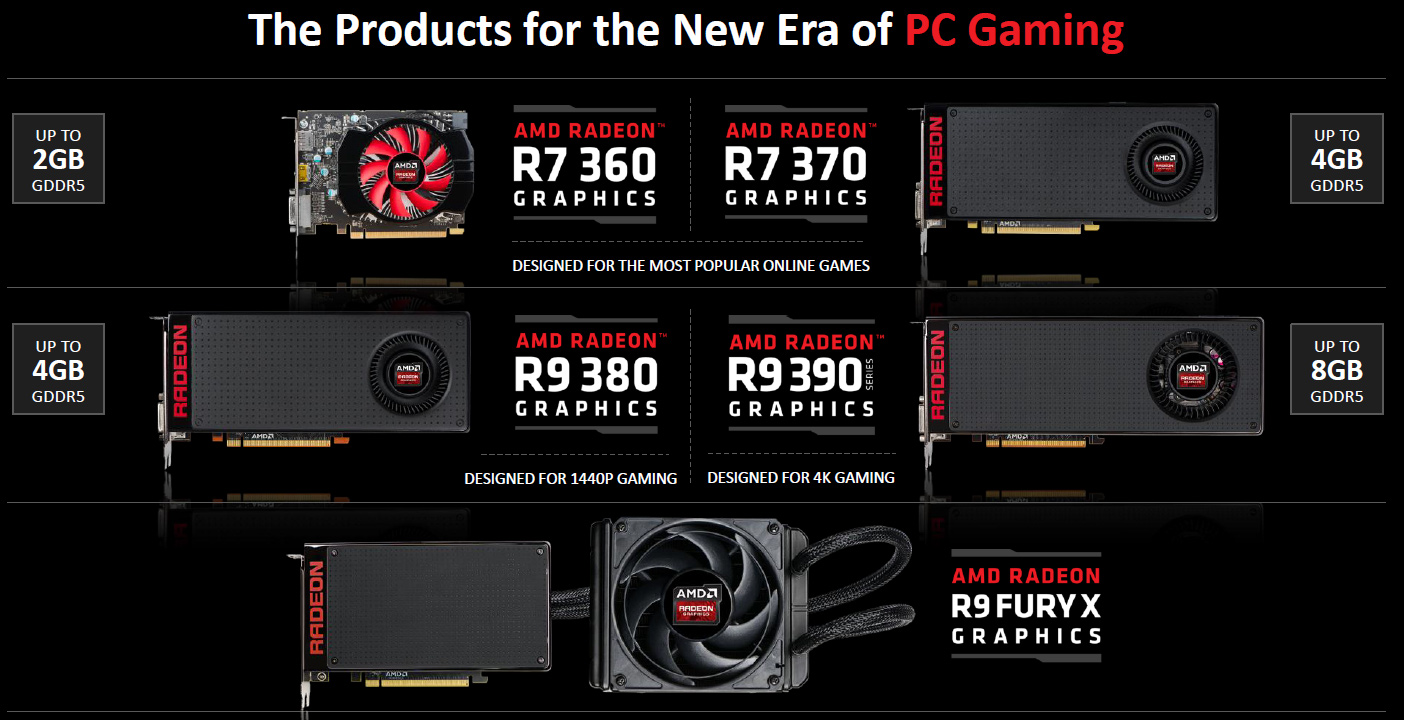 To differentiate its fresh Radeon R9 and R7 300-series graphics cards from predecessors, AMD enabled virtual super resolution (VSR) and frame-rate target control (FRTC) software technologies for all the new add-in boards. VSR is designed to enhance quality of certain objects in games and offer 4K-like level of details, whereas FRTC helps to reduce power consumption of graphics cards by limiting their compute performance in games that do not require a lot of processing horsepower.
AMD Radeon R9 390: 'Hawaii' gets second life with extra memory and bandwidth
Although "Hawaii"-based Radeon R9 290-series graphics cards perform very well in games, they have not been positioned very well against direct rivals; moreover, modern workloads require higher memory bandwidth. The new Radeon R9 390-series cards based on the same chip are designed to offer better performance for today's needs.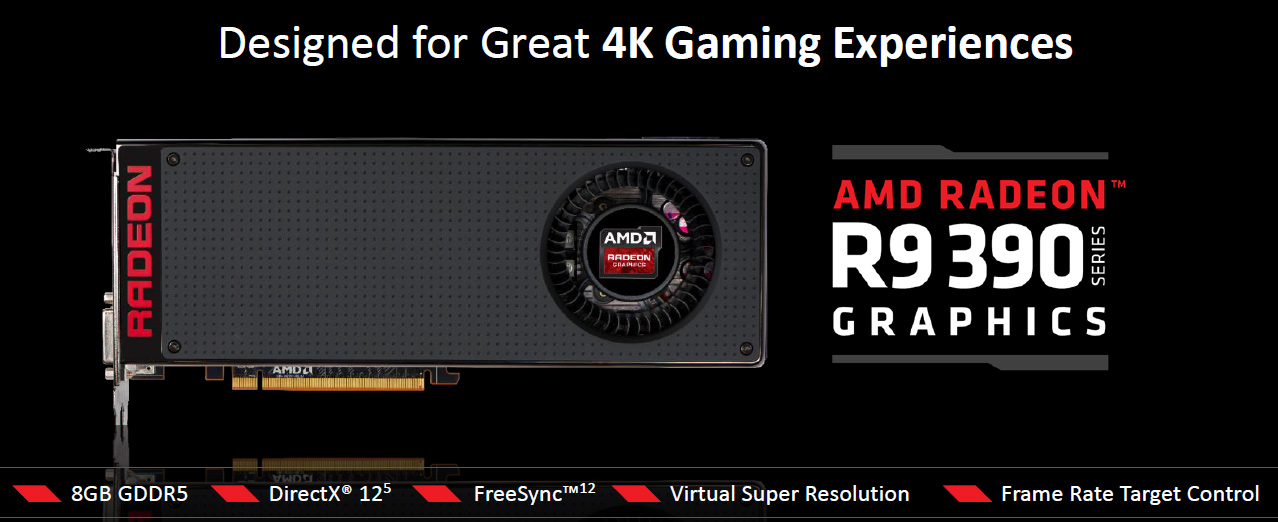 The launch of Nvidia Corp.'s GeForce GTX 900-series graphics cards last September largely caught AMD unguarded because very few people expected Nvidia's GM204 to perform so well. Since the company had tens (if not hundreds) of millions of dollars worth of inventory in the channel, it could not simply introduce new products to respond to Nvidia, which is why it had to cut-down prices of its Radeon R9 290-series.
The new Radeon R9 390 and 390X products have slightly higher GPU clock-rates as well as 20 per cent higher memory bandwidth. In addition, both graphics cards are equipped with 8GB of onboard memory to boost performance in ultra-high-definition resolutions. Since "Hawaii" already offers remarkable computing performance, the new cards will continue to deliver great FPS in games and will be generally better than predecessors. However, do not expect breakthroughs thanks to higher memory bandwidth and 8GB of memory (at least, based on our reviews). If you want to play all games comfortably in 3840*2160 resolution, you will need to get two Radeon R9 390X, or something even more powerful from AMD or Nvidia.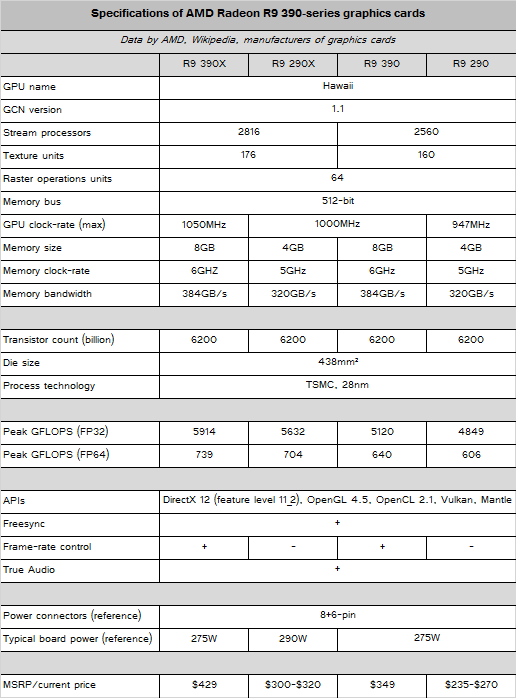 The new Radeon R9 390-series products seem to be a little better positioned to fight against Nvidia Corp.'s GeForce GTX 900-series than their predecessors released in late 2013, but their prices may just be too high. Eventually, AMD will probably have to reconsider them.
AMD Radeon R9 380: 'Tonga' gets second life with memory boost
AMD's "Tonga" graphics processing unit boasts very high energy efficiency and generally high performance. In fact, the AMD Radeon R9 285 introduced last September is a rather good adapter for the money. AMD has just made it a little better.

The Radeon R9 380 features 1792 stream processors and 256-bit memory bus, just like the predecessor, but it sports slightly higher GPU and memory frequencies as well as 4GB of GDDR5 onboard. 2GB of memory was clearly a drawback of the R9 285, so AMD fixes it with the R9 380. The novelty will perform better in high resolutions, but it will not offer radically higher performance than the predecessor, at least, not in cases worth considering.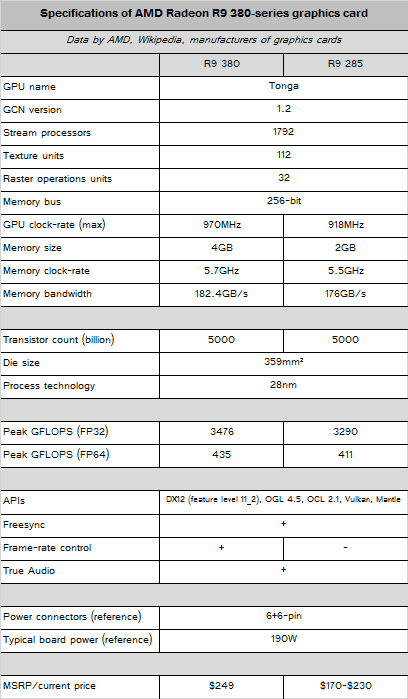 Many believe – and there are evidences – that Tonga features 2048 stream processors and 384-bit memory bus, just like AMD's "Tahiti". Unfortunately, for some reasons AMD decided not to introduce "Tahiti XT" with all SPs enabled. Perhaps, it will do it at a later date when its previous-generation graphics cards are sold out and do not compete against a new high-performance offering. The Radeon R9 380 is not a bad product, but at $249 it just seems overpriced.
AMD Radeon R7 360/370: "Pitcairn" and "Bonaire" re-introduced once again
While the Radeon R9-series graphics cards are designed for serious gamers, the Radeon R7 graphics adapters are aimed at casual gamers and multimedia enthusiasts. Such users do not need a lot of horsepower to enjoy their titles and content, so AMD re-introduced its good-old "Pitcairn" and "Bonaire" GPUs under new names with slightly higher clock-rates to address this market.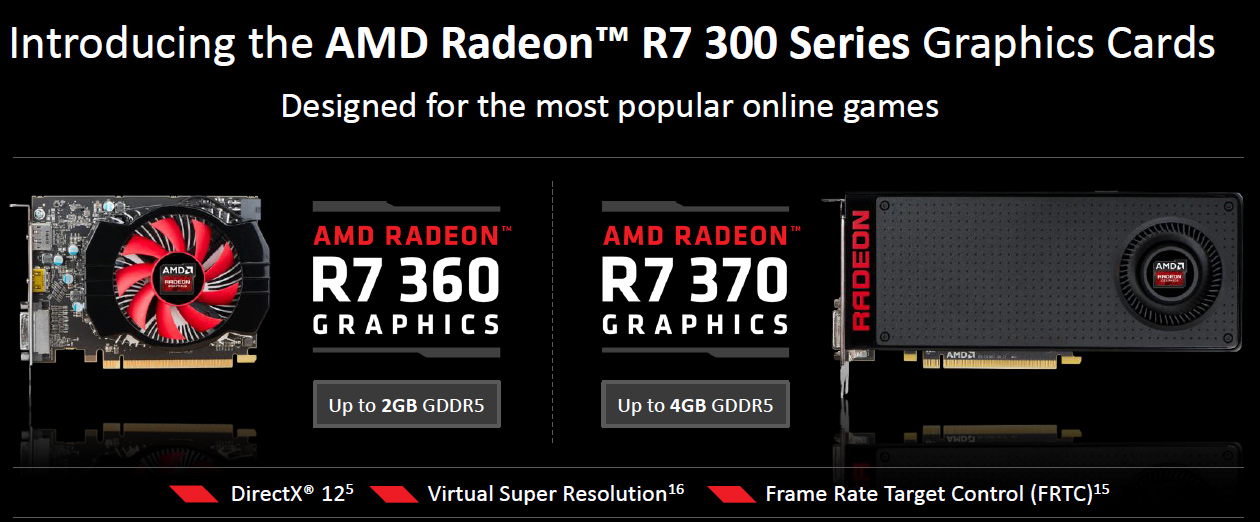 The Radeon R7 360 is based on a slightly cut-down "Bonaire" graphics processor, which is powered by the GCN 1.1 architecture and thus supports TrueAudio and FreeSync. The Radeon R7 370 is based on the "Pitcairn", which is slightly faster, but does not support all the latest capabilities of AMD's GPUs as it was originally introduced in early 2012 and features GCN 1.0 architecture.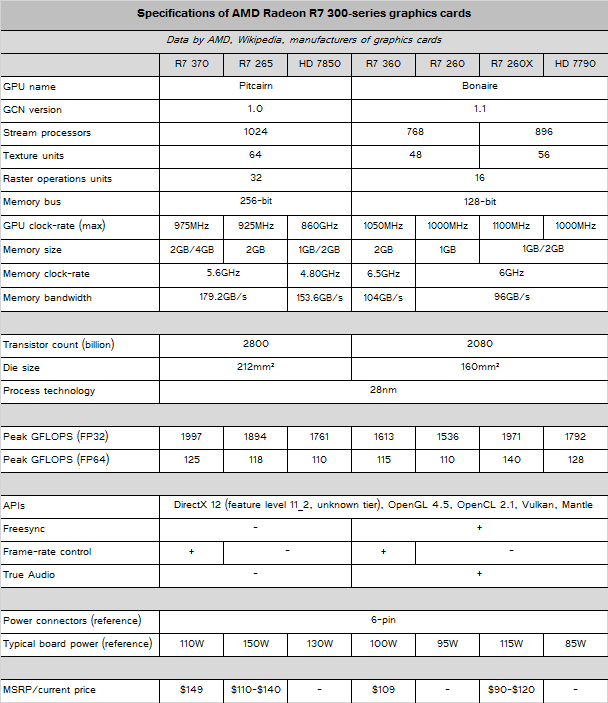 Since both "Pitcairn" and "Bonaire" graphics processing units are pretty outdated, they do not support HDMI 2.0 as well as HEVC/VP9 hardware decoding. As a result, the new GPUs will not be able to decode upcoming Ultra HD Blu-ray movies in hardware, they will also not be able to output content that comes in 3840*2160 resolution at 60 frames per second on UHD BD media. While the boards will be able to output 4K content downloaded from the Internet, it generally does not seem that the new AMD Radeon R7 360 and 370 graphics cards will be great solutions for next-generation UHD home-theater personal computers. In fact, even Radeon R9 Fury X "Fiji" lacks HDMI 2.0, but has hardware decoding of HEVC. Therefore, AMD generally has certain issues with its living room strategy.
Final words
The Radeon R9 and R7 300-series graphics cards are based on mature graphics processing units and thus do not bring support of any revolutionary features. While the new graphics cards are clearly faster than their predecessors powered by the same GPUs, do not expect them to offer breakthrough performance.
In general, the whole lineup of the new AMD 300-series graphics adapters looks rather good and logical; however, prices of the new cards seem to be rather high, considering current prices of already available solutions.
Discuss on our Facebook page, HERE.
KitGuru Says: If you are in the market for a new graphics card and do not want to spend over $400 or £300, then you may want to consider AMD's new Radeon R9 and R7 300-series graphics cards. However, at present there are similar solutions that formally belong to previous-generation, but which cost considerably less while offering similar performance. If you are looking at higher-end offerings, wait for AMD to roll-out its Radeon R9 Fury Nano, which will cost more than $449, but which will deliver higher performance.