After using Taiwan Semiconductor Manufacturing Corp. to make all of its chips almost exclusively for nearly a decade, Nvidia Corp. this year signed an agreement to produce a portion of its products at Samsung Foundry. But that could only be a part of Nvidia's new strategy, according to a financial analyst. The multimedia chip desiger could also outsource part of the production to Intel Custom Foundry.
"We also believe there is a potential for Nvidia to use Intel as a foundry," wrote Doug Freedman, an analyst with RBC Capital Markets, in a note to clients, reports Tech Trader Daily. "While we continue to believe that TSMC has the majority of Nvidia's wafers for CY2015 and probably CY2016 as well, we note that Nvidia could shift wafer supply quicker than other semiconductor companies because they have fewer products and end customer qualifications to contend with than peers that sell into industrial customers."
Last week Mr. Freedman expressed belief that Nvidia could use manufacturing at Samsung to boost its gross margins as Samsung charges less than TSMC. Some other market observers believe that certain fabless chip designers can use their contracts with Samsung or GlobalFoundries as a leverage to make TSMC to drop its prices.
While Samsung and GlobalFoundries charge less than TSMC, Intel charges 10 to 30 per cent more that the world's No. 1 foundry, according to unofficial information. As a result, unless Nvidia wants to achieve certain goals using Intel's unique manufacturing capabilities, it makes no sense for the company to work with the world's largest maker of microprocessors. To do that efficiently, Nvidia would need to hire another design implementation team (preferably one that has experience of work with ICF) to develop chips using Intel's libraries of elements and that is not an easy thing to do.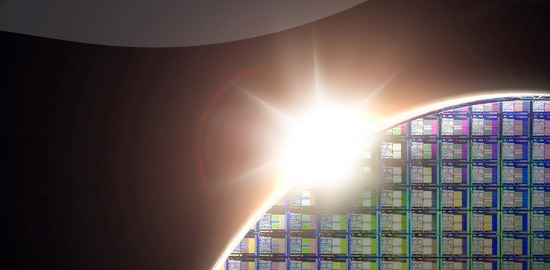 Since Nvidia's product lineups are not very broad, the company does not need to have multiple foundry partners. On the other hand, the company clearly needs access to leading-edge manufacturing processes. TSMC's decision to make 20nm process technology a solution exclusively for mobile system-on-chips and then delay of 16nm FinFET fabrication process forced Nvidia to reconsider its plans. As a result, the chip designer could try to work with different foundries to ensure that it has access to the best technologies possible.
The financial analyst believes that Nvidia spends $1.7 billion on purchasing wafers from TSMC. Therefore, any savings means rather huge amounts of money for Nvidia and its new and old foundry partners.
Nvidia and Intel did not comment on the news-story.
Discuss on our Facebook page, HERE.
KitGuru Says: While two suppliers may make sense for Nvidia, three suppliers seem to be excessive. Therefore, unless Nvidia does not want to tangibly increase sales of various chips, it is unlikely to outsource to Intel. Moreover, Intel considers Nvidia a rival and the company indicated many times in the past that it is primarily interested in serving customers, who do not compete against it.