UPDATE: PNY said that the comments previously attributed to its representative were a result of misunderstanding between him and a journalist from a German web-site. The KitGuru news-story is altered to reflect this.
Nvidia Corp.'s GeForce GTX Titan X overwhelmed many enthusiasts with 12GB of onboard memory. While for a gaming graphics card this looks like an overkill, PNY believes that it may not be enough for a high-end professional graphics solutions.
PNY's Quadro M6000 for professional digital content creators, which is going to hit the market in the coming weeks, is based on the GM200 "Big Maxwell" graphics processing unit with 3072 stream processors, 192 texture mapping units, 96 raster operations pipelines and 384-bit memory bus. Just like the GeForce GTX Titan X, it is equipped with 12GB of high-speed GDDR5 memory. But what is excessive for a consumer product may be not enough for a professional adapter that costs several thousands of dollars or pounds. In fact, some believe that even 12GB may not be enough for professionals working on extremely complex 3D models in ultra-high-definition resolutions.
A representative for PNY told ComputerBase web-site that 12GB of onboard memory is the maximum amount of memory that can currently be installed on a graphics card like the Quadro M6000. It is unknown whether PNY or Nvidia plan to create a GM200-based graphics solution featuring 24GB of memory, but keeping in mind that 8Gb GDDR5 memory chips are incoming, it should be technically possible provided that the GM200 supports high-capacity GDDR5 ICs.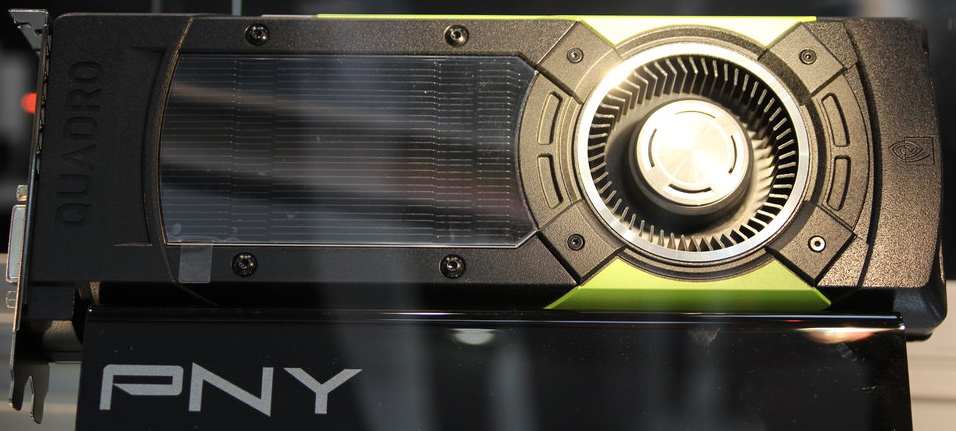 Professional graphics adapters feature hardware capabilities disabled on consumer-grade graphics cards that better accelerate select things in professional applications. In addition, Quadro graphics cards feature special drivers optimized for professional programs and certified by developers of the latter.
Since Nvidia "Maxwell" architecture lacks double-precision floating point arithmetic units, the GM200 demonstrates dramatically low results in FP64 operations. As a result, while the Quadro M6000 will be appreciated by graphics professionals, engineers who need to run emulations that require FP64 precision will get better performance using a previous-generation Quadro K6000.
Discuss on our Facebook page, HERE.
KitGuru Says: Nvidia yet has to announce recommended price of its Quadro M6000 12GB graphics adapter. Without any doubts, the new card will cost a lot since even the Quadro K6000 costs around $4000. Now, imagine what kind of price tag would a Quadro M6000 24GB carry…