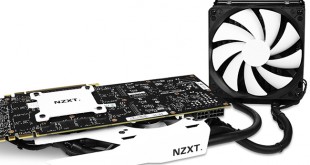 Today we are going to take a look at the NZXT Kraken G10 GPU Water Cooling Bracket. While a 'bracket' may not sound particularly exciting, the G10 is an interesting proposition. Essentially, it is a mounting kit which lets you use an existing all-in-one CPU water cooling unit to cool your graphics card.
While all-in-one graphics card water coolers may seem like a new and exciting proposition for many users, they have been available on the market for a couple of years already. Back in 2012, we tested the Arctic Accelero Hybrid, one of the first attempts at closed loop GPU cooling. This never gained mass market adoption, but we imagine this is likely to change in the next couple of years with the likes of Corsair and NZXT launching new products into this space.
One of the most interesting aspects of the Kraken G10 is that it offers compatibility with a wide range of water cooling units from different brands. The official compatibility list can be seen below which covers pretty much all current Asetek based models with the latest mounting mechanism.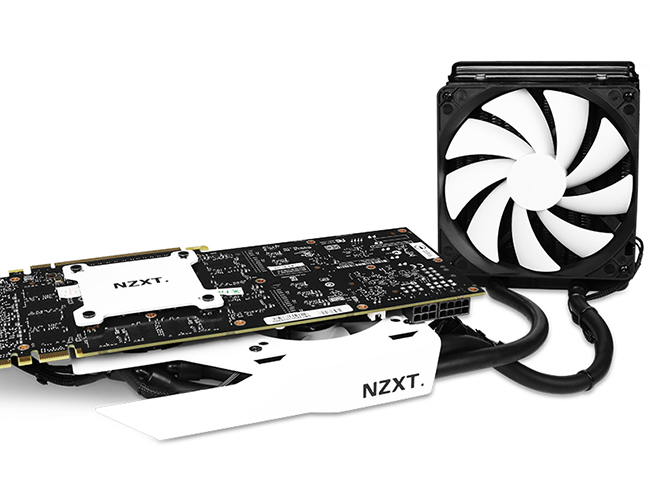 Specification
Colours: White, Black, Red, Blue
Dimensions: 177 (W) x 32.5 (H) x 110.6 (D) mm
Compatibility (Nvidia): GTX 780 Ti, 780, 770, 760, Titan, 680, 670, 660Ti, 660, 580, 570, 560Ti, 560, 560SE
Compatibility (AMD): R9 290X*, 290*, 280X**, 280**, 270X, 270 HD7970**, 7950**, 7870, 7850, 6970, 6950, 6870, 6850, 6790, 6770, 5870, 5850, 5830
Compatibility (NZXT): Kraken X61, Kraken X41, Kraken X31, Kraken X60, Kraken X40
Compatibility (Corsair): H105, H110, H90, H75, H55 , H50 (CW-9060006-WW only)
Compatibility (Antec): KUHLER H2O 920V4, KUHLER H2O 620V4, KUHLER H2O 920, KUHLER H2O 620
Compatibility (Thermaltake): Water 3.0 Extreme, Water 3.0 Pro, Water 3.0 Performer, Water 2.0 Extreme, Water 2.0 Pro, Water 2.0 Performer
Compatibility (Zalman): LQ-320, LQ-315, LQ-310
Fan Dimensions: 92 (W) x 92 (H) x 25 (D) mm
Fan Speed: 1500 ± 10% R.P.M.
Warranty: 2 Years (Removing your stock cooler will potentially void your GPU warranty, NZXT is not liable for any damage resultant of incorrect installation.)
The compatibility list is based on AMD Radeon and NVIDIA's reference board layout, screw spacing and die height only. Please check the height restriction before purchase.
* Some variation in die thickness and height may cause issues with screws being too short to install on some AMD 290-based cards.
* Do NOT force the G10 to fit if your card is too thick, contact support for a revised screw set.
** Some variations in AMD die height may require the use of a shim.