The new range of G.Skill TridentZ RGB memory is simple to describe as it looks almost identical to regular TridentZ yet manages to pack in RGB lighting.
Take a really close look and you will see the G.Skill logo is carried on a plastic diffuser that covers the LEDs, instead of the aluminium heat spreader, however that is the only clue that this DDR4 memory packs four RGB LEDs on each module.
TridentZ and TridentZ RGB share the same 47mm installed height. By contrast Corsair Vengeance RGB is 51mm tall while GeIL Evo X is a towering 63mm.

KitGuru was sent a 32GB kit of DDR4-3200MHz RGB memory that consists of four modules so we had a total of 16 LEDs to play with.
Watch via our VIMEO Channel (Below) or over on YouTube at 2160p HERE
Before we take a closer look at the lighting it is worth spelling out that G.Skill is making a major push with TridentZ RGB. There will be dual channel 16GB kits and quad channel kits that pack 32GB or 64GB. These kits will be available in no less than nine different clock speeds (2400MHz, 3000MHz, 3200MHz, 3466MHz, 3600MHz, 3866MHz, 4000MHz, 4133MHz and 4266MHz) which is a massive spread that should suit the pocket of every enthusiast because, as we know, you pay extra for a higher clock speed.
For example a 32GB kit of DDR4-2400MHz TridentZ RGB costs £275 while the 32GB kit of DDR4-3200MHz we are reviewing costs £398.
The premium you pay for the RGB lighting is small as prices of TridentZ and TridentZ RGB are very similar.
Specification:
Memory type         DDR4
Capacity                  32GB (4x8GB)
Tested speed         3200MHz
Tested latency       16-18-18-38-2N
Tested voltage       1.35V
Memory type         Unbuffered Non-ECC
SPD Speed              2133MHz
SPD Voltage            1.20V
Features                  Intel XMP 2.0
We chose an Asus ROG Strix Z270F Gaming motherboard for our test platform for the G.Skill TridentZ RGB so we could see whether or not the G.Skill lighting worked with the integrated AURA lighting. As you will see in our video the answer was 'sort of.'
Test system:
CPU                   Intel Core i7-6700K 4.0GHz/4.2GHz
CPU cooler       NZXT Kraken x42
Memory            32GB TridentZ RGB DDR4-3200MHz
Motherboard   Asus ROG Strix Z270F Gaming BIOS 0801
Graphics card  GeForce GTX 980 4GB
SSD                    240GB SanDisk Extreme II
PSU                    Sea Sonic Prime Titanium 750W
OS                      Windows 10 Pro
The G.Skill TridentZ RGB is controlled via the SM Bus and when you first install the memory it simply runs in a default mode with the LEDs cycling through the colours of the rainbow. The pastel colours produced by the LEDs look absolutely superb and the diffusers on top of the modules work very effectively, however this is only the start.
The next step is installing the G.Skill control utility which is currently in Beta. The interface uses the same layout as the Asus AURA control software and offers you a list of  modes; Static, Breathing, Strobing, Colour Cycle, Rainbow, Comet, Flash and Dash, Wave, Glowing Yoyo, Starry Night, Temperature and Music.
As previously mentioned, the four modules have a total of 16 LEDs and you can either set the lighting pattern for each individual LED or choose a lighting mode that will work across 'Across all devices' which groups the LEDS together as one collective whole, which is what we did.
You can see the result in our video and we think that G.Skill TridentZ RGB looks superb, however the Beta control software still requires some work. In essence the software extends the function of AURA so if you install it on a non-AURA system it just works, no problem.
If, on the other hand, you install the G.Skill software on an AURA system you may suffer a conflict with the AURA software whereby the G.Skill software prevent AURA from running.
We found the best solution was to uninstall both pieces of software and then install just the G.Skill utility which controlled everything. It was actually quite simple once we figured it out and would have been even easier if G.Skill had supplied some explanatory notes.
Naturally we hope that G.Skill will update the software to a release version that avoids this snag, and if it can do so we will have no reservations about this fabulous new RGB memory.
Performance.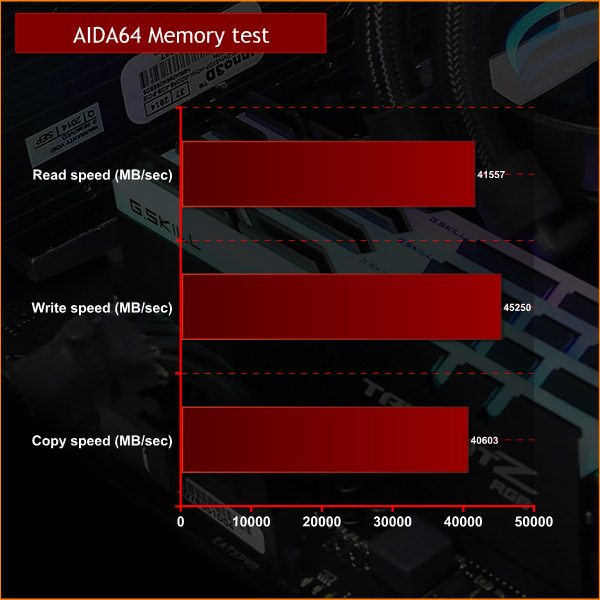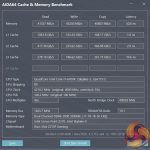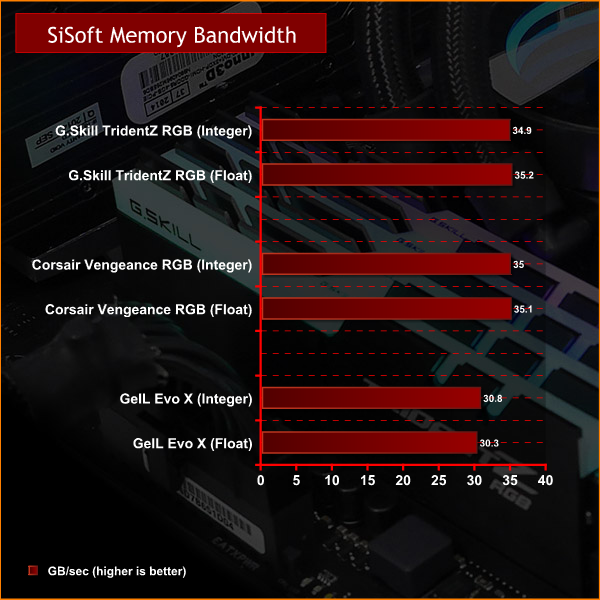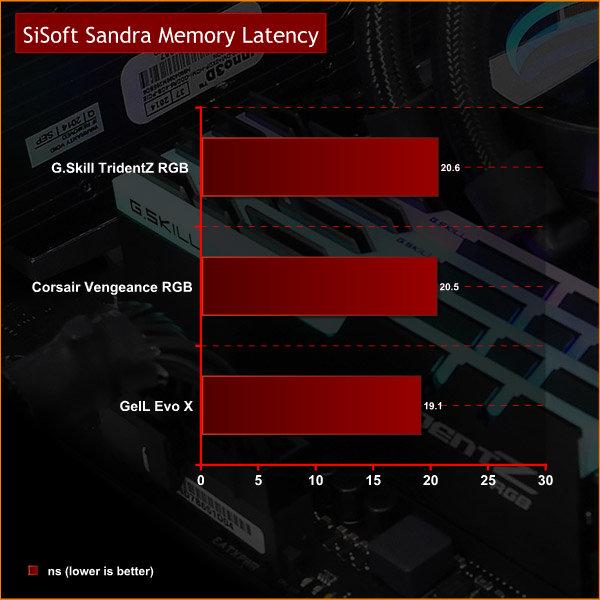 There is almost nothing to say about the way that G.Skill TridentZ RGB performs as it is regular DDR4 with some LEDs added to the top. Admittedly our DDR4-3200MHz refused to run at that speed but was rock solid at 3000MHz, which isn't ideal. Yes, we wanted the extra 200MHz but no, it wasn't the end of the world.
Closing Thoughts.
The G.Skill TridentZ RGB has two particular strengths. It looks almost exactly like regular Trident Z, except that G.Skill has packed four LEDs in the top of each module of memory. The fact that this adds nothing to the installed height is very good news. Secondly, the lighting looks fabulous.
The diffuser that covers each bank of LEDs does a superb job and we would have been happy enough simply leaving the lighting on the default RGB cycle. Adding the G.Skill software to the equation gives you a long list of options that look fabulous and should please any fan of RGB effects.
It is early days for G.Skill TridentZ RGB but right now the price premium for RGB seems quite low. We'll have to give it a few months to make a final judgement on that score but when you consider that DDR4 is horrifyingly expensive, you might as well have the RGB feature as it is effectively free of charge.
Our only negative comment about TridentZ RGB (apart from the refusal to behave at 3200MHz) is the Beta software. By definition we dislike using anything that is Beta but it feels like this software is very close to release quality, and this is the final hurdle for G.Skill to clear.
You can buy G.Skill TridentZ RGB HERE
Pros:
LED lighting looks fabulous.
TridentZ RGB is the same height as regular TridentZ.
A good range of lighting effects.
RGB lighting is controlled by SPD.
Cons:
G.Skill software is still in Beta.
Our 3200MHz RAM would only run at 3000MHz.
KitGuru says: G.Skill has done an excellent job with TridentZ RGB.