We had a chance to take a look at ASRock's USB 3.1 implementation with the company's excellent X99E-ITX/ac motherboard and a custom USB 3.1 RAID testing card. How does ASRock's 10Gbps USB 3.1 solution fare?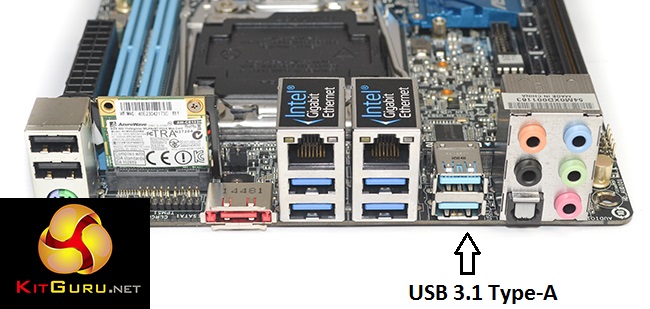 USB 3.1 has been a huge talking point for the past few months. We have seen many motherboard vendors re-release existing SKU's and even create new ones just to get USB 3.1 offerings to the market. That interest spans further afield with Apple shipping Macbook devices with the latest iteration of USB.
Let's take a look at how the ASMedia ASM1142-powered USB 3.1 solution used by ASRock performs.
Test System:
ASRock's testing card takes a pair of SATA SSDs and runs them in RAID 0. An ASMedia 1352R bridge chipset is then used to convert the SATA drives' connection into USB 3.1 form. RAID 0 SSDs allows us to fully test the potential of the 10Gbps USB 3.1 solution (one SATA 6Gbps SSD simply would not be fast enough).
OCZ was kind enough to send over a pair of the company's professional-orientated Intrepid 3800 400GB SSDs. While the SSD's are optimised for Enterprise workloads, their fast 510MBps sequential read and 465MBps sequential write speeds look sufficient to provide solid ground for USB 3.1 testing.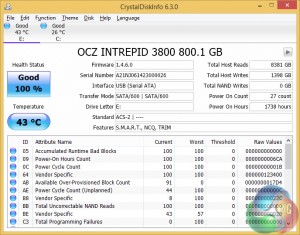 The custom testing card applies RAID 0 to the drives and then connects to the system via USB 3.1.
I am very reluctant to draw comparisons to the performance of MSI's and Asus' USB 3.1 solutions that we have explored in previous articles. The reasons for this reluctance are that vastly different test drives are being used, each vendor recommends slightly different testing procedures, a different USB 3.1 adapter is being used in each case and the motherboard chipset is not necessarily the same (Z97 vs X99).
I could go on but instead I will point out that I hope to test out each vendor's USB 3.1 solution in the future when the relevant storage solutions (namely external SSD enclosures or RAID 0 SSD-based external drives) become available and applicable for a fair 'apples to apples' test.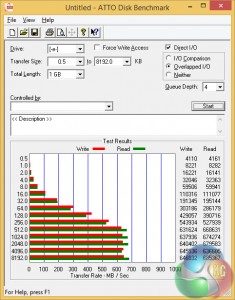 ATTO posted read and write speeds at the mid-600MBps level for the USB 3.1 testing hardware connected to ASRock's X99E-ITX/ac. These levels are around 200MBps faster than what USB 3.0 can achieve.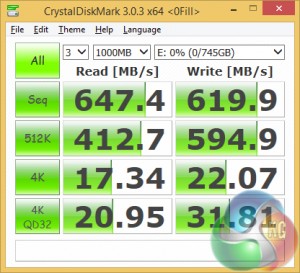 CrystalDiskMark shows similar performance numbers to ATTO, with the 600MBps read and write marks both being surpassed comfortably.
It's worth noting that the 4K performance numbers can be ignored. A number of factors, from drives and test hardware to drivers and USB 3.1 support, can be attributed to the low performance. The goal for our USB 3.1 testing is to show the transfer rates that the ports are capable of. Intricacies of the performance will mature over time.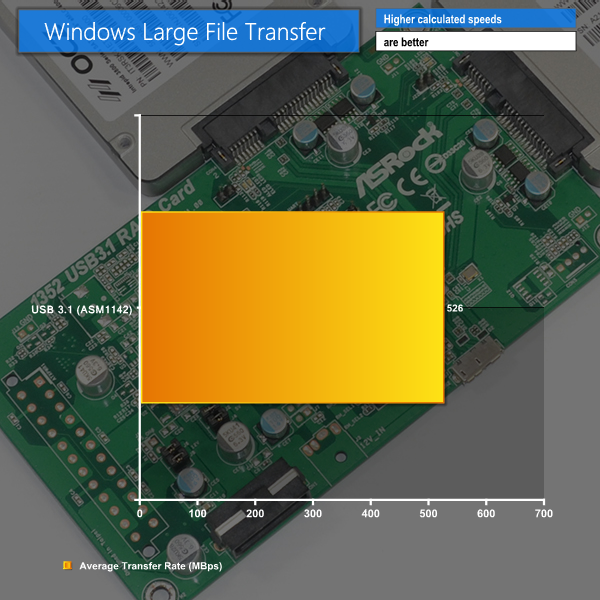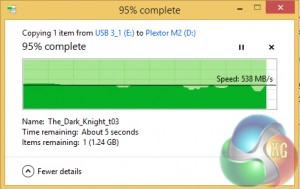 Being able to transfer a 29.8GB Bluray rip in less than one minute is what USB 3.1 is all about. The average transfer rate of 538MBps is about 100MBps faster than the realistic peak transfer rates we observe for USB 3.0.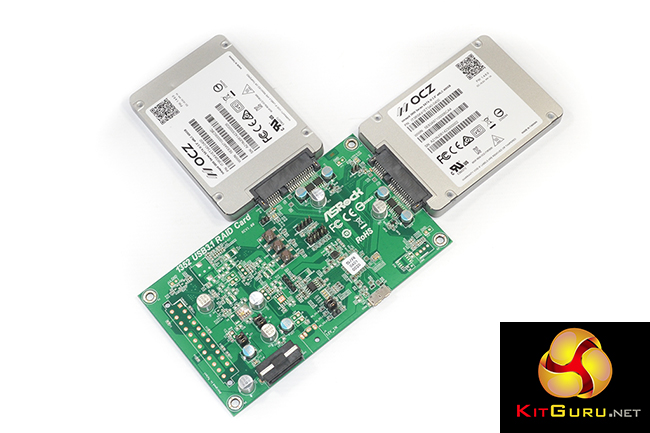 ASRock's USB 3.1 solution shows benchmark results of more than 600MBps when used with a pair of Enterprise-grade OCZ Intrepid 3800 drives. This solid performance level translates into impressive real-world transfer rates.
Discuss on our Facebook page, over HERE.
KitGuru says: USB 3.1 is gaining momentum and ASRock's solution looks to offer a noticeable speed boost over USB 3.0.