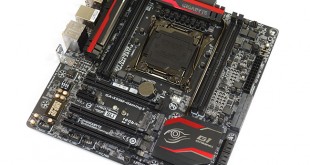 If you want to reduce the space taken up by your computer, without significant reduction in performance or functionality, opting for a micro ATX system has long been the most effective way of doing so. Can the performance of ATX parts be matched when the Gigabyte X99M-Gaming 5 motherboard's LGA 2011-3 socket is compressed into the 24.4 x 24.4 cm micro ATX form factor?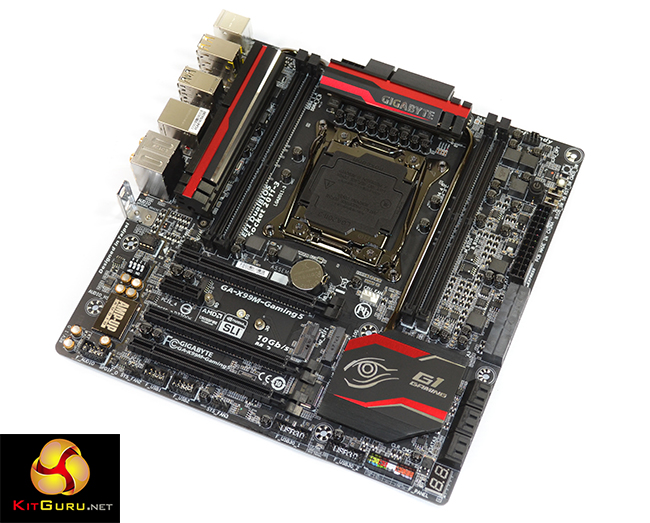 Gigabyte's X99M-Gaming 5 delivers many of the X99 platform's core features, despite its micro ATX form factor. Support for two-card SLI/CrossFire is present, and there's also the ten SATA 6Gbps ports for storage nerds. And let's not forget two additional forms of PCIe storage in M.2 and SATA Express.
Homing in on the gaming market, Gigabyte outfits its mATX board with a Killer NIC and the accompanying software for users to take advantage of network optimisation. There's also the enhanced audio system that allows for an upgrade to the already-high-end Burr-Brown operational amplifier. And if you own a set of USB headphones, the 'DAC-UP' USB ports are designed to deliver cleaner power to the amp.
With a strong power delivery system, good looks, and relevant gaming features, how does Gigabyte's X99M-Gaming 5 stack up when battling full-sized ATX competition.
Features:
Genuine All Digital Power Design with IR Digital PWM & IR PowIRstage® ICs
2-Way Graphics with Premium PCIe Lane
Dual M.2 Technology for SSD Drive and WIFI card
6x(30µ) Gold Plating for CPU socket, Memory DIMMs and PCIe slots
AMP-UP Audio technology with exclusive Upgradable OP-AMP
Independent Right and Left Audio Channel PCB Layers
LED lighting for the audio guard light path
Quad DAC-UP USB ports
Gold plated audio ports
High end Nichicon audio capacitors
Killer™ E2200 gaming networking
SATA Express support for 10 Gb/s data transfer
Long lifespan Durable Black™ Solid caps