Although there might be a fierce debate raging about whether the Oculus Rift or HTC Vive are better for gaming, both offer a chance to do more social things in VR too. AltSpace VR offers a place for people to enjoy those types of experiences and in the next week, to celebrate the commercial availability of VR headsets, it's hosting a number of exciting events that one and all are invited to.
Viewable on the Samsung Gear VR, Oculus Rift and HTC Vive headsets this coming week, there's Crystal's Big Bash on 2nd April, running between 8PM and 12AM BST, where music will be played, dancing will happen – if you have the tracking capabilities – and perhaps you'll make the odd friend too.
Running a little later that same evening and into the following morning, is the Jashfesht Comedy Festival. That's an event running in the real world over the weekend and the AltSpaceVR team will be there, hoping to get some of the comedians to don an HTC Vive and tell some jokes to a VR crowd. Potential comedians include Michael Cera, Sarah Silverman and Reggie Watts – though no line up has been confirmed as of yet.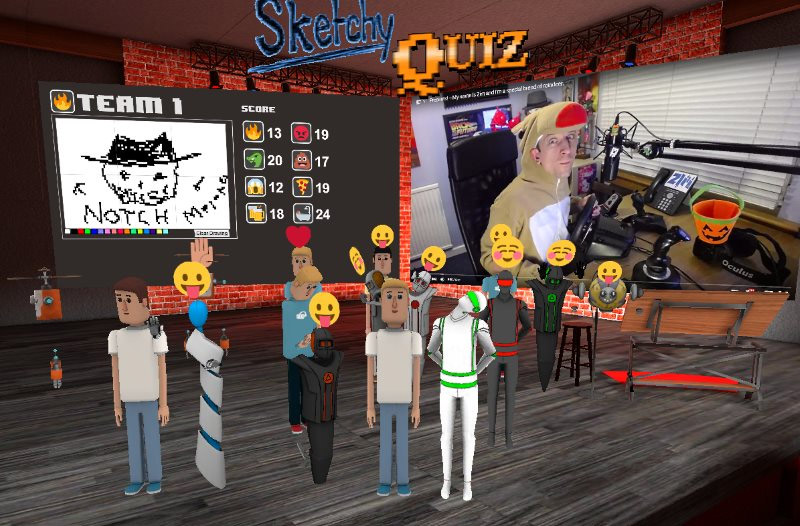 There's even a quiz taking place on the 14th. Get your VR knowledge up to scratch before then.
Creators of the dungeon building card game, Boss Monster, will be in attendance on the 4th April, talking about the game, but also playing it. You'll be able to go head to head with the people that made it, to see if you can create the best loot cave and hero meat grinder ever.
If you're feeling more serious about your dungeon exploration though, you might like to hold on until the 7th April, when the AltSpace team will be hosting a Dungeons and Dragons one shot in VR, with a table, models, figures, dice and more. It's a great way to role play.
For all of this VR excitement though, virtual reality socialising is about bringing everyone together, so if you don't have a headset yet and just want to feel part of the gang, you can still enjoy AltSpaceVR on a 2D display.
Tickets for upcoming events and more information can be found at the official AltSpace features page. AltSpace itself can be downloaded right through Steam.
Discuss on our Facebook page, HERE.
KitGuru Says: As much as I'm excited for gaming in VR, the social aspects are going to be very interesting too. What kind of event would you like to see take place in VR?