MSI appears to have delivered a new PC format with its Aegis Ti gaming system that we think of as Small-ish Form Factor. In appearance, Aegis Ti bears a strong resemblance to Aegis X. However, it is considerably larger and stands 51cm high. The big difference is that Aegis X measures 43cm x 38cm and has a volume of 19.6 litres whereas Aegis Ti comes in at 39 litres, which is double the volume. Stand Aegis Ti on your desk and you'll know all about it as it requires a good deal of space.
On the other hand, if you place Aegis Ti on the floor you reduce the visual impact of the chassis. As you will see in our video, your reviewer was not won over by the looks of Aegis Ti which is definitely a love-it-or-hate-it thing. Let's settle on the word 'dramatic' to avoid controversy. Aegis Ti looks dramatic.
Moving on to safer ground, Aegis Ti has a specification that is world class. Intel Core i7 6700K with dual GTX 1080 graphics cards in SLI along with SSD RAID and a bunch of DDR4 memory is a recipe for 4K gaming heaven.
Watch via our VIMEO Channel (Below) or over on YouTube at 1080p60 HERE.
MSI Aegis Ti (GTX 1080 SLI) Specifications:
OS: Windows 10 Home
CPU: Intel Core i7-6700K 4.0GHz OC to 4.6GHz
Storage: 2x 256GB M.2 NVMe PCI-E SSD (2280) in RAID 0 + 2TB 3.5" HDD 7200rpm
Memory: 32GB SO-DIMMs DDR4 2400MHz (Max. 64GB)
Graphics: GeForce GTX 1080 8GB GDDR5X 2-Way SLI
Optical Drive: Slim Type (9.5mm) Slot-Load Super Multi
I/O (Internal): 1 x 10-pin ATX main power connector, 2 x USB 2.0 connectors, 4 x USB 3.0 connector, 1 x 4-pin system fan connector, 1 x Front panel audio connector, 1 x Clear CMOS jumper, 1 x WiFi/Bluetooth module connector
I/O (Front): 1 x USB 3.1 Gen 2 Type C, 1 x USB 3.1 Gen 2 Type A, 1 x USB 3.1 Gen 1 Type A, 1 x Mic in / 1 x Headphone out, 1 x HDMI out (VR Link)
I/O (Rear): 5 x OFC Audio jacks, 1 x S/PDIF, 2 x WiFi Antenna connectors, 1 x RJ45 LAN, 4 x USB 2.0, 4 x USB 3.1 Gen 1, 1 x Gaming device port (PS/2)
Wireless LAN: Killer Wireless-AC 1435 & Bluetooth 4.1
LAN: Killer E2400 Gigabit Ethernet with Killer Shield
PSU: 850W 80 Plus Platinum
Dimensions: 510 x 195 x 506 mm (39 litres)
Weight: 14.3kg
Price for review system: £3,399.99.
The biggest surprise we had with Aegis Ti came when we removed the panels from the sides, top and base (admittedly after a struggle) as they reveal the way the chassis has been constructed.
At first glance, Aegis Ti looks like a small case mounted at a jaunty angle on a base or plinth that goes heavy on styling and light on sophistication. In fact, the base is a housing that can accommodate extra storage in SATA bays that are wired for data and power and the innards of the main compartment are also pretty impressive.
The main chassis has been divided into chambers that help the cooling air to flow where it is required so the Core i7-6700K and its liquid cooler are housed in one area and the dual graphics cards are situated in another.
Those GTX 1080s are clocked at 1,620MHz base and 1,759MHz boost with GDDR5X at 1,251MHz.
There is a downside to the compact construction as the hardware is densely packed in the chassis. As you can see in our photos and video, two of the memory modules and the two M.2 SSDs are handily located behind one side panel. If you want to gain access to the other two memory modules, the CPU or the graphics cards, you will find you have a fair amount of dismantling and fiddling around to contend with.
Thankfully this isn't a problem for us Brits as we are unlikely to want to remove the graphics cards. In other territories where Aegis Ti is offered as a barebones this sounds like it might lead to hassle.
Testing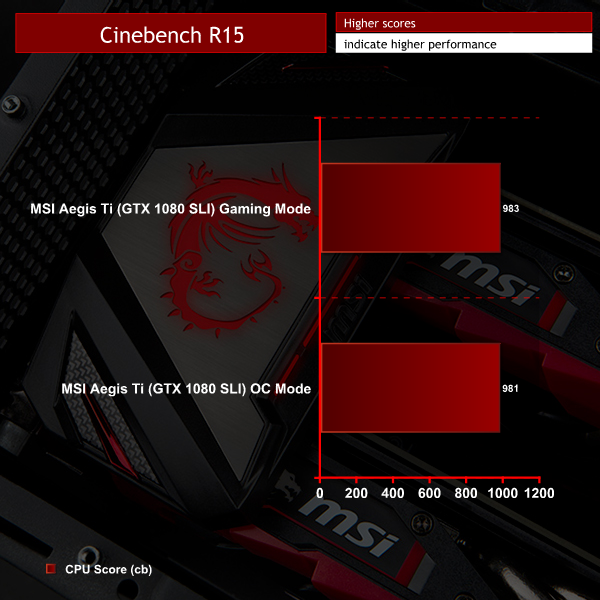 Cinebench R15 scores of just under 1000 points indicate good rendering performance from the overclocked Core i7 6700K CPU.
Testing – 3DMark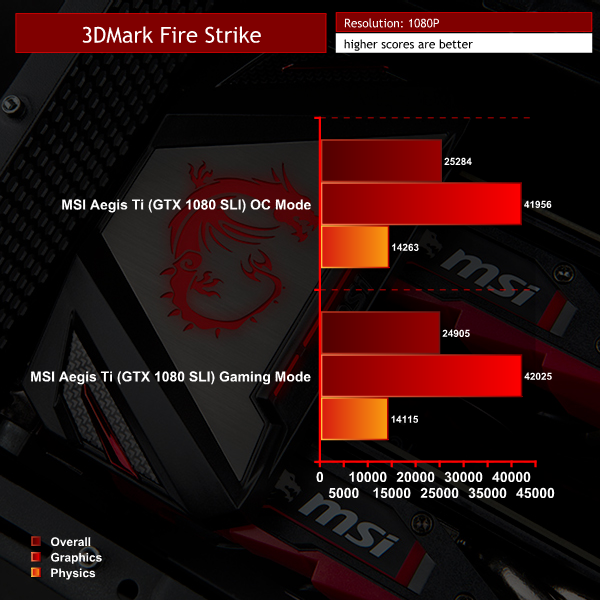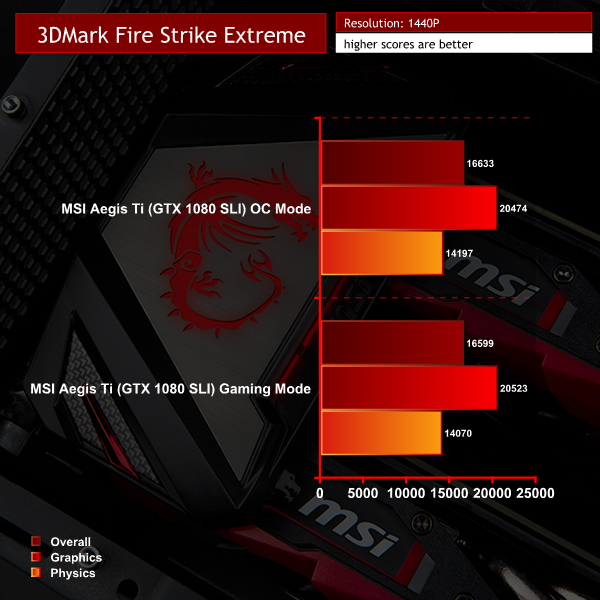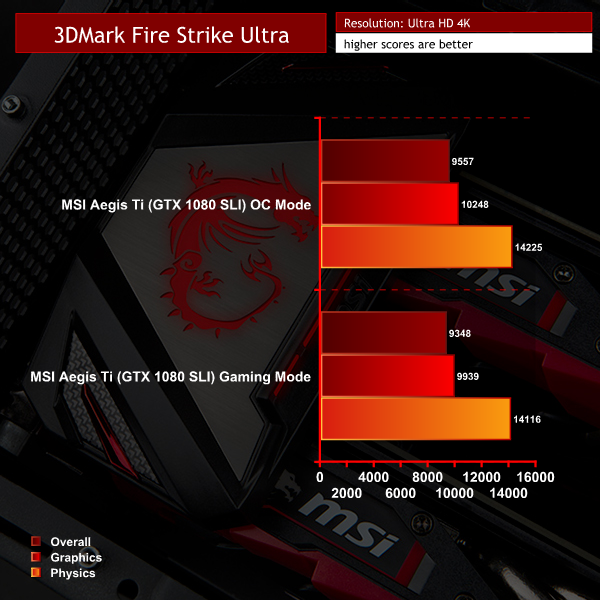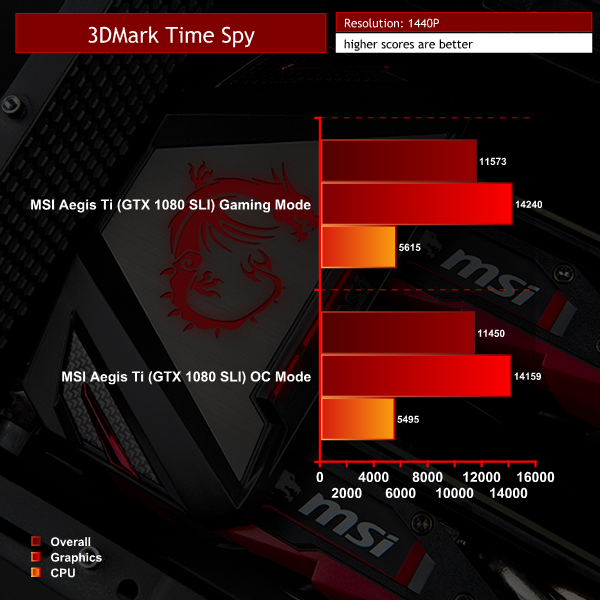 Strong performance is shown in the 3DMark tests. A pair of GTX 1080s in SLI creates superb results.
Testing – Games
There was little point testing the dual GTX 1080 graphics cards in Aegis Ti at anything less than 4K resolution so we headed in to play some games and stress the system as hard as possible.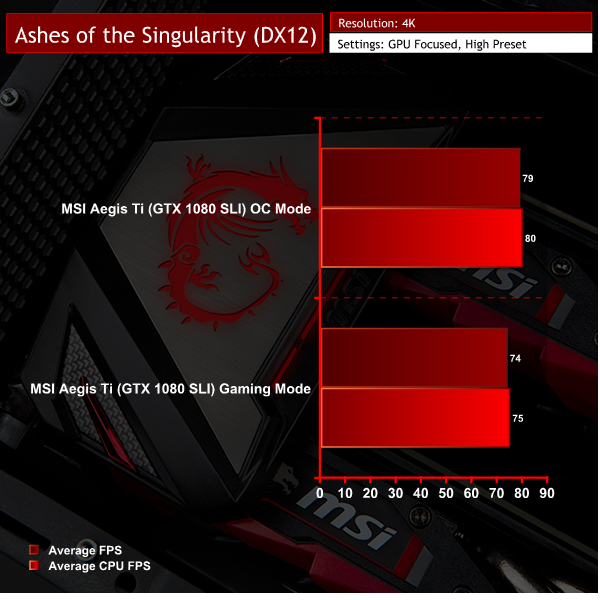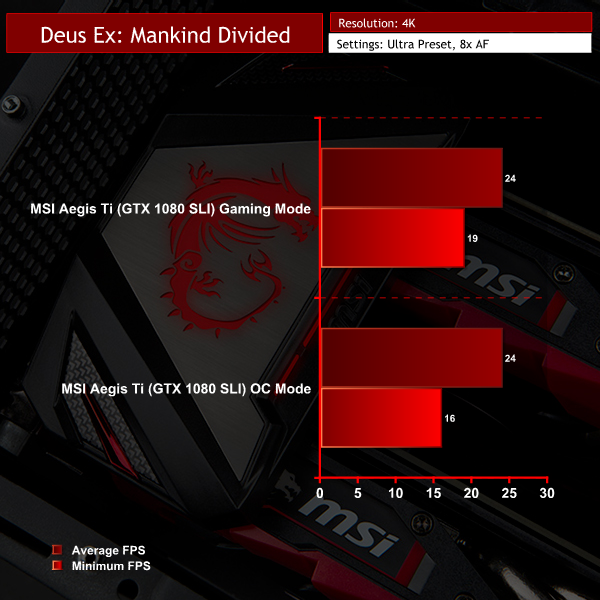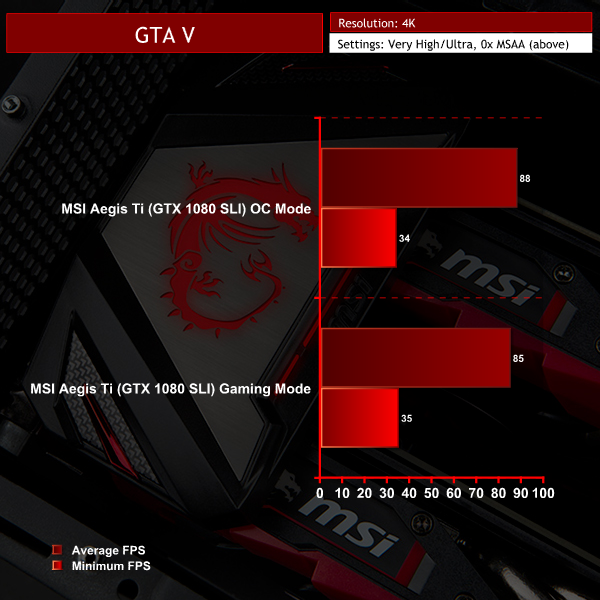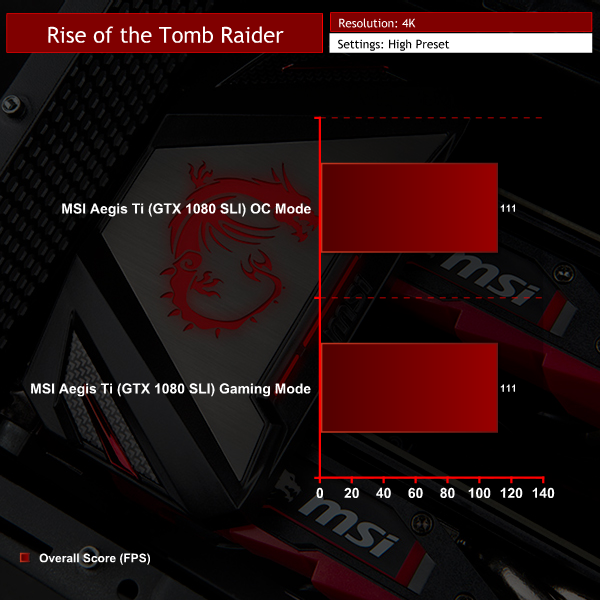 Aegis Ti performed admirably and delivered a superb gaming experience. The single issue we had was with Deus Ex where the frame rate was only 24fps on average. We have previously seen 36fps on the same settings and expected at least 40fps. We are confident the problem lies with the GeForce 375.63 driver and that MSI is blameless.
You will see we tested both at stock clocks and using the Gaming App to overclock the CPU to 4.6GHz, however this made only a tiny difference to the test results.
Power Consumption
Power consumption of the Aegis Ti was around 100W whilst idling. Under 3DMark load, that figure increased to around 500W.
Cooling Performance.
Ambient = 19°C.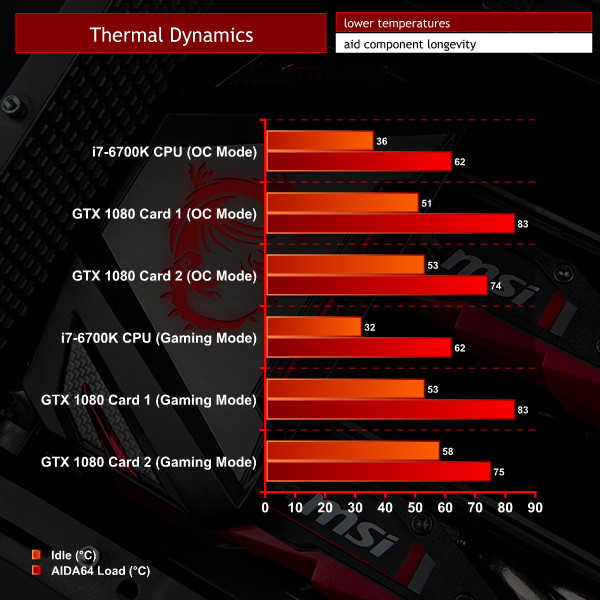 MSI has employed four 120mm fans on the front and top edges of the case and divided up the main compartment with the result that Aegis Ti cools superbly well. One graphics card was consistently ten degrees hotter than the other under load which shows the limitations of air cooling in a small chassis.
Overclocking the CPU from 4.2GHz to 4.6GHz raised temperatures by a negligible amount.
MSI has done an excellent job here and deserves a hearty pat on the back.
Acoustics performance.
You can certainly hear Aegis Ti when it is working hard. However, it is impressively quiet by any standards. When you consider the compact nature of the chassis the low noise levels are a testament to the work of the development engineers.
You will have no problem with Aegis Ti positioned on your desk and are unlikely to annoy members of your family during a gaming session.
Closing Thoughts
We have an over-riding misgiving with Aegis Ti which is that the styling has been carried over from Aegis X for no clear reason. In Aegis X, the plinth houses the power supply and creates an air flow path from the lower section of the chassis. With Aegis Ti the cooling works in a completely different fashion, the power supply is significantly improved and the kicked-up angular styling is purely cosmetic.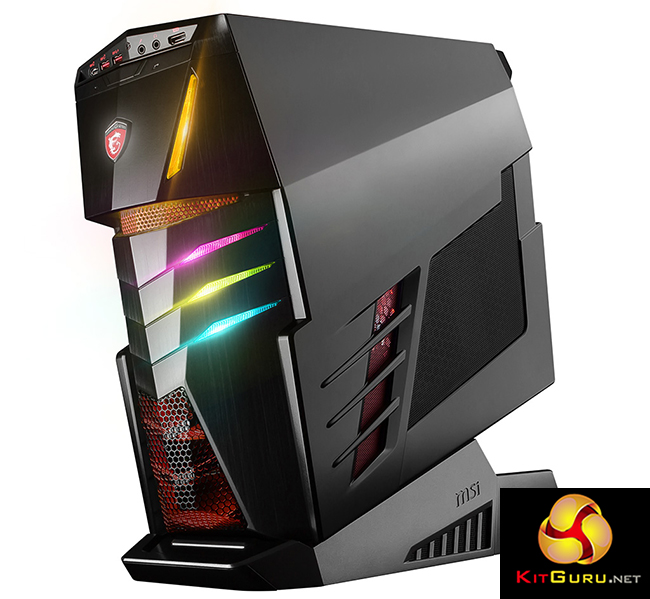 MSI could have simply used a conventional chassis containing the excellent cooling hardware but they have gone down their chosen route. The result is a superb gaming PC that some people will admire whilst other will find a little gaudy. The fact it is hard to work inside the chassis is a negative point.
We have to consider the one-off chassis design has added the best part of £500 to the cost of Aegis Ti. The total price is £3,399.99. Argos currently sells a model at £3,599.99.
Happily the end result of MSI's labours is an excellent gaming PC that performs very well indeed. It has its quirks but if you keep your eyes on the screen we are confident you will be impressed by the experience. From a technical stance, the Aegis Ti is little short of amazing, which makes it all the more unfortunate the focus is on the styling, rather than the hardware.
Discuss on our Facebook page, over HERE.
Pros:
Dual GTX 1080 graphics cards in SLI
Core i7-6700K with option for instant overclocking
Superb cooling
Low noise levels
HDMI pass-through for VR
Cons:
The styling is love-it-or-hate-it
MSI software tends towards bloat
High price
KitGuru says: Aegis Ti offers superb performance and eye-catching design.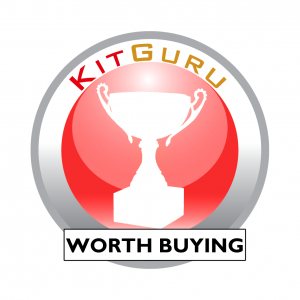 Be sure to check out our sponsors store EKWB here