Advanced Micro Devices' project Quantum small form-factor system concept is nothing but impressive. It promises to deliver leading-edge performance in all games in ultra-high-definition resolutions thanks to two AMD Radeon R9 Fury graphics processing units. Apparently, in order to provide truly uncompromised performance, AMD had to use Intel Corp.'s central processing unit inside its ultra-small PC.
Leading-edge gaming PCs with several GPUs are usually either rather bulky or noisy. AMD's project Quantum small form-factor system concept is designed to show end-users and PC makers that it is possible to build high-end SFF gaming PCs that are both small and silent. The Quantum uses dual-chamber system topology, where one chamber contains all processing hardware, whereas another contains a sophisticated cooling system. While AMD's project Quantum is a custom-built PC, it uses a lot of off-the-shelf components too.
"The uniqueness of Quantum is the fact that it actually has split design, where the bottom side does all the water-cooling of the components and the upside does the cooling of the water itself," said Ali Merrikh, thermal architect at AMD Innovation Lab.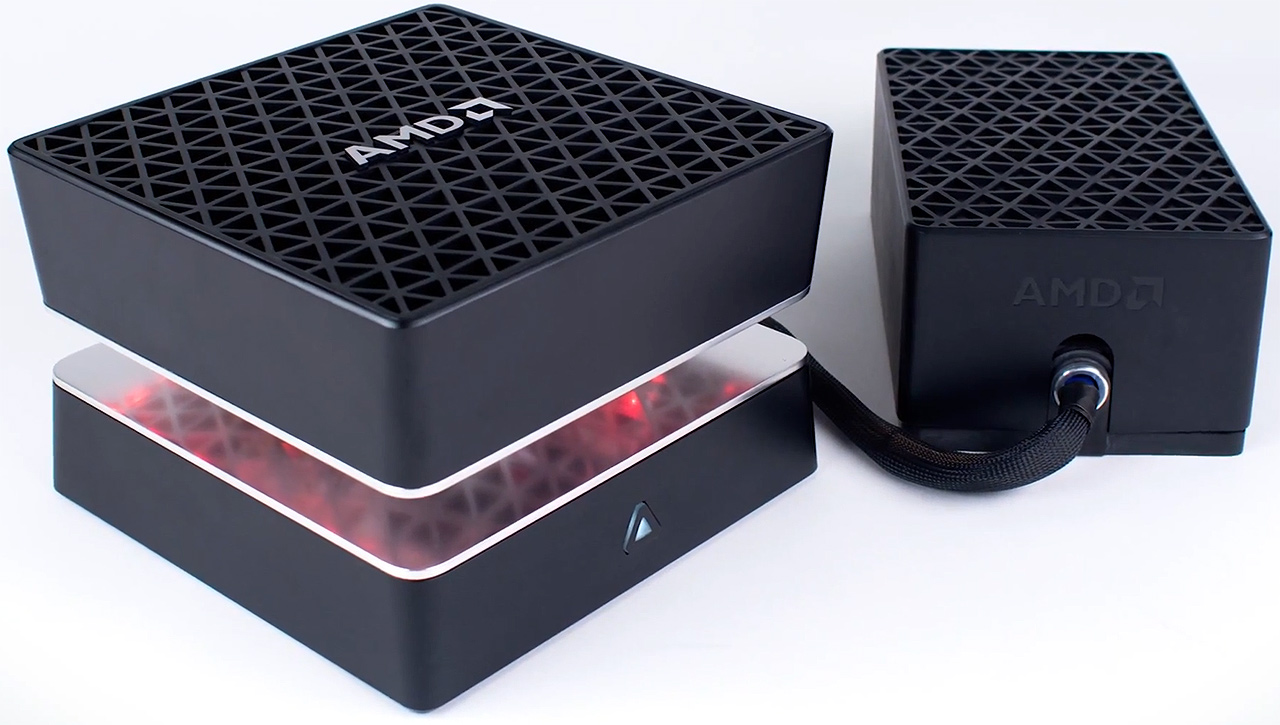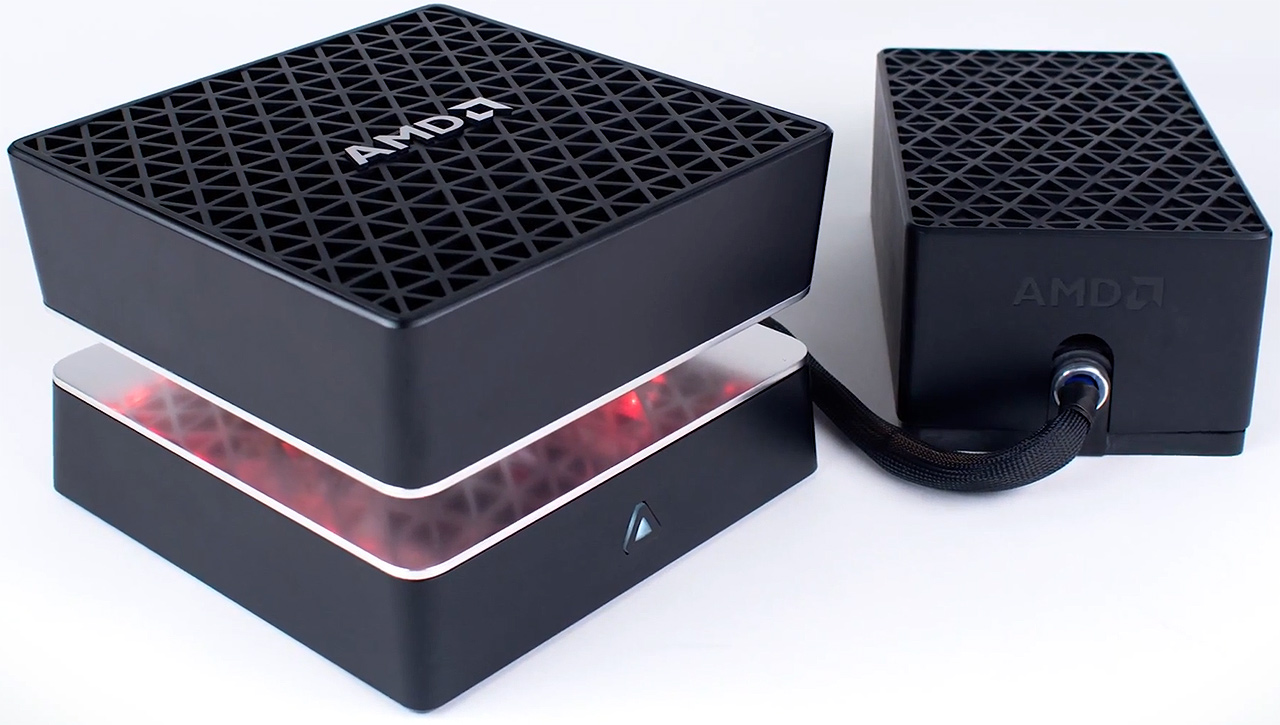 Based on AMD's own demonstration, the project Quantum is based on a customized version of Asrock's Z97E-ITX/ac mainboard as well as an Intel Core i7-4790K "Devil's Canyon" processor, which is currently the highest-performing mainstream CPU from AMD's arch-rival. The SFF PC also uses AMD's upcoming Radeon Fury X2 dual-GPU graphics card with unprecedented computing power, which is stacked beneath the motherboard.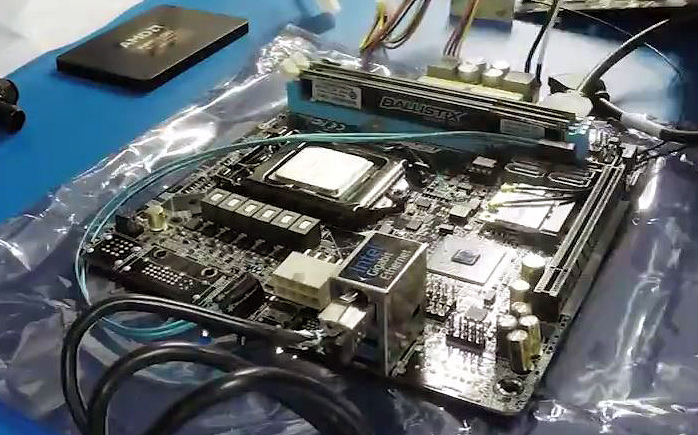 The inner design of the "processing chamber" uses a lot of custom hardware, such as waterblocks, risers, lighting and other. Obviously, the dual-chamber PC case itself is also custom-built by a leading maker of PC enclosures.

With two AMD Radeon R9 Fury "Fiji" graphics processing units operating in CrossFireX mode with 8GB of HBM memory in total, one can expect AMD's Quantum to deliver 60 to 90 frames per second in all games when played in 4K (3840*2160) resolution, something that not a lot of gaming PCs can provide. Thanks to the fact that DirectX 12 will provide a number innovative multi-GPU modes, the dual-GPU graphics card with 8GB of HBM memory will be able to demonstrate great efficiency, at least in certain games.
The project Quantum was designed by AMD Innovation Lab to demonstrate what can be done, but AMD expects select partners to offer such systems to end-users later this year. Actual pricing of Quantum PCs is completely unclear, but such systems will not be affordable. AMD's project Quantum PCs will ship with Microsoft Windows 10 and DirectX 12, expect them to be available this fall or during the holiday season. Given the availability timeframes, it is possible that AMD's partners will decide to use Intel Core i7-6700K "Skylake" processors along inside.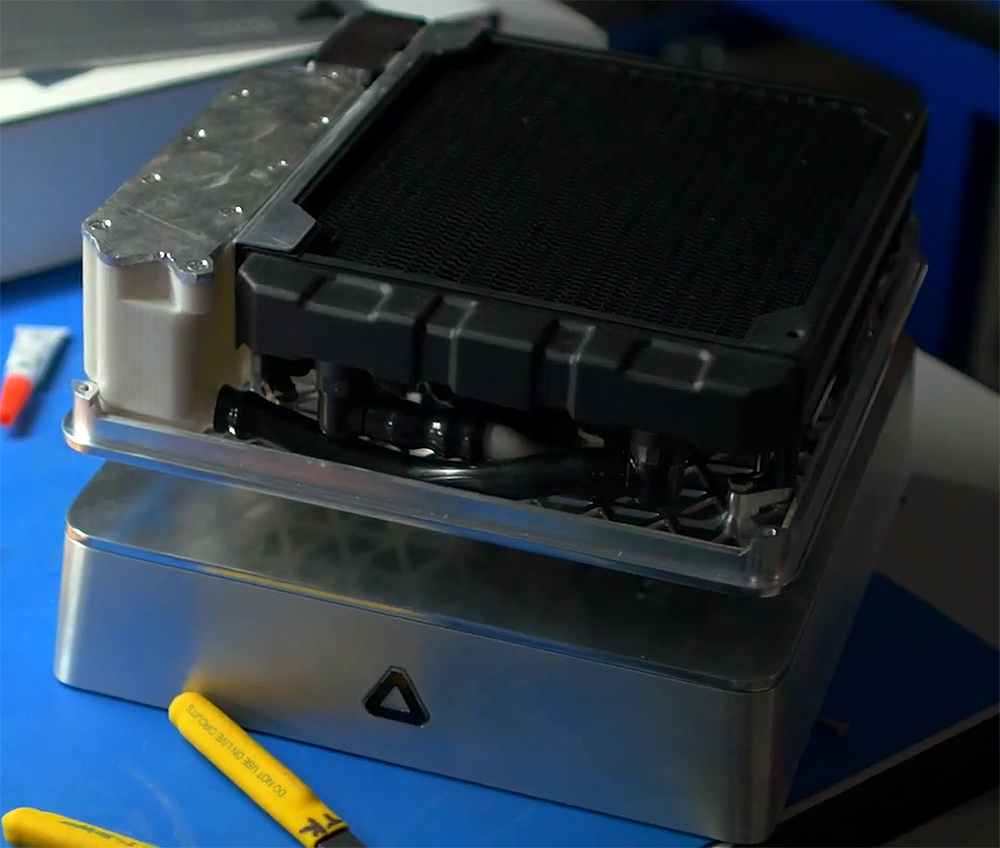 Discuss on our Facebook page, HERE.
KitGuru Says: AMD's project Quantum system look rather exotic, remarkable and its concept of liquid cooling seems like a good solution for enthusiasts. However, there is a computer with serious performance and rather extreme thermal design power, but which looks even more stylish and which is probably easier to build. It is called Apple Mac Pro (it features a multi-core Intel Xeon CPU with 95W TDP as well as two AMD FirePro graphics cards with "Tahiti XT" GPUs that have serious power draw too) and it has been available for well over a year now. Perhaps, makers of gaming PCs could adopt a similar concept? Of course, custom components are expensive and the Mac Pro is virtually unupgradeable. Nevertheless, it looks very well and is probably a tad more reliable since it lacks liquid cooling.