While Steam Machines didn't really take off, plenty of PC makers are still focussing on creating tiny systems that can rival consoles both in terms of power and size. This week, Zotac has announced the MAGNUS ERX480, the world's first AMD-powered Mini PC to come equipped with the Polaris architecture.
Zotac's ZBOX range has won plenty of awards and over the years but the company has really refined its craft with the latest box delivering quiet operation along with enough performance to run the latest games smoothly at 1080p. The Magnus ERX480 measures in at just 8.27 x 7.99 x 2.45 inches, which is around twice the size of a standard Intel NUC but still small enough to rival the likes of the PlayStation 4.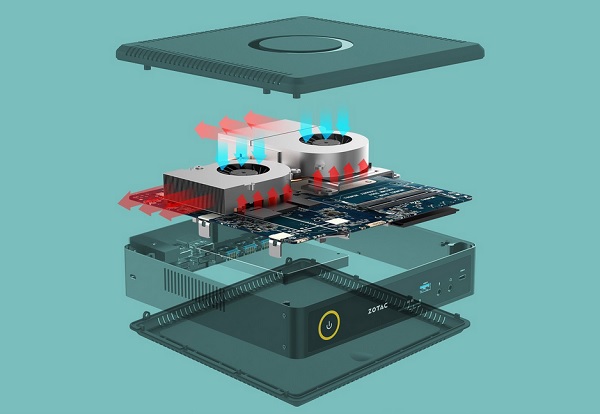 Talking about the partnership with Zotac, AMD's Spencer Pan said: "The Radeon RX480 with Polaris Architecture changes the gaming hardware dynamic with an effective cost-performance combination. We're excited to partner with ZOTAC, a well-established gaming mini PC manufacturer, to bring together the world first and most powerful AMD based gaming mini PC equipped with a Radeon RX480".
Under the hood you will come across an Intel Core i5-6400T clocked at 2.2GHz, two DDR4 SO-DIMM slots which can support up to 32GB of DDR4 RAM running at 2133MHz, a SATA and M.2 slot for SSD expansion and a 3-in-1 memory card slot. On the rear, you will find a number of USB connections, two ethernet ports, DisplayPort 1.3 and HDMI 2.0.
This model comes in a barebones model, a PLUS model (which comes with 8GB of DDR4 RAM and 120GB SSD) and a Windows 10 model, which comes with the operating system pre-installed. Pricing and availability is a mystery for now but that information should come out soon.
KitGuru Says: Systems like this make PC gaming from the living room more accessible than ever before. However, that often comes at a pretty high price. Are any of you looking for a small system for the living room?