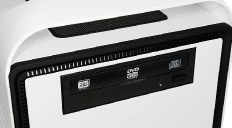 May 27th, 2013 at 10:13 am - Author
Today we are looking at the latest gaming rig from ARIA, a high powered compact system featuring an AMD HD7950 and an overclocked Core i5 3570k. ARIA have decided to use the sexy, diminutive Bitfenix Prodigy case, paired up with a mini-ITX ASUS P8Z77-I Deluxe motherboard. ARIA recently dropped the price from £1,299 inc vat to £1,199 inc vat, but is it a good deal?
The Bitfenix Prodigy has been a popular product since it was launched, targeting the audience who don't want to live with a huge super tower chassis in their living room or bedroom.
AMD Radeon HD7950 3GB
Core i5 3570K @ 4.3ghz
8GB DDR3 memory
250GB SSD
2TB HDD
300MBPS Wi-Fi
Bluetooth 4.0
7.1 Channel HD Audio
Corsair Water Cooling
Bitfenix Prodigy
ARIA Gladiator Punisher 7950 i5-3570K 4.40GHz LAN OC PC Review

,
Page : 1 2 3 4 5 6 7 8 9 10 11 12 13 14 15 16 17 18 19 20 21 22 23 24 25 26