Apparently not content with snooping on the smartphone of the German chancellor Angela Merkel, the NSA also spent over half a decade spying on the last three French presidents, Jacques Chirac, Nicolas Sarkozy and Francois Hollande between 2006 and 2012, according to some newly leaked Wikileaks documents. Titled, "Espionnage Élysée", they show how the US had phone data and recordings of conversations held by each president, including one that showed frustration at the US' continued snooping, suggesting France was aware at the time.
Although it can be assumed that all nations spy on each other's actions to some extent, the fact that the US would go so far as to infiltrate the phones of several presidents of an officially allied nation, doesn't foster confidence for its other friends.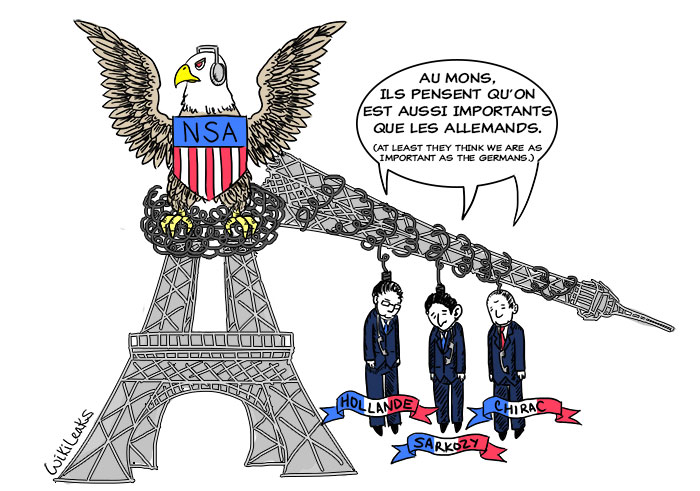 WikiLeaks founder Julian Assange said in a statement: "The French people have a right to know that their elected government is subject to hostile surveillance from a supposed ally. We are proud of our work with leading French publishers Liberation and Mediapart to bring this story to light. French readers can expect more timely and important revelations in the near future."
Indeed if the fallout in France is anything like that which took place in Germany after the announcement of Merkel's phone being hacked, there may be some unrest in France as people demand to know whether that was intelligence agency collusion, or a failing of local protective efforts. Current president, François Hollande, has said that he will convene a meeting of his defence council to discuss the government's response to the revelations.
The NSA has refused to comment, other than saying in general, it does not conduct "foreign intelligence surveillance unless there is a specific and validated national security purpose."
Discuss on our Facebook page, HERE.
KitGuru Says: One of the leaked NSA reports highlights just how long the current problems with Greece have been ongoing. Dated back to May 2012, the documents talks about the potential for a "Eurozone crisis," if Greece were to exit from the EU.