March 4th, 2014 at 10:42 am - Author
The DinoPC Pegasus 17.3" GTX 765M gaming laptop is a hefty slab of slate grey plastic that weighs in just over the 3kg mark. It combines a Full HD screen with Core i5 CPU, boot SSD with 1TB data drive and nVidia GTX765M graphics so the specification is broadly similar to the MSI GS70 2OD-Stealth, however the price is a snip at £799 inc VAT.
Today we are interested to see how it stacks up as an all round, general purpose gaming laptop.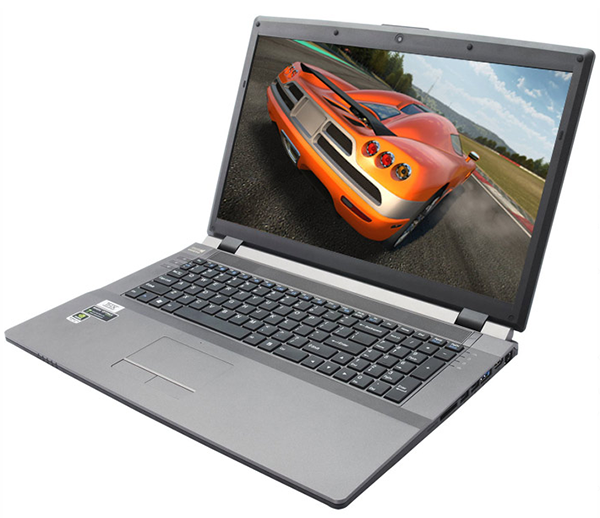 DinoPC Pegasus 17.3" GTX 765M Specification:
Screen Size: 17.3″
Screen Type: Backlight LED LCD
Screen Resolution: 1920×1080
Processor Type: Intel Core i5-4200M
Hard Drive: 5,400 rpm 1 x 1TB
Solid State Drive: 1 x 120GB
Memory Supplied: 2x4GB 1600mhz (8GB) DDR3
Operating System: 64-bit Windows 8.1
Graphics Chipset: 2GB NVIDIA GeForce GTX 765M
Audio: VIA HD Audio with Creative Sound Blaster Cinema software
Speaker(s): 2 x 2W Onkyo Speakers
Microphone: Built-in
LAN Card: Realtek Gigabit
LAN Speed: 10/100/1000
Wireless NIC: Realtek RTL8723BE 802.11n
Bluetooth: v4.0
Optical Drive: Slimline 8x DVD+RW/DVD-RW
Card Reader: SDXC/HC/MS/MS Duo
Web Camera: 2 Megapixel Full HD
413mm wide x 277.5mm deep x 17.5-44mm high
Product Weight (g): 3.2Kg (w/Battery)
Warranty: 1 Year parts and labour, second and third years labour only
DinoPC Pegasus 17.3inch GTX 765M Review

,
Page : 1 2 3 4 5 6 7 8 9 10 11 12 13 14 15 16