October 10th, 2016 at 10:52 am - Author
There is no doubt that PC gaming is still all about the mouse and keyboard. While there has definitely been a big push towards gaming in the living room, as proven by Steam with their Steam Machines and Steam Controllers, such concepts are still a long way off from being as ubiquitous as the tried-and-trusted keyboard and mouse combination. Rather than trying to fight that, Nerdytec have launched the Couchmaster Cycon in an attempt to make using the keyboard and mouse from your sofa as comfortable as possible.
A similar idea to the Roccat Sova and Corsair Lapdog, both of which we have reviewed recently, the Nerdytec Couchmaster Cycon does differentiate itself from those products. Most obviously, the Cycon does not rest on your lap, as the so-called 'lapboards' do – rather, the cushions act as pillars and raise the cross-board over your legs. Over the course of this review, we will go over all the main features of the Cycon and see if it is worth your cash.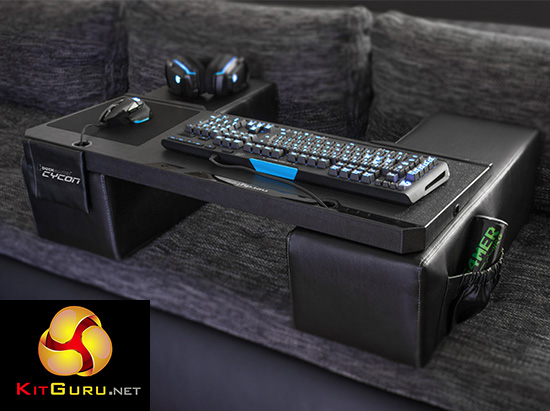 Features
Pleasant materials and the high-quality fashioning guarantee maximum comfort
Smart cable management for uncomplicated working and gaming without disruption
Lag free connection via high-speed USB 3.0 hub with four ports
Universally positionable mouse pocket for keeping peripherals, remote controls or other tools when moving the case
Fits every body size
Suitable for right- and left-handers
No additional power supply necessary (up to 900mA)
Specifications
 Dimensions cushions: 60x23x19 cm
Dimensions support case: 84x35x4 cm
Max. distance between cushions: 75cm
Colours: black, black-red, white, grey
Material: artificial leather, microfiber
Number of USB 3.0 ports: 4 (3x inside + 1x outside of the support case)
RRP: 159,00€
Package contents: support case, 2x cushions, additional pocket, USB 3.0-hub, active USB 3.0 extension cable (5m), user manual, Velcro straps