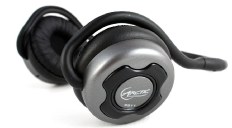 April 25th, 2011 at 9:47 am - Author
Comfort is one of the most important aspects of a headset, especially if you're using it for long periods of time.  Neckband-style headsets do tend to be less comfortable than over-the-head style ones as there can be a lot of force applied to your ears.  But we feel that Arctic have done quite a good job with the P311 which is one of the most comfortable neckband-style headsets we've ever tested.  It's certainly in a completely different league to the SteelSeries Siberia Neckband we reviewed a while back.
The P311 doesn't slip around at all during use as the neckband stems from the front of each earpiece and lies over your ears, securing the headset in place.  This also means there is no excess pressure against your ears which makes for a very comfortable headset overall.  Arctic have used faux-leather pads on each earpiece which further enhance the headset's comfort.
There is only so much you can expect from a headset at this price point in terms of sound quality and the P311 doesn't disappoint.   Sure it isn't in the same league as Arctic's larger, more expensive gaming headsets but it is perfectly acceptable. When playing music through our HTC Desire smartphone, the overall sound was quite impressive.  The lower registers did lack punch and clarity, though, which was most noticeable in more 'bass heavy' tracks.
Music playback using a PC was much the same.  The audio quality was perfectly acceptable for watching a movie or listening to music on the go but the P311 isn't ideally suited for gaming.  For gaming, we would recommend one of Arctic's gaming headset range which offer better sound quality.
Arctic Sound P311 Bluetooth Headset and Dongle Review

,