Logitech's G-series of mice have been getting a lot of attention from the enthusiast audience. We already reviewed the G602 wireless and G502 'Proteus Core' mice last year and today we are looking at the latest entry to the product line, the G302 'Daedalus Prime'. This mouse features new switches for more responsive mouse clicks, supposedly giving MOBA players an edge in competitive play.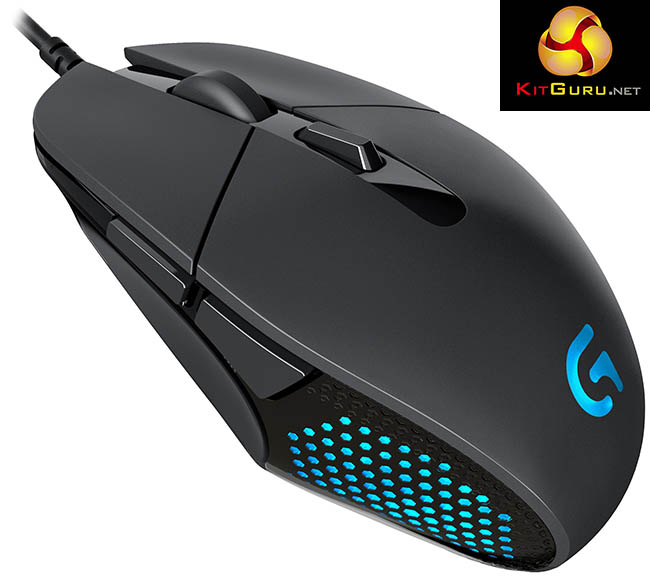 One of the main talking points is that the Logitech G302 is designed for high speed clicking – capable of registering up to five clicks per second thanks to a new metal spring tension system. Today we will find out if such a feature can really give you an edge when it comes to mouse driven MOBA titles.
Specifications:

up to 4000 DPI.
1ms response time.
1000hz polling rate.
Buttons rated for 20 million clicks.
Delta Zero Optical gaming sensor.
Metal spring tension system for improved click response.
Tuned to eSport grade specifications.
The Logitech G302 Daedalus Prime ships in a small rectangular box with an image of the product visible on the front.
The side lists several key specifications, such as the maximum DPI, glide efficiency and the life expectancy of the left and right mouse buttons. Our review unit shipped from Germany and the packaging was badly mistreated by the courier.
On the back of the box you will find a quote from 'WildTurtle', who plays for Team SoloMid. This isn't anything new, we tend to see endorsements from pro-gamers on the back of many peripheral boxes these days.
The back of the box also notes that this mouse uses the Delta Zero optical gaming sensor, which will please the audience who don't like laser mice.
Once you open up the box you will find the mouse, held in place by a plastic shield. The G302 is an ambidextrous shape, meaning that it should fit most grip styles fairly well.
Here we can see that this mouse only ships with two re-programmable buttons on the side – this is normal for mice of this shape as there isn't really enough room for more.
We can also see that both sides of the G302 have lighting grills. These are merely here for appearances- I think they look quite nice, particularly with the lights on.
Things remain simple on the top of the mouse with just one extra re-programmable button.
If you are the kind of gamer that likes to use a lot of extra mouse buttons for different commands, then do keep in mind that the G302 only has three of them.
Overall, I like the simple design. The ambidextrous shape will suit many, the lighting grills on the sides look very nice and there aren't too many buttons.
The Logitech G302 MOBA gaming mouse is supported by the company's gaming peripheral software. If you already own a Logitech device, then you have likely seen the software before but options can differ depending on which peripheral you have hooked up.
On the main software window we have the option enable/disable the on-board memory profiles of this mouse, along with tabs for all of the different settings.
On the next options menu we can set the DPI sensitivity profiles, polling rate and change the button commands.
This mouse has a maximum rating of 4,000 dpi, which is perfectly fine. We often see the more expensive gaming mice offering upwards of 8,000 dpi but in reality it is pretty pointless.
We can assign multi-key command macros and keystrokes via the software. A long list of generic mouse functions is also provided should you want to assign something simple like media controls.
The next menu shows off the lighting effects. This is not an RGB product so there aren't that many options to choose from in total.
Your only option as far as color goes is blue but you can adjust the brightness levels of the sides and logo. There is also a breathing effect, which comes turned on by default.
This window offers a heat map. It will record your mouse movements and button presses, analyse them and then show you which buttons you use the most and how many key presses per minute (KPM) you achieved.
In the general settings we can enable high resolution images, set up how to record macros and allow games to control illumination. The G302 tab allows you to update the firmware.
The profile section allows you to set up a persistent profile to always be active regardless of any applications running. You can also create a hotkey to cycle through different profiles. Finally, the Arx Control tab allows you to pair up the PC software to a mobile device. You can then use the Arx Control smartphone app to change settings instead.
As always, Logitech's gaming software is of top notch quality with easy navigation and no performance issues.
So the software is good but what about performance? Well I am pleased to report that the Logitech G302 is a joy to use.
The ambidextrous shape allows it to fit in the palm of my hand comfortably while using palm, claw and fingertip grip styles. Additionally, the mouse is light weight, allowing for swift and accurate movements.
However, it is worth noting that if you have large hands, palm grip users may find their fingers sliding off of the mouse click buttons as the G302 is quite small. If you have the opportunity, we would recommend trying one out yourself just to make sure.
The Delta Zero optical sensor incorporated into the G302 is fantastic. I had no issues with tracking on an variety of surfaces, including granular and cloth mouse pads as well as wood.
Logitech has made a big deal out of the spring tension system found inside the left and right click buttons and I have to admit, I could tell the difference, particularly when comparing to other mice, such as the Corsair RGB M65 and Roccat Tyon. While the jump isn't quite as significant as going from a membrane to a mechanical keyboard, it is easy to notice and the clicks definitely feel more responsive.
While I could tell the difference between clicks, I wouldn't go as far as to say that it gave me the edge in competitive MOBA games. Maybe a more serious DOTA 2 or League of Legends player would be able to tell the difference but for me, as a casual player, I can't say that the new buttons actually improved my response times in any way.
Despite that, this is still a great gaming mouse, for all genres. It is marketed towards MOBA players but I had plenty of success with first person shooters and RPG titles as well.
We are impressed with the overall quality of the Logitech G302 MOBA gaming mouse. It is lightweight which makes it conducive for swift, complex movements. The Delta Zero optical sensor delivers excellent tracking performance and while the mouse only has a maximum DPI of 4000 we do feel many companies chase very high dpi figures just for marketing purposes.
The metal spring tension system found inside the left and right mouse buttons works exceptionally well – it is easy to tell the difference when comparing mice. That said, unless you are a hardcore MOBA player, we are not sure many will be able to tell the difference in response times.


Logitech's gaming software is intuitive and fully loaded, as we would expect. There are plenty of great customisation options but given that this isn't an RGB product, the lighting suite is pretty basic.
The G302 'Daedalus Prime' has only three extra buttons for setting up commands or macros, so if you require a more sophisticated configuration then this product may not tick all the necessary boxes. For my own gaming style, the G302 was more than enough.
You can pick up the Logitech G302 MOBA Gaming Mouse from Logitech's own online store for £39.99 – a fair price given the level of quality on offer here. In fact, given the choice, I would probably choose this mouse over something more expensive, such as the SteelSeries Sensei.
Discuss on our Facebook page, over HERE.
Pros:
Easy to use software.
Solid build quality.
Metal spring tension system.
Delta Zero optical sensor provides excellent tracking.
Price.
Cons:
KitGuru Says: The Logitech G302 carries the same level of quality as many high end mice. At just £40, it would be difficult not to recommend it.