Oculus VR, which is about to become a subsidiary of Facebook, has hired Michael Abrash, a renowned video game guru. At Oculus VR, Mr. Abrash will serve as the chief scientist, a logical position for a long-time evangelist of virtual reality technologies. What is noteworthy is that the legendary game guru, just like our own Jon Martindale and founder of Oculus Palmer Luckey, believes that the acquisition of Oculus VR by Facebook was a good thing.
Throughout his long career, Michael Abrash has worked on loads of projects at companies like id Software, Microsoft, Valve Software and some others. In the most recent years he became an expert and a big believer into the virtual reality (VR) and augmented reality (AR) technologies. At Valve, he actually was one of the leaders of the VR platform development.
"We are on the cusp of what I think is not The Next Big Platform, but rather simply The Final Platform – the platform to end all platforms – and the path here has been so improbable that I can only shake my head," Michael Abrash wrote in a blog post at Oculus VR.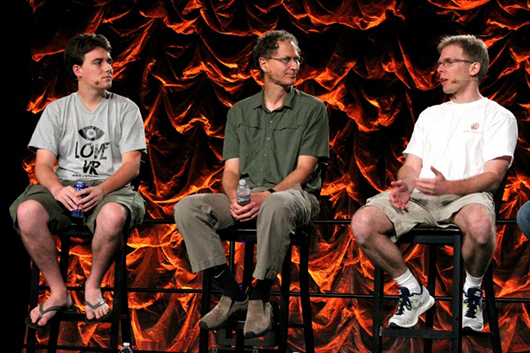 Image by Steve Grever, PC Perspective. Palmer Luckey, Michael Abrash and John Carmack at QuakeCon 2012
The position of chief scientist at Oculus VR clearly reveals that Mr. Abrash will work on future projects and software rather than on any ongoing hardware initiative. There is plenty of work to be done with VR and, possibly, AR (keeping in mind that Facebook is going to expand the reach of VR tech beyond gaming, AR seems to be one of the potential technologies that FB would like to explore first), so Mr. Abrash will clearly not stand still. What he will exactly research on his position is, of course, remains to be seen.
While there is a lot of hype about virtual reality and augmented reality technologies at the moment in the press and various social networks, it should be kept in mind that we are only about to enter into the VR era. The upcoming commercial Oculus VR's helmet has potential to become popular among core gamers, it will take plenty of time before the VR technology in general becomes widespread. Michael Abrash perfectly understands that, which is why he welcomes the acquisition of Oculus VR by Facebook, which has plenty of cash and can fund long-term R&D.
"Facebook's acquisition of Oculus means that VR is going to happen in all its glory," wrote Mr. Abrash. "The resources and long-term commitment that Facebook brings gives Oculus the runway it needs to solve the hard problems of VR – and some of them are hard indeed. I now fully expect to spend the rest of my career pushing VR as far ahead as I can."
KitGuru Says: The team at Oculus VR is getting better and better very rapidly. The potential of the great people at the VR tech pioneer is simply incredible. While there is no doubt that all these talents will eventually develop astonishing products, it remains to be seen how successful will those products be.