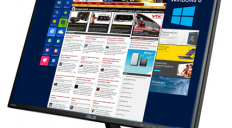 January 18th, 2013 at 9:21 am - Author
The Asus VN247H ships in a plain brown box, which is very thin. It is also very light, weighing only 5.8kg. Dimensions of the box are 602mm x 478mm x 128mm (WxHxD).
The bundle includes a VGA cable, audio cable, power cord, quick start guide, HDMI to DVI Cable and a warranty card. Strangely there is no HDMI to HDMI cable included.
The base is nicely finished and is quite light also, with a metal base underneath. It locks into the monitor arm with a large tool less screw, seen in the image above.
The VN247H is a very attractive, thin monitor which looks fantastic. We immediately noticed how thin the surrounding bezel was – an intentional design trait for multiple screen configurations. With the stand installed, it measures 548.6 mm x 394.9 mm x 194.2 mm (WxHxD). It weighs only 3.7kg.
We didn't get nine monitors, but the image above is taken from the ASUS website, to show the specific strengths of this screen in complex environments. The bezel surrounding the screen measures around 9mm.
The rear of the VN247H looks great under light thanks to the textured surface. According to the company this is scratch proof, although as the sample had to be returned we were unwilling to test the claims thoroughly.
From the side, the monitor is quite thin with the rear panel exhibiting a 'bulge' in the middle section.
The stand can rotate on the axis to adjust the viewing position: 25° ( forward 5°, backwards 20° ) tilting angle.
The rear of the VN247H has a VESA mount to connect to a wall. Multiple VN247H panels could be wall mounted without a problem.
The menu key controls are on the rear panel which means you have to feel around from the front to press them. ASUS say this is 'convenient', but I would have to disagree. The only benefit I can see is a cleaner front bezel appearance.
There are also two speakers on the screen, each capable of outputting 2 watts each. As we would expect these are rather gutless, but perhaps useful for an office environment when only basic audio output would be required.
All of the connectors are recessed into the bottom of the screen, accessible from the rear. The I/O port can be accessed easier if you remove the detachable rear cover.
On the right side are the following connectors -
Signal Input : HDMI x 2, D-Sub, DVI-D (via HDMI-to-DVI cable)
PC Audio Input : 3.5mm Mini-Jack
AV Audio Input : HDMI
Earphone jack : 3.5mm Mini-Jack
Asus VN247H Super Narrow Bezel LED Monitor Review

,