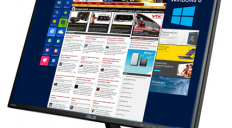 January 18th, 2013 at 9:21 am - Author
The ASUS menu interface is positioned bottom right of the screen, with the buttons only accessible if you move your fingers around to the back of the screen.
As mentioned earlier this helps to ensure that the front of the screen is uncluttered, but it is a little awkward to adjust the settings. ASUS class this as 'convenient' (image above), but I don't agree.
The interface is easy enough to navigate, and ASUS include 'Splendid Video Intelligence Technology'. This optimizes video performance and image fidelity by enhancing color, brightness, contrast, and sharpness. 6 preset video modes (Scenery, Theater, Game, Night View, sRGB and Standard) can be selected via a hotkey.
The five main submenu's include a wealth of settings to accommodate everyone but the most discerning of users. There are six built in 'Splendid' modes which adjust the image in various ways. Theater mode worked well for high definition movie playback, enhancing the colour saturation a little.
Brightness and volume can be controlled directly via two of the buttons on the rear panel. Sound quality from the onboard system is mediocre, but it may prove useful in some situations.
Asus include a 'QuickFit Virtual Scale' with the VN247H. This allows the user to preview photos and documents on screen in their actual size prior to printing.
Above you can see how this looks live on the monitor. It can be activated via a monitor hotkey, and serves as a guide to accurately view and edit photos in their native size.
Asus VN247H Super Narrow Bezel LED Monitor Review

,