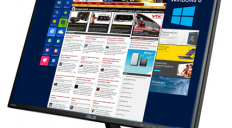 January 18th, 2013 at 9:21 am - Author
The Asus VN247H Super Narrow Bezel LED Monitor is surely one of the best value for money screens available today. At only £149.99 inc vat from Overclockers UK and Scan UK it would be one of my first choices for a gamer building to a tight budget, but one not willing to compromise greatly on image quality.
The 9mm bezel (yes we measured it) ensures that multi screen configurations look very appealing indeed. It is fantastic to see ASUS are spending time thinking about what gamers really want. The thick bezel on many monitors really does get in the way of creating an immersive 3 or 6 screen setup.
Technically, there is no doubt that the VN247H cannot be rated in the same category as a class leading £250 monitor, but the overall image quality is likely to please most people, especially gamers. If you are a designer or photographer with colour critical demands, then we strongly advise you to look at one of the ASUS Pro Art screens instead. You can only save so much money before you are compromising on the accuracy of the colour rendition. The VN247H sacrifices colour accuracy and replaces it with vibrancy and impact to enhance the gaming experience.
Black Definition is above average and ensures that high definition movies create plenty of impact. White purity isn't quite as noteworthy however we feel it doesn't detract too much from the overall image presented.
If you are looking for an inexpensive monitor for a new system with a main focus on gaming and HD movies, then we can certainly recommend the VN247H. The super narrow bezel really looks great when running in a multi screen configuration. Three of these monitors would only set you back £450 which seems like a really good deal to me.
EDIT: 23rd January – Both OCUK and SCAN had this screen on offer at time of original publication. The pricing is now under £180 from OCUK and from SCAN.
Pros:
Price.
decent all round image quality.
very light.
super narrow bezel is very attractive.
ideal for multi screen system.
fast refresh for gamers.
Cons:
white purity.
no HDMI-HDMI cable in the box.
Kitguru says: We really do rate the VN247H highly. We hope to see more manufacturers focusing on reducing bezel size.

Asus VN247H Super Narrow Bezel LED Monitor Review

,