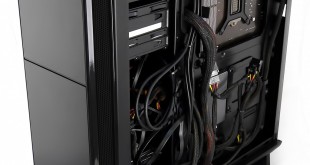 German cooling company be quiet! has taken the bold step of creating its first PC case, the Silent Base 800.
The company name and the model name both effectively promise this new case will be very quiet indeed, and that is something we fully appreciate – but of course we also want plenty of interesting features and a decent level of cooling.
The be quiet! Silent Base 800 uses a steel chassis with plastic panels that carry plenty of sound deadening material. At the front of the case there are stealth doors that cover the optical drive bays and main air filter.
You can watch via our VIMEO Channel (below), or over on YOUTUBE.

EDIT: 18th November 11.25am – There is a RESET button – it is located behind the Status LED. Apologies for the error!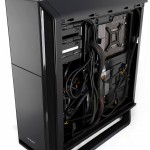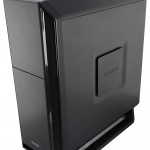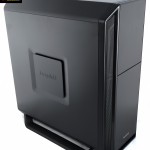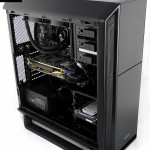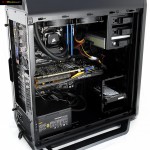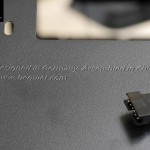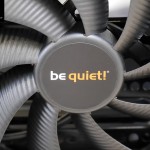 As you can see the sample case sent to KitGuru is entirely black in colour, however there are two other versions with front panel highlights in orange or silver. We are told by be quiet! that in a couple of months there will be a version that has a window in the side panel.
Opening the case reveals two 140mm Pure Wings 2 fans at the front and one 120mm Pure Wings 2 fan at the rear. There is space in the roof of the case where you can add a 240mm or 280mm liquid cooling system without the need to remove any of the factory fitted fans.
Specification:
Motherboard support: ATX, Micro-ATX, Mini-ITX.
Expansion slots: 7.
Included fans: 2x 140mm front intake, 1x 120mm rear exhaust.
Fan mounts: 2x 120/140mm roof, 1x 120/140mm bottom, 1x 120mm side panel.
120mm radiator mounts: 120mm front, 120mm/240mm roof, 120mm rear.
140mm radiator mounts: 140mm front, 140mm/280mm roof.
5.25″ drive bays: 3
Internal drive bays: 7x 3.5, 4×2.5″.
Dimensions: 559mm H x 495mm D x 266mm W.
Testing
To put this case through its cooling paces we will be using a test system consisting of an Intel Core i7-4770K, Radeon R9 290, a Samsung SSD and an HDD storage drive. This system allows us to produce a substantial amount of heat and effectively test the be quiet! Silent Base 800's cooling capabilities.
For stress testing we use a mixture of Prime95 and FurMark to create the maximum heat output. Prime95′s 'Small FFTs' setting allows us to stress our CPU. FurMark's 'GPU Burn-in' mode creates the maximum amount of load our GPU is ever likely to see.
Test System:
Processor: 3.9GHz Intel Core i7-4770K
Motherboard: ASRock Z87 Extreme4
CPU cooler: Corsair H100i
Memory: Avexir 1600MHz RAM
Graphics card: Sapphire Radeon R9 290 Tri-X 4GB
Power supply: be quiet! Straight Power 400W
Storage drives: Samsung 840 SSD
OS: Windows 7 Professional 64-bit.
Assess cooling.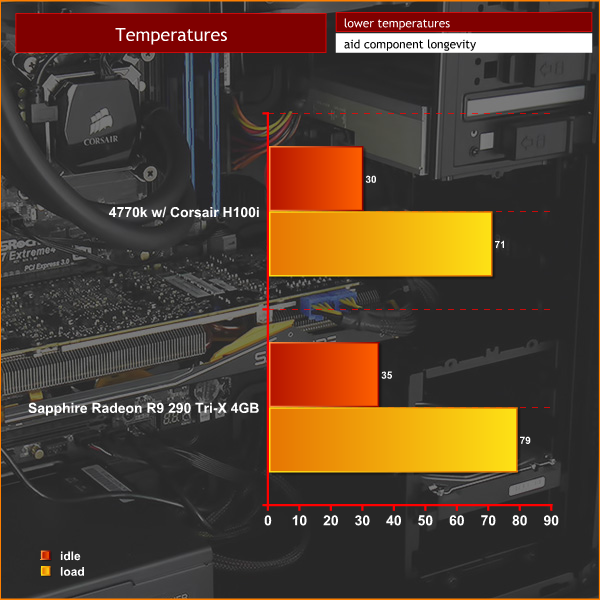 Temperature deltas of 41 degrees for our Core i7 CPU and 44 degrees for the Radeon R9 290 GPU are very acceptable. Air flow through the case follows a logical path and there were absolutely no problems here whatsoever.
Assess noise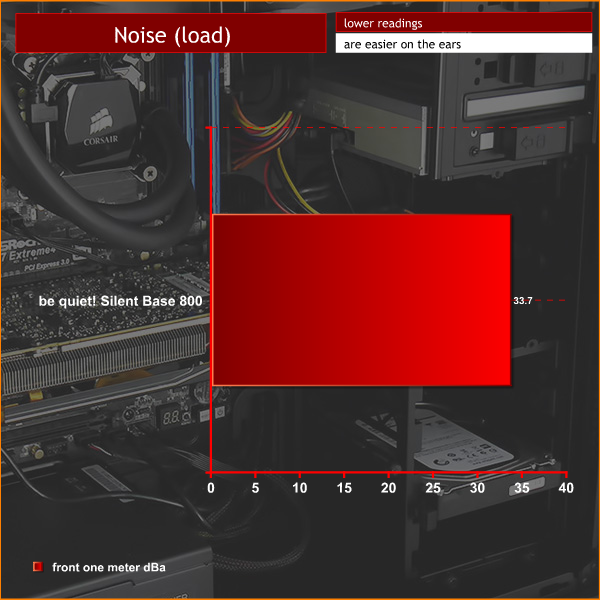 This is a big point for the Silent Base 800 as the name promises a huge amount and the be quiet! case delivers in style. You can certainly hear the fans working, so while we cannot claim the Silent Base 800 is whisper-quiet, it is impressively quiet and matches the other premium cases we have recently reviewed.
Summary
This is an impressive piece of work for be quiet!'s first PC case and there are plenty of things to admire. In particular the use of sound deadening material inside the panels at the front and side. The design of the air intakes at the top, bottom and sides of the case all work well.
Other neat touches include the motherboard stand-offs that are built into the motherboard tray, the huge cut-out behind the CPU socket and the reversible door that covers the optical drive bays.
On the other hand it can be a struggle to install a liquid cooling system in the roof of the chassis and the manual could really do with some work to make life easier for the home PC builder.
We have every confidence the next case from be quiet! will build on this first design and continue to improve.



Buy from Overclockers UK for £92.99 inc vat.
Discuss on our Facebook page, over HERE.
Pros:
Impressively low levels of noise.
Decent cooling.
Two 140mm fans at the front and one 120mm fan at the rear.
Nicely filtered and easy to keep clean.
Good, solid build quality.
Smart styling.
Cons:
The manual requires some work, in particular to help with the installation of liquid cooling systems.
Cable tie-down points are necessary.
More cable management cut-outs required.
Removing panels and repositioning drive bays is not clearly explained.
At this price point it would be good to have a power supply cover
KitGuru says: A solid piece of work from be quiet! that delivers good results at a price that doesn't break the bank.