One of the wonderful things about the Steam platform is that it is incredibly open with its statistics, showing how many people are playing different games and how many users are online at all times. This is something that is pretty unique amount digital distribution platforms and it allows us to see how many players each game has and hence how popular different games, even Valves own games are.
In this case the big news is that one of Valves own games, the free to play Dota 2, has reached the milestone of having over 1 million concurrent players playing (or at least running/waiting for Year Best). It is actually the first game in the history of Steam to do so, the next highest being Counter-Strike: Global Offensive which hasn't even broken half a million yet. This goes to show just how popular the successor to Dota is.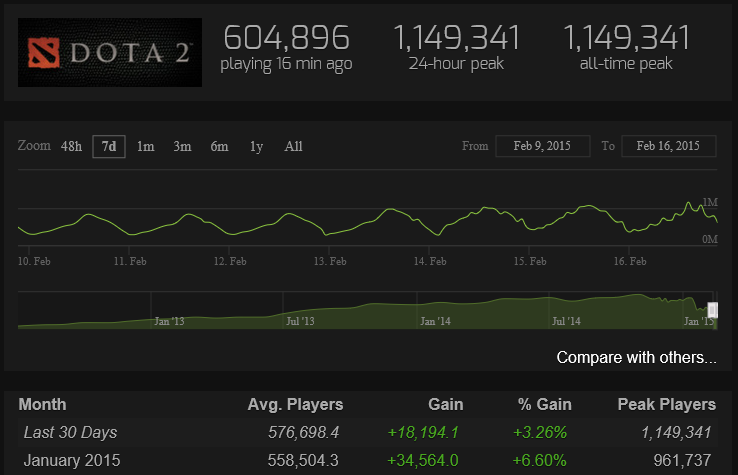 Currently the peak is 1,149,341 concurrent players, but looking at the graph above you can see that this is trending heavily upwards every day. Having said that though, this boost of players could easily just be those looking to give the new Year Beast game mode a go. Also there haven't been less than ~350,000 players in the game for the last three days, this probably explains why matchmaking has been so quick recently.
There have been some reports of lagging and stuttering during the new event that is based around the Chinese new year, but it's quite hard to tell how serious these issues are, with lag being quite a complicated matter it can be difficult to figure out exactly where this is being generated.
Discuss on our Facebook page, HERE.
KitGuru Says: I've played a few of the Year Beast events myself and I have seen some odd lag when the bests are out. It's hard to say where it is coming from but as all players in the same game are reporting it, it sure seem like it might be a server-side thing. Any Year Beast players have similar issues?

Source: Steam DB twitter