Qualcomm, the world's largest supplier of mobile application processors, has introduced its new lineup of mobile system-on-chips for mainstream smartphones, tablets and other devices. The new Snapdragon 600-series application processors feature ARM's latest Cortex-A72 cores, support 4K video capture and playback, advanced storage technologies, a number of other high-end features as well as na ew-generation Adreno graphics and Qualcomm 4G/LTE modem.
The new Snapdragon 620 and 618 application processors feature four or two high-performance ARM Cortex-A72 as well as four or two low-power ARM Cortex-A53 general-purpose cores, a new Adreno 500-series graphics engine with hardware tessellation and geometry shading, eMMC 5.1 storage support, a dual-channel LPDDR3 memory controller, X8 LTE baseband capabilities, dual ISP camera (gyro image stabilization, enhanced autofocus and local tone mapping), hardware HEVC encoding and decoding, 802.11ac Wi-Fi, Bluetooth 4.1 and so.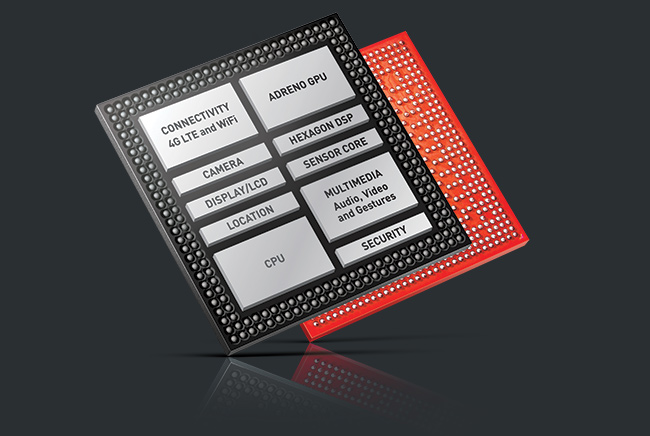 The unique integrated X8 LTE modem from Qualcomm supports 4G/LTE Cat 7 speeds of up to 300Mb/s with carrier aggregation as well as all possible wireless communication standards, including LTE FDD, LTE TDD, WCDMA, CDMA1x, EV-DO, TD-SCDMA and GSM/EDGE.
The latest Snapdragon 618 and 620 processors not only deliver exceptional performance thanks to ARM's latest Cortex-A72 cores as well as new-generation Adreno 500-series graphics, but they also allow smartphone manufacturers to significantly improve quality of integrated cameras, performance of built-in storage and overall user experience thanks to a bunch of high-end features previously found only in the Snapdragon 800-series products.
"We are excited to announce the Snapdragon 620 and 618 processors with next-generation graphics, camera, 4K video capture and connectivity, all premium tier features previously only found in our Snapdragon 800 class products. The Snapdragon 620 and 618 also both come with X8 LTE, as does the Snapdragon 425, marking the first time we've supported this amazingly fast speed at the 400 tier," said Alex Katouzian, senior vice president of product management at Qualcomm Technologies.
The Snapdragon 425 and 415 application processors are considerably less advanced and will hardly deliver breakthrough performance with ARM Cortex-A53 cores. Nonetheless, the Snapdragon 425 is an up-to-date chip with multi-core 64-bit processing capabilities, that will also deliver unbeatable X8 LTE connectivity, advanced storage, feature-rich graphics and 802.11ac Wi-Fi.
Qualcomm did not reveal when it anticipates its partners to unveil smartphones based on its latest system-on-chips, but it is logical to expect them to arrive towards the end of this year, or early next year.
Qualcomm did not reveal which manufacturing technology it uses to make the new chips, but it is logical to assume that they are made using 28nm or 20nm fabrication processes.
Discuss on our Facebook page, HERE.
KitGuru Says: The Qualcomm Snapdragon 620 looks like a very advanced solution even for premium handsets that will arrive later this year. Now, imagine what the new top-of-the-range Snapdragon 800-series SoC will be like!