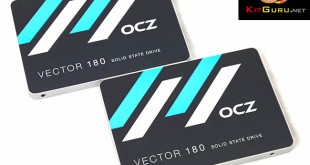 Regular readers of KitGuru will know that OCZ have been making amends to repair their reputation with the enthusiast audience. They feel so confident in their latest technology that they asked us recently to kill 5 of their ARC 100 drives (latest update and links back HERE). Today it is time to take a look at their new SSD drive – the Vector 180. OCZ sent us their 480GB and 960GB models which feature power failure management, Toshiba A19 NAND flash, ShieldPlus Warranty and 100,000 random IOPS capabilities. These drives have a warranty of 50GB a day of host writes – for 5 years.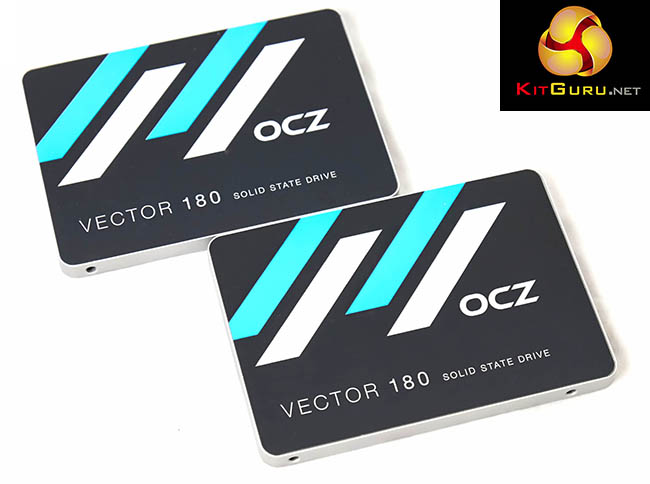 The OCZ Vector 180 replaces the older Vector 150 drives which shipped with 19nm MLC NAND. The latest A19 MLC NAND is incorporated in the Vector 180 and the drives are equipped with a new Power Failure Management system.



'OCZ Power Failure Management Plus (PFM+)' detects power anomalies and helps to protect the SSD against 'bricking' while safeguarding at rest data. This new PFM+ feature utilises backup capacitors for power during the routine phase.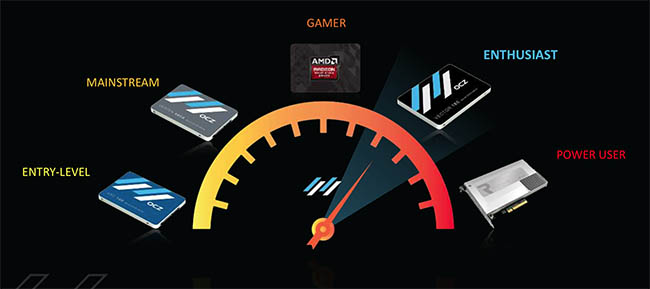 To compliment the larger 480GB and 960GB models, OCZ are also releasing 120GB and 240GB units and are marketing this drive to target the 'enthusiast' audience. They position this drive above the rebadged AMD R7 Series SSD (review HERE) fitting into the Gamer sector but below the Power User sector, which features the REVO drives (review HERE).
MTBF is rated at 2.3 million hours.
Product Highlights:
Proprietary OCZ Barefoot 3 controller technology combined with the latest Toshiba A19nm flash.
Power Failure Management (PFM) helps prevent 'brick drive syndrome' that can occur during sudden power losses.
Advanced firmware suite of NAND flash management keeps your drive at higher sustained performance over the long term comparing to competing solutions.
Excellent endurance rating at 50GB/ day of host writes for 5 years perfect for power user applications and workloads.
Excels in both incompressible and compressible data types such as multimedia, encrypted data, .ZIP files and software.
Bundled with a 3.5-inch desktop adapter and Acronis® True Image™ cloning software to easily transfer data from your old hard drive or SSD.
Sleek housing offers slimmer 7mm z-height for compatibility with the ultra-thin notebooks.
OCZ ShieldPlus Warranty – an elite worry-free customer service experience, which eliminates all the hassle surrounding traditional support and warranty claims consumers often have to deal with.


OCZ claim that UK pricing is said to be 120GB £69.99, 240GB £114.99, 480GB £214.99, 960GB £404.99. We don't have confirmed direct etailer pricing as we go live today, so check your local dealer in the coming weeks. Both 480GB and 960GB drives are rated to deliver 550MB/s read, and 530MB/s write with 100,000 IOPS read, and 95,000 IOPS. The 240GB drive can match the larger drives in regards to read and write speeds – but IOPS is slower at 95,000 IOPS read and 90,000 IOPS write.
The 120GB drive is the slowest of the bunch, with write speed dropping to 450 MB/s and random read IOPS to 85,000.