Intel Corp. this week plans to announce a new family of inexpensive Celeron and Pentium central processing units made using 14nm fabrication process. Previously known as code-named "Braswell" microprocessors, the new chips significantly increase performance in multimedia applications compared to previous-generation "Bay Trail" system-on-chips. The new SoCs will be used inside low-power notebooks and tablets.
The new Celeron and Pentium microprocessors from Intel feature two or four x86 cores based on the "Airmont" micro-architecture (which is a refined version of the Silvermont micro-architecture with a number of improvements) as well as all-new eighth-generation Intel graphics (Gen8) core with enhanced architecture and 16 execution units (EUs). The latest Gen8 graphics processing unit from Intel supports OpenGL 4.2, DirectX 11.1, OpenCL 1.2 and OpenGL ES 3.0 application programming interfaces, something that the previous-gen low-end chips from Intel did not support.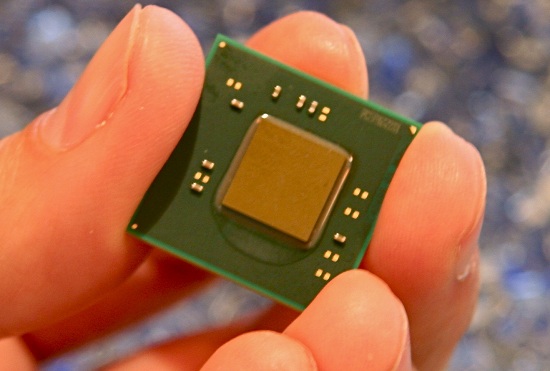 Intel's Celeron N3050, N3150 and Pentium N3700 have thermal design power of 6W, whereas the Celeron N3000 has TDP of 4W, reports CPU World. Microprocessors with such low thermal envelopes can be used for affordable notebooks, hybrid 2-in-1 devices as well as tablets. All of the chips can significantly overclock themselves, thus, improving performance when plugged to a power outlet. Thanks to ultra-thin 14nm process technology used to make "Braswell" processors, the new processors will consume minimum amount of power when on battery power.
Thanks to improved general-purpose processing capabilities and new eighth-generation graphics processing unit from Intel, devices based on the new chips will offer considerably improved user experience than predecessors.
Intel did not comment on the news-story.
Discuss on our Facebook page, HERE.
KitGuru Says: While the new processors integrate low-power/low-cost "Airmont" cores, the latest Celeron and Pentium CPUs cannot be called affordable. $107 is pretty expensive for a dual-core system-on-chip that is supposed to power an low-cost laptop or tablet.