Although virtually all leading makers of mainboards demonstrated their new products with USB type-C receptacles at Computex, it does not seem that makers of various peripherals are ready to embrace the new connector just yet. In fact, Patriot was one of a few companies at the trade-show displaying USB-C products.
Patriot's tiny Stellar-C flash memory drives come in two capacities: 32GB and 64GB. Although the new drives boast with the reversible type-C connector and use USB 3.1 interface, their performance is limited to 110MB/s read speed and 20MB/s write speed, which is very slow by today's standards. Many modern USB 3.0 SSDs feature considerably higher capacities and performance.
USB flash drives are among the most popular products with this interface. Eventually Patriot and other makers of such products will offer a wide range of devices with USB type-C connectors. Nowadays computers with USB-C receptacles are still rare, which is why Patriot is taking a cautious approach and is only rolling-out basic drives with the new interface.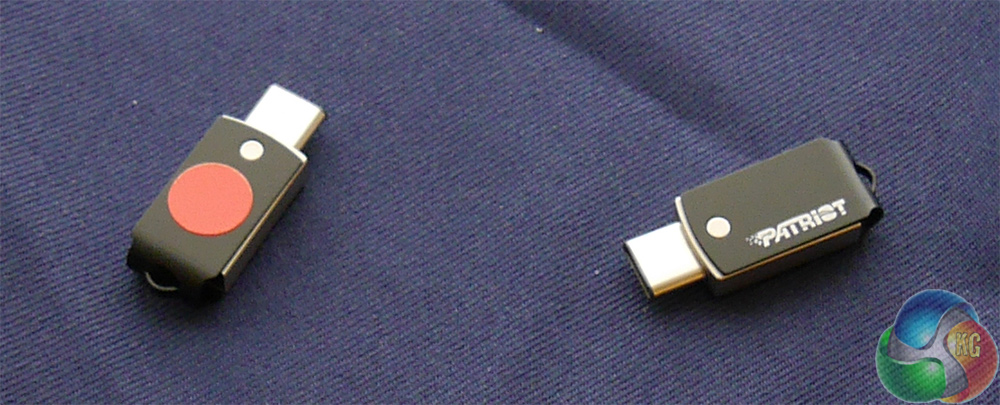 Even though Patriot's Stellar-C USB 3.1 type-C drives can hardly impress, they are the first USB drives with type-C connector seen by Leo Waldock, a KitGuru editor, who visited Computex.
The Patriot Stellar-C drives will hit the market later this year. Prices are unknown, but do not expect them to be too high, given low capacities and slow performance.
Earlier this year Patriot introduced USB NAND flash drives with both type-A and type-C connectors.
Discuss on our Facebook page, HERE.
KitGuru Says: It is surprising that not a lot of makers of USB flash drives are rushing to release their products with USB 3.1 type-C connectors. Desktops with USB type-C receptacles will get rather popular later this year and their owners will demand new peripherals…