Not only did we get some major announcements from Intel at Computex today but Nvidia has also taken to the stage with a rather bold announcement. Today, Nvidia introduced Max-Q, a new GPU design that aims to redefine gaming laptops by making them thinner, quieter and faster. This is essentially a GTX 1080 slim enough to slot into a laptop as thin as the MacBook Air, bringing huge performance gains to thin and light laptops.
As always, there is scientific significance to the nomenclature Nvidia has chosen. Max-Q is defined as the point at which the aerodynamic stress on a rocket in atmospheric flight is maximised. As a result, rockets are engineered around what is known as Max-Q. Nvidia's philosophy is similar, using the Max-Q GPU design as the centre of a new generation of gaming laptops. This results in a high-performance gaming platform that can measure in at just 18mm thin, while delivering 70 percent more gaming power than what is currently available in this form factor.
GTX 1080 is already a very efficient graphics card but with Max-Q, Nvidia has found a way to optimise Pascal even further for higher peak efficiency, lower voltages and an optimised clock speed curve. The entire laptop is precisely engineered around the Max-Q GPU, to ensure thermal stability. This will all be backed up by driver improvements on the software side.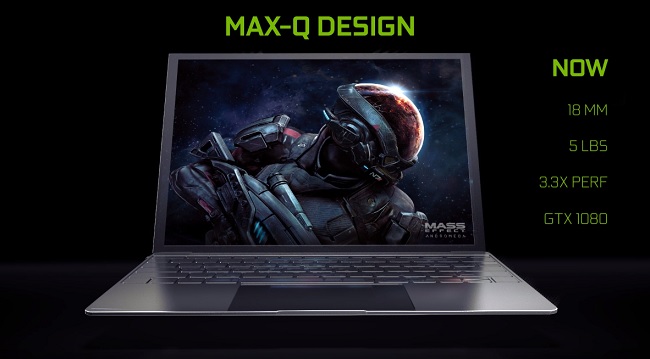 So how is an 18mm thick laptop supposed to keep a GTX 1080 cool? Well according to Nvidia, Max-Q designed laptops are engineered with new thermal and electrical designs to help in this area but there is also something on the software side to help. Nvidia has announced 'WhisperMode Technology', which will pace a game's frame rate and adjust graphics settings to help reduce the overall load on the GPU. This in turn will also help the laptop stay quiet as there will be less need for the fans to kick up.
Max-Q gaming laptops will come in GTX 1080, 1070 and 1060 designs, with the first laptops set to ship on the 27th of June. Nvidia has already teamed up with a range of laptop makers to ensure a good rollout, so expect to see Max-Q laptops from Alienware, ASUS, Acer, Gigabyte, HP, MSI, Maingear, PC Specialist and more.
KitGuru Says: If any of you have seen a MacBook Air in person before, then you know how incredibly thin it is. With that in mind, I would love to see a laptop that size with a capable GPU packed inside. Still, I would worry about heat with such a powerful GPU in that enclosed space, so it will be interesting to get a peek inside one of these laptops when they arrive.