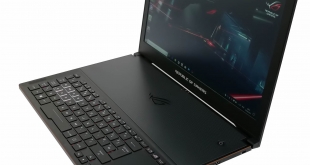 Our recent preview of the Asus ROG GX501VI Zephyrus laptop was frustrating as we weren't allowed to discuss performance, frame rates, temperatures, clock speed or battery life. 
The good news is that the Nvidia NDA has lifted on Max-Q technology and we can now talk turkey about exactly is going on inside the GTX 1080 Max-Q and how that affects game play and the way the laptop performs.
There are two points we need to clarify in the video. The first is that Asus told us they have a temporary exclusive on the Max-Q version of GTX 1080 and Nvidia told us the opposite – which led to confusion. It is safe to say the Asus ROG GX501VI is the only GTX 1080 Max-Q laptop on sale today.
The second point is we speculated that Nvidia had binned GTX 1080 chips to select the best silicon before they applied a different power curve to a regular GTX 1080, thus lowering performance by X percent while saving Y power and Z heat. We have since learned from an Nvidia tech person that the GPUs are not binned and that all GTX 1080s are identical, and it is the power profile and clock speeds that define Max-Q.
Watch the video via our VIMEO Channel (Below) or over on YouTube at 2160p HERE
Asus ROG GX501VI Zephyrus Specification:
CPU: Intel Core i7-7700HQ (2.8GHz-3.8GHz)
Display: 15.6″ 1,920×1,080 120Hz IPS Anti-Glare LCD with Nvidia G-SYNC Technology
System Memory: 16GB DDR4-2400MHz SO-DIMM (24GB in our sample)
Chipset: Mobile Intel HM175 Express Chipset
Graphics: Nvidia GeForce GTX 1080 Max-Q GDDR5X 8GB
Storage: 512GB Samsung SM961 NVMe (1TB in our sample)
I/O Ports:
1x HDMI 2.0
4x USB 3.0 (Type-A)
1x Thunderbolt 3 (Type-C)
1x Headset Audio Jack
DC Jack x 1
Audio: Dual TI-255 Smartamp audio with 2x 6W output
Wireless LAN: Intel Dual Band Wireless-AC 8265 (802.11ac, a/b/g/n compatible)
Bluetooth: Bluetooth V4.2
Webcam: HD UVC
Security: Kensington Lock
Battery: Li Polymer 50Wh
Power Adapter: 230W
Dimensions: 379mm (W) x 262mm (D) x 16.9mm (H)
Weight: 2.2kg
OS: Windows 10 Pro
At the heart of the Max-Q design we have the GTX 1080 GPU. Nvidia has made a considerable song and dance about the wizardry involved in cutting the power draw of a 180W add-in graphics card down to 90W for a mobile GTX 1080, but in general terms what they have done looks fairly simple. They have taken a regular GTX 1080 with 2,560 shaders and cut the operating voltage which in turn requires under clocking of the core and bingo, less power is required to drive GTX 1080 Max-Q.
A stock GTX 1080 has a base speed of 1582MHz and boosts to 1771MHz. The GTX 1080 Max-Q in our Asus laptop idles at 1297MHz and boosts to 1436MHz. So, give or take, Max-Q lops 300MHz off the clock speed of a GTX 1080 and slashes the power draw by at least 60W. The exact figure is a bit vague as different slides in the Nvidia presentation quoted different numbers but let's put that to one side and consider the facts.
An Asus ROG G701VI with Core i7-6820HK and GTX 1080 graphics draws 40W at idle and 265W in 3D Mark. By contrast the Asus ROG GX501VI Zephyrus draws a slightly higher 45W at idle but only 170W under full load.
The difference between 265W and 170W power looks amazing. The obvious question is how that massive reduction in power affects the performance of Zephyrus.
Testing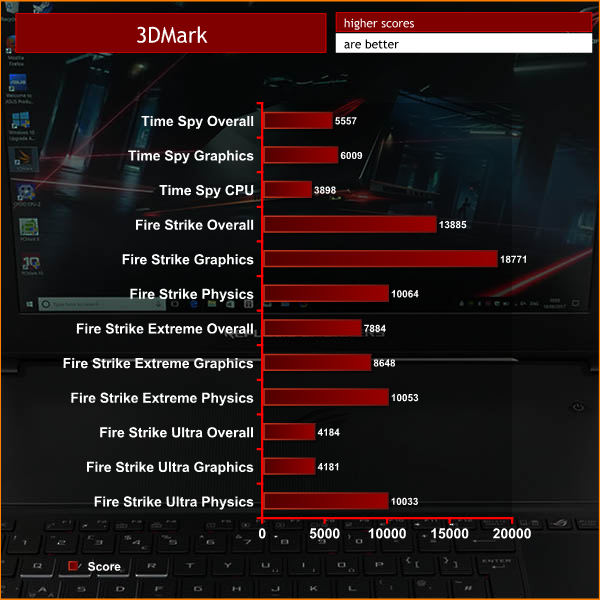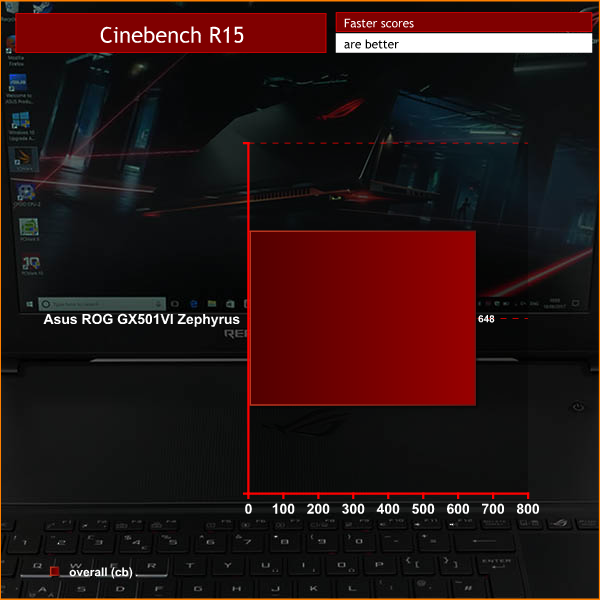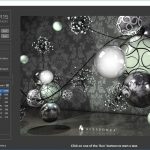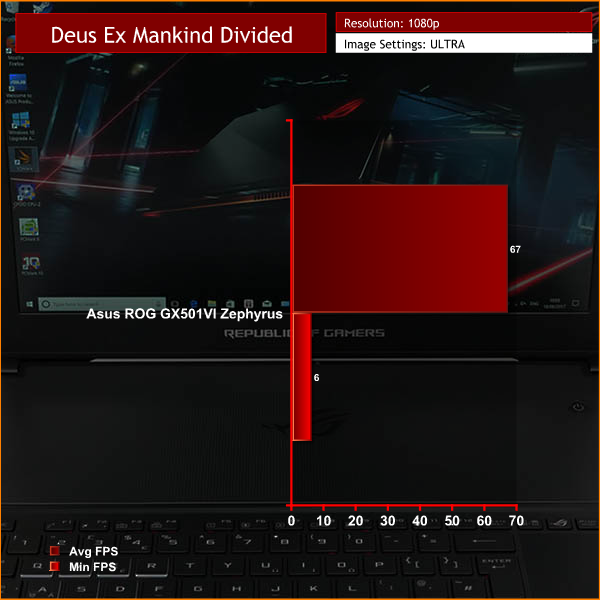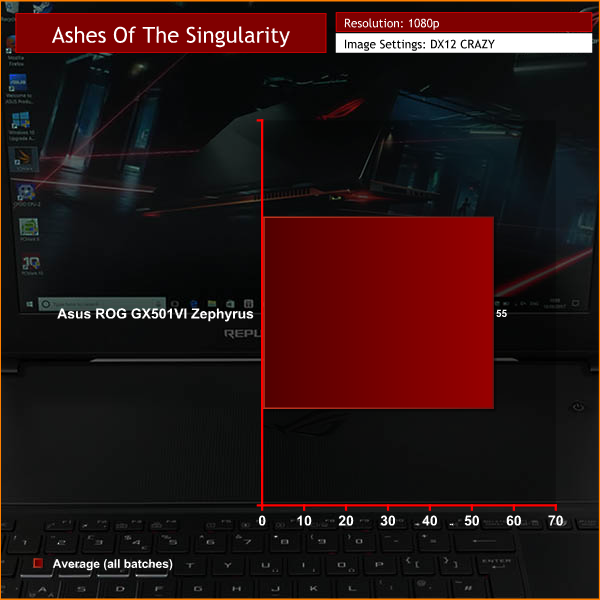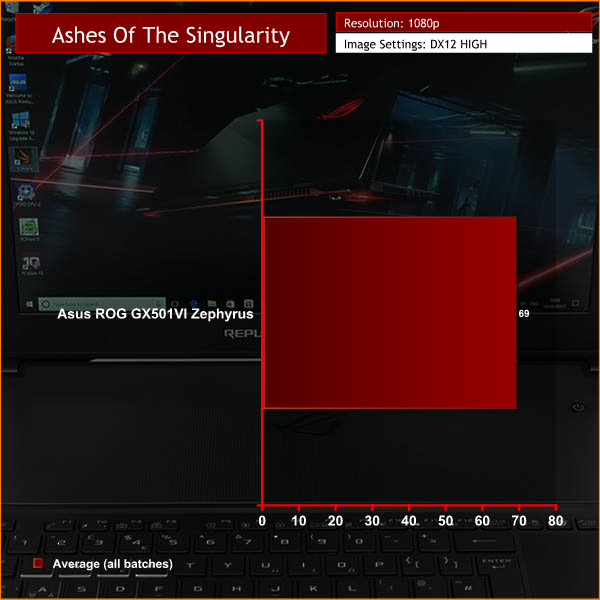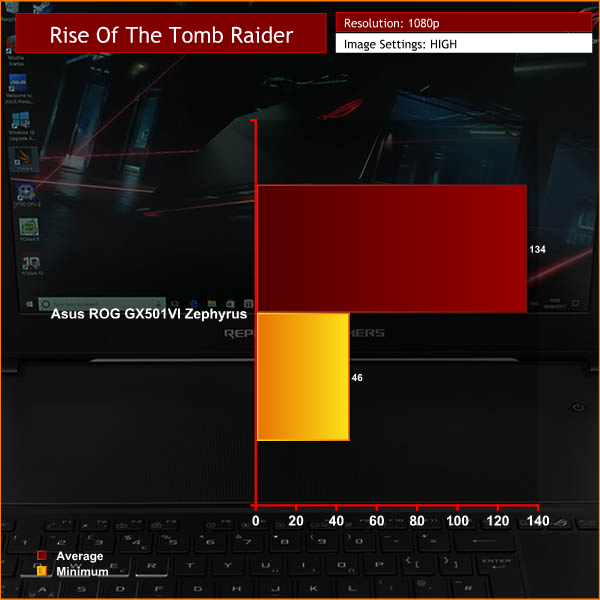 We never expected that Zephyrus would match a laptop with a 'full-blown' GTX 1080 and we were quite correct. We are not running the figures from the ROG G701VI side-by-side with the ROG GX501VI Zephyrus as we did not test the two laptops at the same time. There are clear differences but the surprising fact is that Max-Q runs in the same ballpark as the previous, higher clocked GTX 1080.
For example Ashes of the Singularity on Crazy settings averages 55fps but increases to 69fps when you drop IQ to High. The only outlier is the Minimum Frame Rate figure in Deus Ex which is a lowly 6fps. This must be a momentary occurrence as the game looked good each time we gave it a run.
Clearly it helps that Asus has specified a screen that is 1,920×1,080 as we are confident that more pixels might give the Max-Q GPU a hard time. It also helps that the panel is a high quality IPS panel with 120Hz refresh rate as it looks great and means you can leave Sync turned on at all times. We doubt you will find many modern games that want to play faster than 120fps although we noted Rise of Tomb Raider hustled along at 134fps with IQ set to High.
Cooling Performance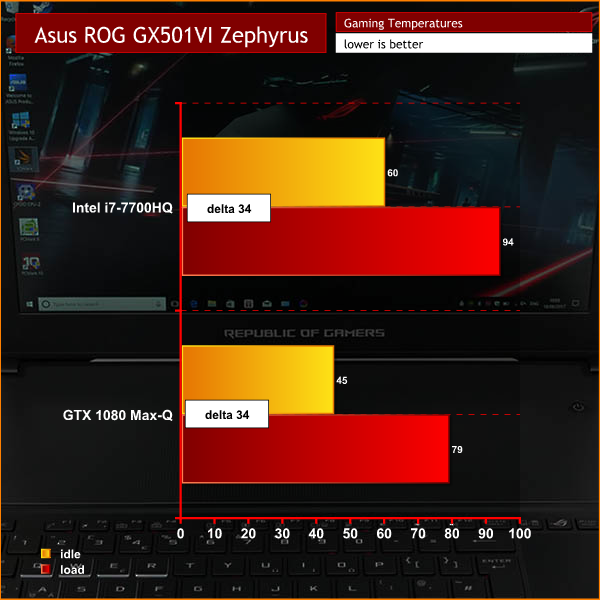 This is the interesting part. Asus has set the fan curve low to keep the noise level down with the result that both CPU and GPU idle at relatively high temperatures; 60 degrees for the CPU and 45 for the GPU. Under load when gaming the CPU remained just below 90 degrees and spiked at 94 degrees under synthetic load which made it throttle. By contrast the Max-Q GPU topped out at 79 degrees which is relatively cool for a high end Nvidia chip and emphasises the low power nature of the hardware.
At first glance those figures might look peculiar but when you consider this is a thin and light gaming laptop it all makes perfect sense. In an ideal world we prefer the CPU and GPU to run nice and cool but the critical point is they need to avoid throttling and in regular use this laptop manages that perfectly well.
Acoustics Performance
The Asus ROG GX501VI Zephyrus is very quiet. Nvidia chose a target figure of 40dBA that falls between a whisper and normal conversation and is essentially the lowest level of ambient noise. We have often heard cooling systems where the noise levels aren't especially loud but the way the fan curve operates with pulsing noise levels can drive you to distraction. Zephyrus hits 39dBA and handles the job with aplomb as it is quiet, so while you can hear the fans spinning up and then spinning down it doesn't sound the least intrusive. Big tick, thumbs up, success.
Battery life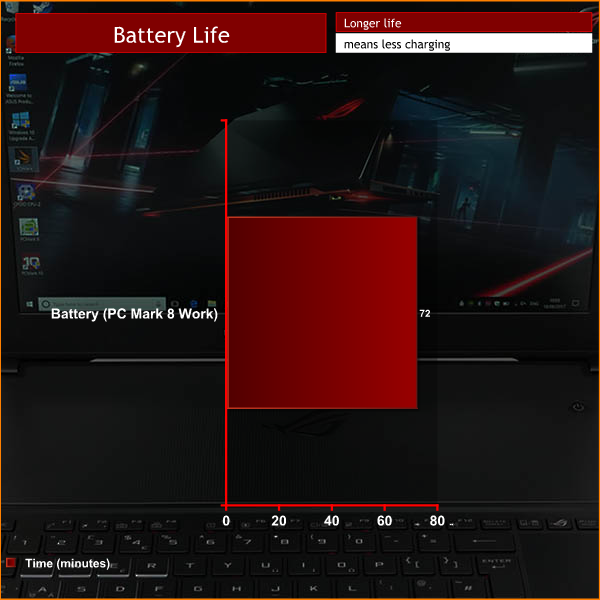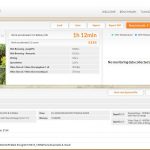 Battery life is poor. The 50Wh/3255mAh battery has presumably been sized to fit in the available space under the keyboard and the result is about two and a half hours of real world battery life. This isn't necessarily a problem in a thick, chunk, heavy laptop but Zephyrus is so thin and light you will want to take it on your travels. The battery life is likely to prove a real limitation.
Closing Thoughts
We have mixed feelings about the Asus ROG GX501VI Zephyrus. Asus and Nvidia have proved you can install a decent GPU and CPU inside a thin and light laptop without killing 1080p gaming performance.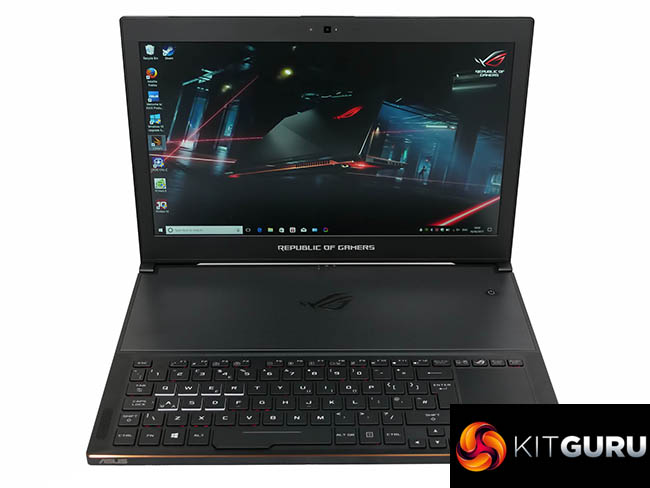 This will not come as news to the aficionado who knows perfectly you can buy a thin and light gaming laptop. The fact that Asus has also made the Zephyrus very quiet is clearly a positive point for which they deserve praise.
Balanced against that the laptop chassis has been designed around the cooling system which is located in the rear half. This forces the keyboard to the front and the touchpad to the side in a configuration we find aggravating. To add to our woes the keyboard has very short travel keys and the battery is absolutely tiny. It only seems fair to comment that the selection of ports and connectors is very good and the Intel Wi-Fi is absolutely fabulous.
Asus has delivered on the promise of Nvidia Max-Q. Nonetheless we cannot get away from the thought that a GTX 1080 Max-Q that runs 300MHz slower than a regular GTX 1080 should probably have a name that reflects the lower performance.
Pros:
120Hz IPS panel with G-Sync looks very good.
Very quiet even under full load.
Excellent Intel 802.11ac Wi-Fi.
Powers through games at 1080p
Impressively thin and light.
Cons:
Battery life is poor.
The keyboard and mouse positions make them awkward to use.
Is a slower GTX 1080 really a GTX 1080?
Keyboard has incredibly short travel keys.
KitGuru says: Asus ROG GX501VI Zephyrus takes laptop design in an interesting direction.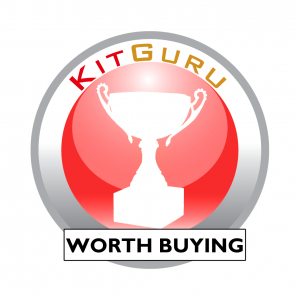 Be sure to check out our sponsors store EKWB here