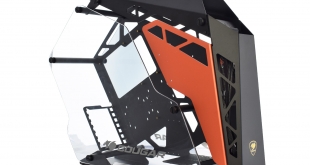 When Cougar offered us their brand-new Conquer case to review, my first thought was 'what on earth is that?!' Upon further inspection, I discovered the Conquer is in fact a computer chassis, made almost entirely from glass and aluminium, that looks as if it has just landed from outer space. Its emphasis on premium materials, as well as its unique appearance, mean it doesn't come cheap, though, as this puppy will set you back $299.99.
I say $299.99 in USD, rather than Pound Sterling, as we are still waiting for confirmed UK pricing and availability (we should have a buy link from Overclockers UK soon) – however, we will be lucky to see anything below the £299 price-point due to the current conversion rate.
Watch via our Vimeo Channel (Below) or over on YouTube at 2160p HERE
Specification
Case Form Factor: Mid-Tower
Material: Aluminium Alloy
Dimension: (WxHxD) 255 x 580 x 685 mm
Motherboard Support: Mini ITX / MicroATX / ATX
3.5″ Drive Bay: 3 max.
2.5″ Drive Bay: 4 max.
I/O Panel: USB 3.0 x 2 Mic x 1 , Audio x 1
Cooling fan support: Front 120 mm x 2, Top 120 mm x 3
Water cooling support: Front 240 mm, Top 360 mm
Fan Pre-installed: COUGAR CFD 120mm LED fan x 3
Cable Management: Yes
Expansion slots: 7
Max. Graphic Cards Length: 350 mm 13.8″
Max. CPU Cooler Height: 190 mm 7.4″
Max. PSU Length: 220 mm 8.7 "
Tempered glass side panel: Both sides 5mm thick
The Conquer is certainly one of the most unique-looking cases I have ever seen, though I did notice a few similarities between it and the Raijintek Paean. Both are essentially slabs of aluminium and glass thrown together, and both require some assembly work as well. For instance, the Conquer requires you to screw in the support beams, case feet and PSU bracket, while there is also the option for a secondary drive bracket to be installed.
Both chassis are also clearly designed with watercooling in mind, and it is here that the Conquer pips the Paean to the post, as it has support for up to a 360mm radiator in the roof, as well as a 240mm radiator in the front. As you can see in the video above, I 'only' used a be quiet! Silent Loop 360, not a custom loop, but that proved to be more than enough cooling power for the Ryzen 7 1700 processor.
In fact, due to the very open nature of the Conquer, I am sure you could get away with the most basic of air cooler and thermals would not suffer overly. However, that really misses the point of the Conquer and would seem a great waste of £300.
In terms of design flaws, there is not much to complain about. The only things worth mentioning are quite minor, but the issues do seem amplified given the high price of the case.
First, the positioning of the power supply at the front of the case, coupled with the angled motherboard tray orientation, means most PSU cables will struggle to reach their sockets. I used BitFenix extensions to get around this problem, but a bit more thought from Cougar would have been nice here – including some extensions in the box, for example, is something which would've only cost pennies.
I would have also preferred to see some rubber grommets used to cover the chassis' cut-outs. The angular cut-outs do add to the overall alien-like aesthetic, but grommets would just look neater and would help cable management.
One thing I didn't mention in the video is dust. Obviously being such an open chassis, the Conquer will do very little to prevent dust build-up over time so if you don't fancy whipping out your can of compressed air every week, the Conquer is unlikely to appeal. That being said, if you want to go all-out on a custom loop, you'd probably be wanting to clean it fairly regularly anyway, even if it were in a more conventional case, so increased dust build-up may not bother you. In any case, getting more dust in your system is part-and-parcel of choosing an open chassis so we think it would be unfair to be overly critical here – after all, plenty of other open-air chassis like the Thermaltake Core P5/P3 sell like hot cakes, suggesting it simply does not bother some people.
Testing
Components used:
Ryzen 7 1700
Gigabyte AX370-Gaming 5
be quiet! Silent Loop 360
Sapphire Nitro RX 580 LE
16GB PNY Anarchy DDR4
Sandisk SSD PLUS 120GB
Seasonic PRIME 650W Platinum
Thermal Dynamics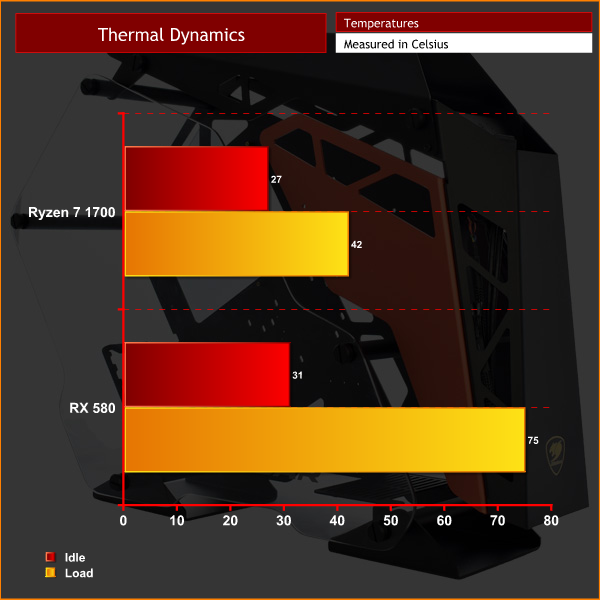 Ambient: 23C
As you can see, thermals are excellent – obviously because of the open nature of the Conquer, there is no shortage of cool air for the components to suck in.
Acoustics
The flip side of that is, if you are running your fans at particularly fast speeds, there is nothing to stop the noise leaking out. However, left using their default fan curves, our components seemed no louder than usual so we cannot complain.
Closing Thoughts
Overall, the Cougar Conquer is a good case for those looking to do something pretty extravagant in terms of custom liquid cooling. If you are planning on using an air cooler – or even an AIO – with the Conquer we'd suggest you save your money and get something more conventional.
The aesthetics of the Conquer is clearly a big draw, so if you think it is hideous, there is no chance you will buy the thing. However, we imagine many gamers and enthusiasts will find it attractive, in which case the appeal is likely to be strong.
It also benefits from excellent build quality – the combination of aluminium and tempered glass is nothing new but it is still an overall stunning combination.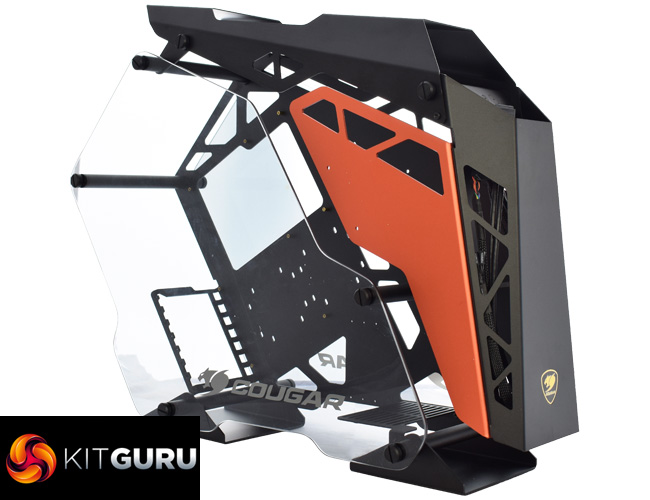 We did find a few minor niggles – such as issues with power supply cables and a lack of rubber grommets – and while these are not too significant in the grand scheme of things, the problems do get amplified by the high price of the Conquer.
However, if you have the cash to splash and want to do something pretty special, we can definitely recommend the Cougar Conquer.
It will be available from Overclockers UK in the coming weeks, likely for £299.99. Anything less is frankly a victory considering the price in the US.
Pros
Very exciting to look at.
Thermals are no problem at all.
Good watercooling support.
Top build quality.
Nifty way of accessing top radiator section.
Cons
No rubber grommets.
It really could do with some PSU cable extensions thrown in.
Too pricey for many consumers.
Black aluminium shows scratches quite easily.
KitGuru says: It's big, it's bold and it's frankly bonkers. If you are after something funky to use for a watercooling project, the Cougar Conquer is well worth buying. If you have the cash, that is.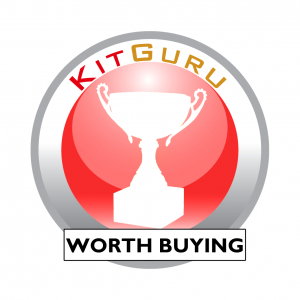 Be sure to check out our sponsors store EKWB here