AMD's Ryzen has forced Intel's hand when it comes to the core and thread counts of their new CPUs. With the Ryzen 7 packing eight cores and 16 threads, Intel was in danger of lagging behind, but leaked specifications of its 9XXX series of CPUs shows it is willing to go toe-to-toe with AMD.
The specs for the Intel Core i9-9900K, i7-9700K, and i5-9600K have been leaked Guru3D reports. A table was discovered that reveals some of the details of these new CPUs, and they look quite promising for productivity fans.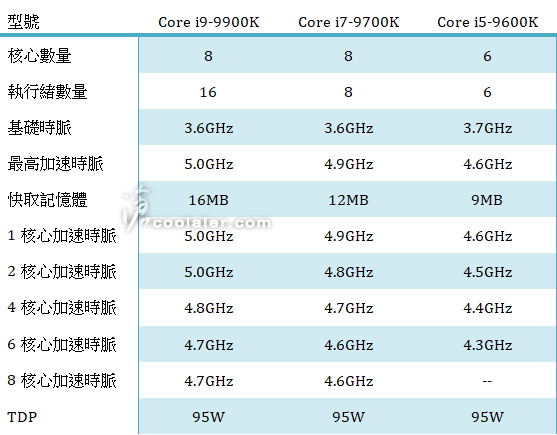 The Core i5-9600K will be a six core six thread CPU with a base clock of 3.7GHz, and a boost clock of 4.6GHz. It packs 9MB of cache memory at a TDP of 95w. The Core i7-9700K will be eight cores and eight threads with a base clock of 3.6GHz and a boost of 4.9GHz. The 9700K will have 12MB of cache and a TDP of 95W.
Finally, we have the flagship CPU, the Core i9-9900K, which will be eight cores and sixteen threads. It will have a base clock of 3.6GHz and turbo to an impressive 5GHz. It has 16MB of cache and a 95W TDP.
Although Intel has yet to officially address any of the rumours or release a roadmap, previous leaks point towards an alleged August launch. This window, however, could turn out to be a dud so don't take these rumours as gospel.
KitGuru Says: It's good to see Intel trying to match AMD when it comes to cores and threads, it will be interesting to see how they perform against Zen+. Are you looking forward to Intel's 9XXX series of CPUs?