Amongst Nvidia's various announcements at Computex this morning, the company also launched the 'RTX Studio' program, a new certification for laptops aimed at the 'prosumer' or content creation markets. The idea is to essentially give OEMs a blueprint for the hardware spec someone in this consumer category would be after.
In order to ship an 'RTX Studio' laptop, an OEM will need to meet the minimum system requirements, which include an Intel Core i7 H-series processor, RTX 2060/Quadro 3000 graphics, 16GB of RAM, a 512GB SSD and a 1080p or 4K display. Those are just the minimum requirements though, options will range all the way up to Core i9 processors and RTX 2080/Quadro 5000 graphics. The main difference between the RTX offering and the Quadro version is VRAM, with the top-end Quadro offering 16GB of video memory, the highest of any laptop GPU to date.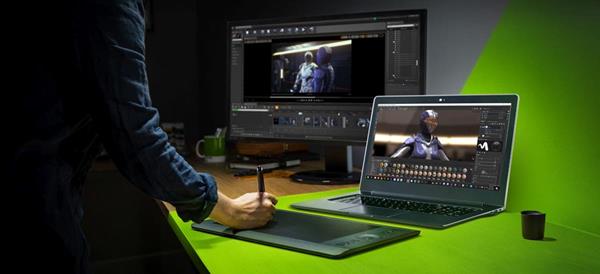 Bringing RTX to content creation workstation laptops will make certain tasks much more accessible. Having portable ray-tracing acceleration should help artists, 3D modellers etc while Turing's AI cores will grant speedier performance in software tools that aid automation in specific tasks.
So far, the likes of Autodesk Arnold, Clarisse, DaVinci Resolve, Adobe Lightroom, Unreal Engine 4, Unity and Substance Designer all support RTX ray-tracing and AI acceleration. More popular creation tools are going to support RTX before the end of the year too, including Adobe Dimension, Octane Render, Red Shift, Renderman, V-ray, Daz3D and Nvidia Iray.
As an example of expected performance gains, Nvidia compared the RTX 2080 Max-Q and RTX Quadro 5000 laptop GPUs against a generic Core i7-8750H laptop and a MacBook Pro with Vega 20 graphics. In Maya, Nvidia's top-end RTX Studio spec can render ray-tracing scenes up to 14 times faster, while Adobe Lightroom's AI enhancements perform up to four times faster. RTX 2080 and Quadro 5000 GPUs are also capable of playing RED 8K footage in real time.
With the Quadro 5000, the big selling point is the 16GB of VRAM, double that of the RTX 2080 model. Nvidia says this will enable multi-app workflows on a 15-inch laptop, so you can bounce between animation tools, Photoshop and Substance painter without crippling performance in any one specific task.
Since these are aimed at professionals, there is a different set of drivers. What used to be called 'Creator Ready' drivers will now be known as RTX Studio drivers, with releases timed to align with professional software updates. That means you'll get fewer driver updates compared to a gaming laptop but it should ensure long-term stability and performance. Each time the Studio driver updates, it will contain all of the 'Game Ready' enhancements that released in between.
RTX Studio drivers will support Quadro, TITAN, Turing and Pascal GTX/RTX graphics, so it isn't specific to this laptop, you could build a desktop machine and switch to RTX Studio drivers if you really wanted to.
Right now, Nvidia has 17 RTX Studio laptops lined up for release, with versions from ASUS, Acer, Gigabyte, Dell, HP, MSI, Razer. We expect to see a few of these on display this week during Computex.
Nvidia held a press briefing going over the RTX Studio initiative on Friday last week. During that time, we were told that this does not have anything to do with the 'Super' teaser posted last Thursday, so we still don't actually know what that was all about but hopefully it won't be long before we get some answers on that front.
KitGuru Says: We'll be looking forward to checking a few of these laptops out over the course of this week, although aside from the addition of Quadro options, there isn't much new to see here. Still, there is a market for high-power portable workstation machines and these should suit that job nicely.