We've been following the latest blocks and DIY liquid cooling gear from Alphacool for several years now. The latest GPU block should keep a lot of enthusiasts happy, with the Eisblock Aurora now catering to RTX 2080, RTX 2080Ti and RX 5700-series GPU owners.
The Eisblock Aurora, as the name suggests, is an RGB water block with addressable RGB LEDs running along the entire cooler. There are a few different versions, one that caters to ASUS ROG Strix RTX 2080Ti owners, another for Gigabyte Aorus Xtreme RTX 2080 or 2080Ti owners, one for RTX 2080/2080Ti Founder's Edition owners and another for reference models of the Radeon RX 5700/5700 XT.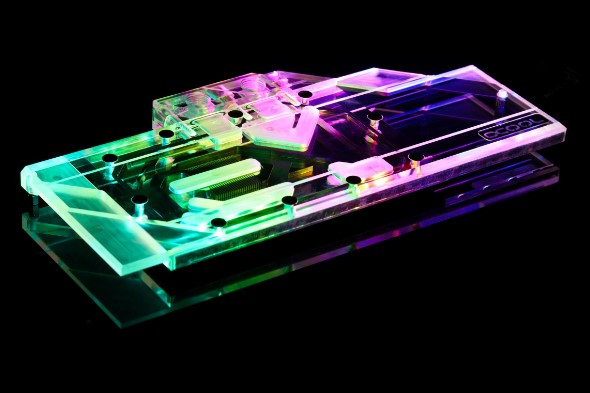 A few changes have been made for the new Eisblock Aurora, with new flattened screws and screw plugs that are flush with the block's surface. The inner workings of the block have been re-designed too to improve water flow. On average, the cooling capacity of this block has been increased by 10 percent on the GPU and 20 percent on VRMs compared to previous Eisblock coolers.
The cooler base is now only 5.5mm thick, which is down from 7mm on the previous Eisblock Aurora. It is also now suitable for fittings with an outer diameter of up to 30mm, which will be good for those who prefer thicker tubing.
Prices start at around €109.94 depending on which version you are after. You may also want to pick up a new GPU backplate, which will run you an extra €30 or so.
KitGuru Says: Are many of you planning on putting together a new custom water-cooling loop this year?