AMD recently announced the new 4C/8T Ryzen 3 processors. Although the CPUs haven't launched yet, the first benchmarks for the Ryzen 3 3000 series have started to pop up, and they seem to pack quite a punch when considering the expected price of $99 and $120 for the 3100 and 3300X, respectively.
As posted by @TUM_APISAK on Twitter, the first Geekbench 5 scores for the Ryzen 3 3100, alongside Geekbench 4 scores for the Ryzen 3 3300X, show us that both processors look pretty capable. The Ryzen 3 3100 scored 1095 and 1141 in single-core, and 4507 and 4928 in multi-core in Geekbench 5, while the Ryzen 3 3300X scored 5874 in single-core, and 20329 in multi-core in Geekbench 4.
Starting with the Ryzen 3 3100, the results scored in Geekbench 5 are comparable with Intel's Core i7-6700K. In Geekbench 5's database, the i7-6700K single-core score averages at 1147, while the multi-score averages at 4444. Based on the expected price of $99 for the Ryzen 3 3100, the Core i7-6700K that was once Intel's mainstream flagship is now ranked below a budget processor.
In spite of the lower clocks of the Ryzen 3 3100 (3.6GHz base frequency and 3.9GHz boost frequency), "Red team's" processor is on par with Intel's higher clocked solution (4.0GHz base frequency and 4.2GHZ boost frequency) in single-core performance, and above in terms of multi-core performance.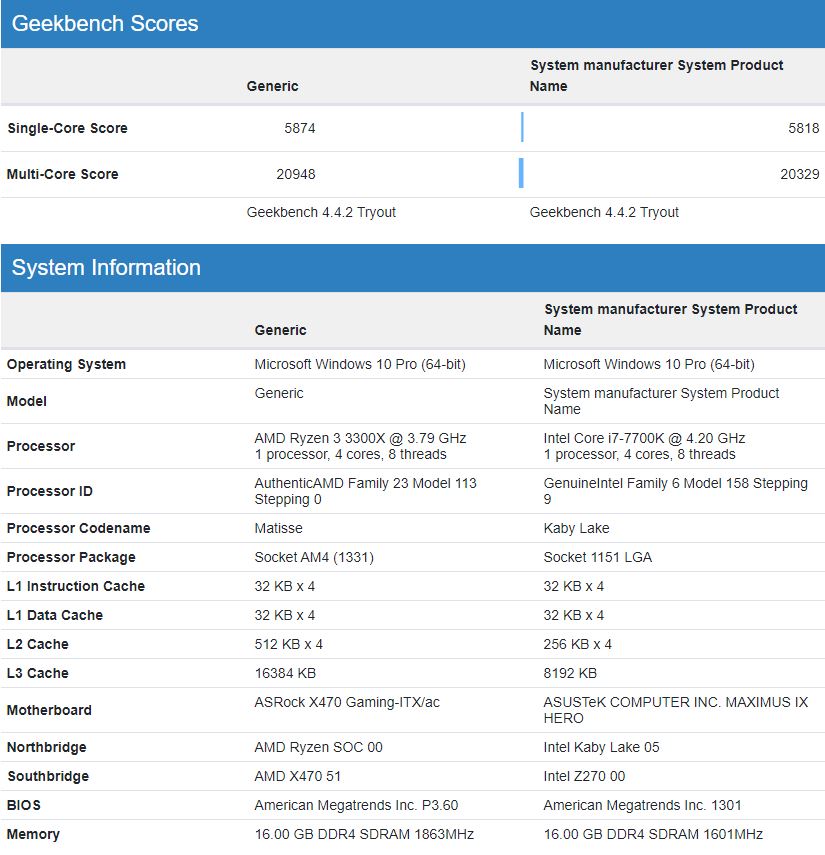 Comparing the Ryzen 3 3300X scores with the Core i7-7700K, AMD's processor just barely beats Intel's flagship from 2017. As seen in the image above, the Core i7 was at a disadvantage, as it was paired with 3200MHz DDR4 memory, while the AMD configuration used 3600/3733MHz DDR4 memory. On the other hand, the 3300X clocks below the 7700K, with 3.8GHz base frequency and 4.3 GHz frequency against the 7700K's base frequency of 4.2GHz and boost frequency of 4.5GHz.
Comparing AMD solutions with Intel's 3 or 4 year-old processors may seem unfair, but these chips still use a very similar architecture when compared to the currently available solutions. The reason this comparison is relevant it's because they have a similar core and thread distribution to AMD's processors. A better comparison will be possible once Intel has released its Comet-Lake CPUs, specifically the Core i3-10100 with the same 4C/8T configuration with a 3.6GHz base frequency and a 4.4 GHz boost frequency.
The AMD Ryzen 3 3300X processor is expected to be released in May of 2020.
Discuss on our Facebook page HERE.
KitGuru says: AMD's new Ryzen processors seem to offer a good price/performance ratio. Would it be an upgrade compared to your current CPU?