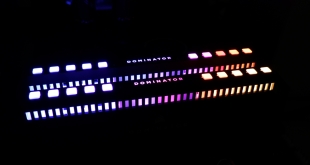 DDR5 has launched alongside the Intel 12th Gen Alder Lake consumer platform, and we have already seen instances where the performance improvements versus DDR4 can be significant. In this review, we will be taking a look at one of the few kits currently on the market – Corsair's flagship, the Dominator Platinum RGB in 2x16GB 5200MHz CL36 form.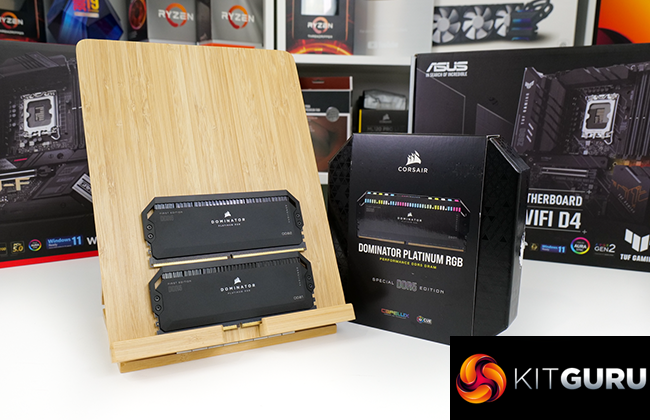 The Corsair DDR5 kit that we are looking at uses a pair of 16GB DIMMs with XMP rated settings of 5200MHz at 36-38-38-74 at 1.25V. With DRAM IC density being typically higher for DDR5 as compared to DDR4, these 16GB DIMMs represent a single-rank module configuration.
The onboard voltage regulation hardware – or Power Management Integrated Circuit (PMIC) if you prefer – should aid stability at these lofty memory frequencies. It is one of the new features for DDR5 that is design to alleviate some of the power delivery burden from the motherboard when compared to DDR4.
You can read more about some of the new introductions and benefits of DDR5 in our DDR4 vs DDR5 testing article and video HERE.
Being a set from Corsair's flagship Dominator Platinum RGB line of memory, the sticks get the full DHX treatment when it comes to design and aesthetics. The sizable, anodised aluminium heatspreader oozes quality, and the finned design will provide ample cooling potential for 1.25V DIMMs.
Of course, the downside of such eye-catching modules is the interference-inducing height of around 56mm. Basically, a large air CPU cooler is likely to cause you headaches anywhere near these DIMMs. And there's even the likelihood that roof mounted AIOs will be an issue in many cases.
I've said it before, and I will say it again; the aesthetics of Corsair's large modules are superb, but the sheer inconvenience of such height is blatantly obvious to a wide cohort of potential customers.
RGB LED lighting quality is outstanding, as we have come to expect from Corsair. The 12 Capellix RGB LEDs do a good job at projecting their light through the well-hidden diffuser strips between the heatspreader fins. Brightness is more than adequate for my own personal preference.
This is a smart design, and when coupled with the LED diffuser squares at the top of each module, looks eye-catching without being overpowering.
There's a lot to like when it comes to iCUE's LED lighting control abilities. The software tool does feel a little resource heavy now that its functionality has grown so significantly; the most recent download is a massive 800MB!
However, the ability to set such a diverse set of LED control modes, on top of reporting from the DIMMs' built-in temperature sensors is a strong positive. Plus, if you already have other Corsair components utilising the iCUE ecosystem, adding another link into the chain will be a smart addition rather than adding a dissimilar vendor's own, competing software.
The ability to set XMP names and configurations was not available in the latest version of iCUE on our test system. The above image is taken from Corsair's review guide to show the eventual functionality that this will permit within iCUE. There is also a note in the Corsair review guide highlighting that the functionality of XMP Profile Manager will be available in Q4 2021, motherboard BIOS update dependent.
Information regarding the modules' memory ICs is limited as the usual reporting software is still having trouble presenting accurate readings for DDR5. The Corsair review guide does, however, highlight that the Dominator Platinum RGB sticks that we have on test are using Micron 'A' spec ICs.
UK pricing for this CMT32GX5M2B5200C36FE review kit is £314.99 on the Corsair store, though availability is still practically non-existent as has been the case for all DDR5 since Intel's Z690 platform launch.
Model Number: CMT32GX5M2B5200C36FE
Capacity: 32GB (2x 16GB)
Rated Frequency: DDR5-5200MHz
Rated Timings: 36-38-38-74
Voltage: 1.25V XMP
Format: 288-pin DIMM
Be sure to check out our sponsors store EKWB here