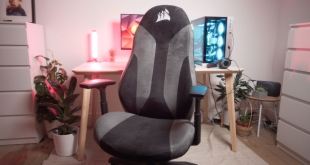 Today we are checking out the Corsair TC60 Gaming Chair in grey. This is the most affordable chair in Corsair's line-up but does it perform as you'd expect? Or does the chair suffer from typical "gamer chair" problems, like a lack of ergonomic support? Let's find out…
Watch via our Vimeo channel (below) or over on YouTube at 2160p HERE
Timestamps
00:00 Start
00:15 Introduction and some honest advice
01:31 Is it hard to build the chair?
02:35 The design and build quality
03:45 Comfort levels
05:05 Wheels/Base
05:51 Seat Mechanics
07:06 Arm/rests
07:41 Lumbar support (or lack of)
08:30 Jack's closing thoughts
Specifications:
Adjustable Tilt angle:  0-10°
Tilt Mechanism: Recline with synchronized tilt and four position lock, Height Adjust
Class 3 Gas Lift with 10cm of height adjustment
Max weight: 124Kg
Relaxed fit for all-day comfort
3D Armrests: Front/Back, Left/Right, Up/Down adjustment
6 Levels of Armrest Height Totalling 7.5cm
Armrest size: 25cm x 9.0cm x 2.2cm
Seat foam type: Polyurethane foam (cold foam)
Seat foam density: 55kg/m³
Seat size: 57.4cm x 43.2cm
6cm Dual Castor Wheels Suitable for Wood and Carpet
Breathable Soft Fabric Design
Approx 45° Recline
Weight 19Kg
You can purchase the Corsair TC60 Fabric Gaming Chair for £219.90 from Corsair HERE.
Discuss on our Facebook page HERE.
Pros
Minimalist design aesthetic compared to other gaming chairs.
3D armrests.
Wide relaxed fit design.
6 stops of armrest height adjustment.
Nice soft fabric.
Cons
Limited lumbar and headrest support.
Recline lock can jolt you forward if not used correctly.
Tension dial is fiddly and difficult to access on the base.
Corsair's slightly more expensive models offer more bang for buck.
KitGuru says: The Corsair TC60 cements itself firmly as a decent consideration when compared to other gamer chairs. The soft fabric design feels premium and personally I'm a big fan of the minimalist and less "gamery" design aesthetic.
Be sure to check out our sponsors store EKWB here