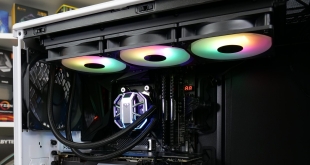 Almost all of our readers will know Sapphire as a graphics card manufacturer, with the company's Pulse and Nitro+ video cards winning numerous awards from KitGuru over the years. Today we are looking at something a bit different however – Sapphire is entering the high-end CPU cooling market with two all-in-one liquid coolers. Still bearing the Nitro+ branding, let's find out if these new coolers are up to task.
Watch via our Vimeo channel (below) or over on YouTube at 2160p HERE
Video Timestamps
00:00 Start
00:15 Introduction / Pricing
01:31 Packaging / accessories
02:39 Up close look
04:33 Cable mess
05:48 The fans
07:27 AM4 Installation
09:02 RGB Lighting – quality
09:34 Test System and procedures
10:58 Test results
14:17 Precision boost overdrive test results
15:24 Motherboard VRM temps
16:19 Closing thoughts
Specs and Features:
S360-A
360mm, 27mm-thick aluminium radiator
3x120mm Sapphire Nitro+ Hybrid Fan Blade 450-2400 RPM PWM fans
800-2800 RPM Asetek 7th Gen pump unit
ARGB LED lighting in the pump block unit and fans
2-year warranty for the pump, tubing, and radiator
3-year warranty for the fans
Modern Intel and AMD socket support (excluding HEDT)
Sapphire's Nitro+ CPU coolers come in 240mm or 360mm form. The smaller of the two retails at £129.95 in the UK, while the 360mm is £169.99 at Overclockers UK. This means that Sapphire is firmly targeting high-end market positioning.
And that point is backed up by the use of Asetek 7th Generation pump technology, as well as dual ball bearing 120mm fans that operate at an impressive 450-2400 RPM speed range.
Those fans use Sapphire's Nitro+ Hybrid Fan blade design that is seen on some of the company's graphics card coolers. In essence, Sapphire blends axial and blower-style designs to try offer the benefits of both but without significant noise compromise. This 12-bladed, joined edge design should help to enhance the focussed airflow output by the individual fans.
One area that really did not impress me was the sheer quantity of cables coming out of the pump-block unit. Six cables to handle pump operation, fan speed control, RGB lighting, SATA power, and the proprietary fan connector is just ludicrous. And that's before the added fan connection break-out cable is brought into the picture.
There are too many cables close to the pump and Sapphire does a bad job at helping a user hide them or make them look tidy. A better approach would have been to bias the cables to the back of the motherboard tray. Or perhaps braid them together so that they look less messy inside a build.
Ease of installation is superb; that's exactly what we expect from the tried-and-tested Asetek design. The ARGB lighting deployed by Sapphire is bright and smooth – I am personally very fond of the fans and the subtle strips of LED lighting on the pump-block unit.
An 'organic spider' feature is used for the pump cover. This is certainly unique and something different, so I have no complaints. It does, however, increase the pump-block height somewhat needlessly and this could cause issues for SFF chassis users.
RGB lighting is controlled through motherboard vendor software, so there is no need for additional software with the Nitro+ coolers – good job on this point, Sapphire.