We've reviewed plenty of keyboards over the last twelve months, with each new model trying to 'one up' its rivals by adding more and more advanced features, with ever-increasing price tags. But what if you don't want a keyboard with all the bells and whistles – instead, you want something that just works? That's where the Cooler Master CK352 comes in. Designed to offer a core gaming experience but without any gimmicks to drive up the cost, the CK352 hits the market at £69.95. Let's find out if it is any good.
Despite Cooler Master describing the CK352 as a 'straightforward gaming keyboard', it still looks decent on paper. LC mechanical switches are used, there's a sandblasted aluminium top-plate instead of an all-plastic build, and we find per-key RGB illumination alongside four LED strips in each corner of the keyboard.
Of course, considering the price-point the CK352 isn't going to be as feature-rich as something that costs twice as much, and on first impressions I immediately noticed the lack of dedicated media keys, wrist rest and even software support. That doesn't mean the CK352 isn't worth buying however, so let's take a closer look.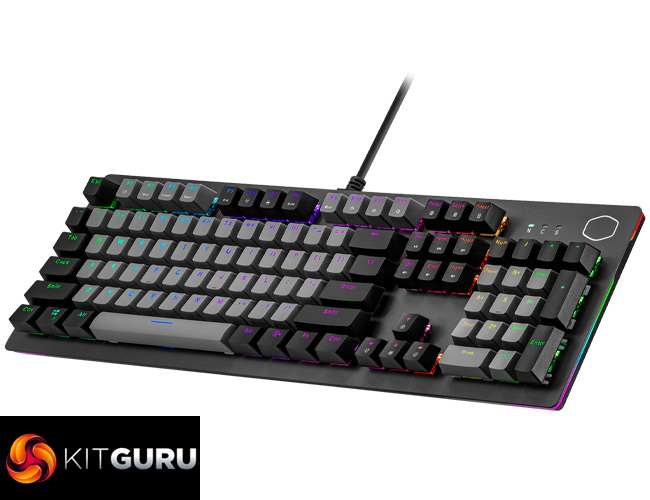 Specification:
PRODUCT NUMBER: CK-352-GKMR1/L1/M1-**
KEYBOARD SWITCH TYPE: Mechanical Switch (Red/Blue/Brown)
KEYBOARD KEYCAPS: Part of Asia/US layout: ABS Double-injection & Laser-engraved, Other layouts: ABS Painting & Laser-engraved + UV coating
KEYBOARD MATERIAL: Sandblasted Aluminum, Plastic
KEYBOARD COLOR: Space Gray
KEYBOARD LED COLOR: RGB
KEYBOARD POLLING RATE: 1000Hz
KEYBOARD RESPONSE TIME: 1ms
ON-THE-FLY SYSTEM: Yes
KEYBOARD MULTIMEDIA KEY: Through Function Key (FN)
COMPATIBLE OS: Windows XP & 7+
SOFTWARE SUPPORT: N/A
KEYBOARD CABLE: PVC, 1.8m, USB 2.0
KEYBOARD DIMENSIONS (L X W X H): 454.6 x 142.6 x 35.96 mm / 17.9 x 5.6 x 1.4 inch
KEYBOARD WEIGHT: 904g (2 lbs) (without cable)
KEYBOARD WARRANTY: 2 years
Be sure to check out our sponsors store EKWB here