Dear Mr Cameron,
Since you seem to have ignored my much more informal efforts to get you to change your mind over your plans to filter and censor British internet in the name of saving children from the evils of pornography, I thought I'd try a more formal tactic; so I hope this correspondence finds you well.
That said, I cannot pretend to be thrilled with your recent efforts and statements on the matters of personal privacy, liberty and certainly pornography, as you have shown little but ignorance and contempt of it, in a way that sounds more like a pandering to the tabloid press, than the preachings of a real life British male.
Of course though, it's easy to forget Mr Cameron that you're not the average British male. I'm not talking about your background or current, burgeoning personal finances, but your actual position as Prime Minster. Compared to many usual jobs, I'm sure parenting is a difficult thing to fit in between games of Fruit Ninja. You have a lot of duties to attend to and I can understand why the idea of a filter that stops your kids looking at porn is an easy idea to swallow instead of taking the time to talk to them about it. But these filters don't work Mr Cameron, which displays your lack of understanding of the technology.
I know you're not the most technologically savvy person in the world – you have people who do that sort of thing for you, but trust me on this one Mr Cameron, this generation of internet users has been bypassing filters their entire lives. Schools have had them for years and we've been finding ways around them for just as long, whether it was using a search engine other than Google, searching for content in different languages, we'll find a way like we're hermaphroditic dinosaurs if we choose to.
So at best, your efforts here have been redundant. But unfortunately it's far worse than that, because of course there are some people who don't know how to get around these filters. Perhaps they're young, or not particularly computer savvy or are just good girls and boys that don't like to break the rules. You might think then that these children are a big success story, but you're wrong, they're the biggest tragedy here. Because the filters you're so keen to implement are blocking everything from charity websites, to womens abuse centres, to sexual education sites.
Automated filtering is a dangerous road to go down and can actually lead to people struggling to find information that they desperately need.
Of course you might suggest that in those instances, parents could talk to the children about it instead and I'd have to agree with you, but if that was the case, couldn't we dispense with the filters in the first place? Wouldn't your campaign be far more successful, if it suggested that parents stop being so prudish and talk to their children about sex in a frank manner? Perhaps they could even go so far as to suggest pornography to them that shows a healthy sexual relationship? Maybe one that focuses on mutual pleasure rather than the aesthetics of the shot?
But don't worry Mr Cameron, that's a debate for another time, there's no need to blush. I should at least commend you for making the mandatory part of these filters the option, rather than the filters themselves. At least people have a choice. I'm sure you thought that forcing people to say "I want porn," would be enough to sway many to the cause, but it turns out people really don't want these filters even when asked directly. Only a few per cent of all those new customers asked about the adult filters chose to enable them, which isn't much of a surprise, since at least 68 per cent of all males look at porn and almost 20 per cent of females (though chances are those totals are higher) so you were very unlikely to get a lot of willing participants, even if they were suitably embarrassed by the question.
But the fact that you're forcing that question is the worrying part. We're more than capable of looking after our children Mr Cameron. We don't need you to force us to do it or need you to morally guide us in how and what and where. I'm sure there are a lot of parents out there that could do with educating themselves a little more on computers and the internet and take a bigger interest in what their children are doing online, but that is their responsibility, not yours.
Which leads me to a much more worrying thought, which is that you aren't really doing this because you're concerned that our children are being corrupted by pornography, but because you don't just want to keep an eye on what we look at, you want to control it too. You've shown a worryingly strong interest in Chinese filtering companies, the same ones that restrict its citizens from visiting certain websites and help the government imprison people for signing online petitions.
I sincerely hope that's not the future you want for us Mr Cameron, but when you rush through privacy-invading laws that breach European human rights, just like your Eastern friends, you have me worried.
But in respect of your position as our illustrious leader, let me pass along a message that's plain as day. From myself and the hundreds and thousands of readers of this website which have told us privately and publicly (along with many insults aimed at your person):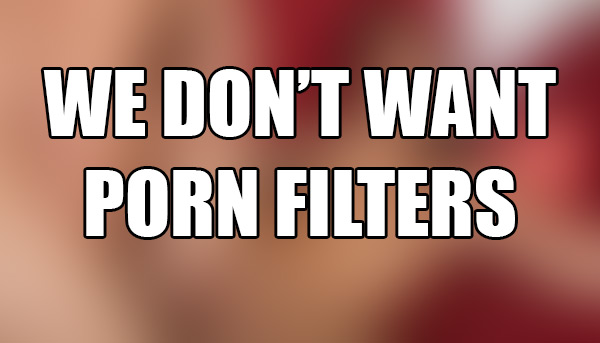 And that's not because we're some sort of porn addicts, or like the idea of children being corrupted by images designed by and for adults, but because we want the choice to block it ourselves and have the freedom to make our own decisions. Those living in homes without children shouldn't need to abide by the same restrictions as those in houses with children. Parents that choose to only let their children use a computer in a family setting don't need these filters. Parents that talk to their children about porn and are ok with them testing the waters on their own, don't need filters.
We're all different Mr Cameron. We all have different jobs and different lives and different ideas about how we want to raise our children. If you choose to filter your home internet to protect your children that should be your right to do so. Just as I can choose not to implement them so that me and my wife can look at what we want online without having to find a proxy first.
Let people find their own path to parenting and we're much more likely to come up with solutions that work, instead of hammering home the one idea that technologically, is no better than burying your head in the sand.
Discuss on our Facebook page, over HERE.
KitGuru Says: Of course this piece is largely satirical, Mr Cameron is never going to read this. But YOU did, and you can help combat these sorts of restrictions by contacting your MP and telling them you don't want them.