Update: Mt Gox has now posted a message on its site that reads:
Dear MtGox Customers,

In light of recent news reports and the potential repercussions on MtGox's operations and the market, a decision was taken to close all transactions for the time being in order to protect the site and our users. We will be closely monitoring the situation and will react accordingly.

Best regards,
MtGox Team
You would assume it would "closely monitor," it's own downfall, but perhaps that's something lost in the translation.
Original story: It looks like one of the world's biggest Bitcoin exchanges, Japan's Mt Gox, is closing down for good, as in the wake of a leaked internal document that revealed that a bug in the system had allowed over 700,000 bitcoins to be stolen over several years, it's website has disappeared, its Twitter has been all but deleted and the owner has stepped down from his seat on the board of the Bitcoin Foundation, a digital currency advocacy group.
The document in question is titled "Crisis Strategy Draft," and outlines that while the bitcoin malleability issue was recently discovered and shored up thanks to a fix from Blockchain, Mt Gox may have lost as many as 744,408 bitcoins over the past few years while the error wasn't accounted for. It goes on to suggest that Mt Gox was practically bankrupted it eventually, with the "cold storage (…) wiped out due to a leak in the hot wallet." While this shouldn't necessarily be possible, due to cold storage wallets almost always being kept offline, clearly in this instance a security lapse left Mt Gox penniless.
While some have questioned the validity of the document, several other contributing factors point the finger at a Mt Gox closure. There's the fact that other exchanges have come back online and begun allowing withdrawals in the wake of the recent bitcoin security issue – which saw everyone, including Silk Road hit by thefts – whereas Mt Gox has not, leading to its internal trading bitcoin value to bottom out. Similarly the Mt Gox Twitter has been wiped clean. Though the account is still active, there's not a single tweet on it. The official website is also showing a blank page.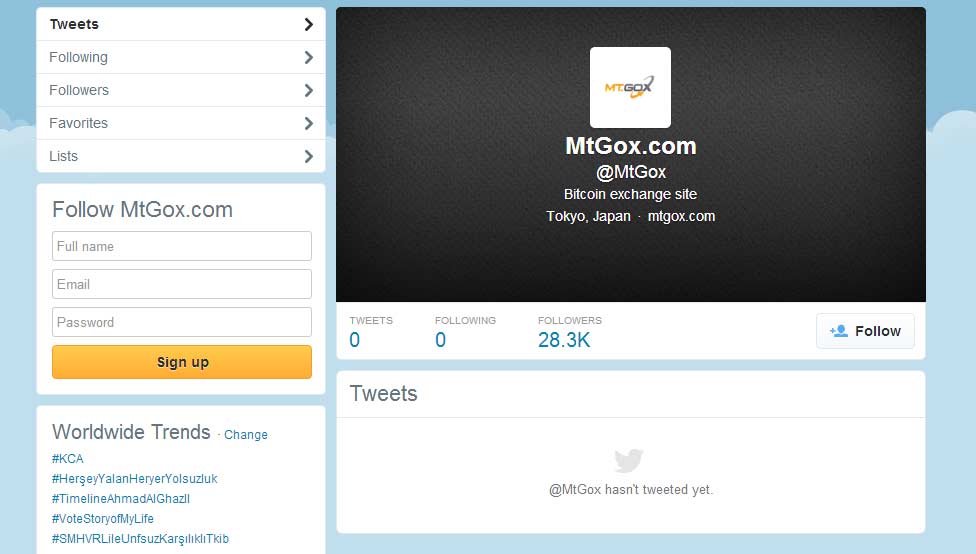 "…hasn't tweeted yet." Or more accurately, it hasn't tweeeted since it deleted all of its tweets. 
Often with the closure of big bitcoin wallets and depositories, the speculation begins shortly after, suggesting that the owners have done a runner with the coins instead of handing them back to the community. While that may not be entirely untrue, according to the internal document – which has yet to be officially ratified – the reason Gox hasn't spoken out about the theft, is because of fears of how it would affect the public's view on bitcoin.
"We believe in the value of Bitcoin, its potential to change the world, and its principles of transparency. Most importantly we care about the customers of MtGox and other bitcoin-basedbusinesses who will be affected," it said. "However, with Bitcoin/crypto just recently gaining acceptance in the public eye, the likely damage in public perception to this class of technology could put it back 5~10 years, and cause governments to react swiftly and harshly. At the risk of appearing hyperbolic, this could be the end of Bitcoin, at least for most of the public."
If you're still not convinced Mt Gox most likely isnt' coming back, the other big exchanges have been talking about its impending demise. Coinbase released a big statement on its yesterday, stating that: "Mtgox has confirmed its issues in private discussions with other members of the bitcoin community." However it did add the caveat, that even with Mt Gox heading to landfill, that it's confident bitcoin as a currency and industry will bounce back.
Other exchanges pledged their allegiance to this message, including the CEO's of BTC China, Blockchain.info, Circle, Bistamp.net and Kraken. This hasn't stopped bitcoin's value from dropping below $500 for the first time though, putting bitcoin traders a difficult position. Has the currency bottomed out yet? If so, now is the time to buy, but if there's more bad news on the horizon, would it be better to wait?
KitGuru Says: Bitcoin always seems so exciting from the outside, but I can't imagine having lots of money wrapped up in it. Its too volatile. I'd end up up spending all day watching values and having a heart attack at every dip. 
That aside though, did any of you guys have money locked up in Mt Gox?
[Thanks
TwoBit
]