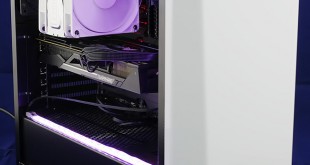 Phanteks has introduced its new Eclipse P400 with a price that starts just above £50. In the world of enthusiast cases that is amazingly cheap. The basic Eclipse P400 is available in black or grey at £52, or you can pay a £3 premium for this white version. Add another £8 for the P400S (Silent) that comes with sound deadening panels, a 3-speed fan controller and extra ventilation in the top cover. And you can choose whether or not you have a window on the main panel.
There is a clear cosmetic similarity between Eclipse P400 and the more expensive Enthoo Evolv models in the Phanteks range, and Phanteks has also carried over a number of features from its previous models to this budget Eclipse P400.
Watch via our VIMEO Channel (Below) or over on YouTube at 1080p50 HERE
Specifications:
Motherboard support: E-ATX, ATX, Micro-ATX, Mini-ITX.
Expansion slots: 7.
Included fans: 1x 120mm front intake, 1x 120mm rear exhaust.
Fan mounts: 2x 140mm or 3x 120mm front, 2x 120/140mm roof, 1x 120mm rear.
120mm radiator mounts: 120mm/240mm/360mm front, 120mm rear.
140mm radiator mounts: 140mm/280mm front.
5.25″ drive bays: None.
Internal drive bays: 2x 3.5/2.5″, 2x 2.5″. Option to add five more 3.5/2.5″
Dimensions: 465mm x 210mm x 470mm.
Pull off the two side panels as well as the pop-on front panel and you can see the innards of the case laid bare. There is a 120mm fan at the front that will probably need to be ditched if you choose to install a liquid cooler, or you might instead move it to the roof of the case. In the floor of the case there is a fixed power supply cover that doubles up as a cable management cover. On the reverse side of the motherboard tray you'll find two SSD bays and at the front of the case there are two drive caddies that can accommodate either 2.5-inch or 3.5-inch drives. The only downside here is the absence of an optical drive bay.
The top panel of the case is minimalist and carries the Power button, two USB 3.0 ports and a pair of headset jacks. If you look closely inside the top air intake vent you will see there are two more buttons; one is the Reset and the other controls the lighting system and allows you to toggle through ten colours. This is pretty damn exciting news for a budget case and the glow from the LED strip at the front of the case combined with the illuminated power button is a winner, however that is only part of the story.
You can extend the lighting system with the same Phanteks RGB strip used in the Enthoo Luxe case (one metre kit costs £14 and two metres £17) which increases the price of the case to a modest £70.
As you will see in our video we went for a more dramatic approach as the lighting connector used by Phanteks is compatible with the Asus Aura system so we naturally selected a £290 Asus Maximus VIII Formula motherboard along with a £300 Intel Core i7-6700K and £450 Sapphire Nitro R9 Fury. We tied the system together with a £200 Seasonic Silent Snow 1050W power supply, 8GB of Corsair LPX Vengeance DDR4-3200MHz memory and a SanDisk Extreme Pro SSD.
In deference to Phanteks we used their superb PH-TC12DX air cooler rather than a liquid cooling system which might sound a bit peculiar however the CPU was running at stock clock speed and the air cooler did a decent job. The finished PC looks (in our opinion) rather fine and the combined lighting system is absolutely superb. You will need to watch the video (above) to get the full effect.
Building the PC was easy as there is plenty of space for the power supply and graphics card. Cable management is good and far better than you might expect from a budget case, although it would have helped to have one or two more cable tie anchor points.
Phanteks includes a quick start guide in the package however you can download a complete user guide from their website.
We doubt many people will build a £1500 gaming PC in their Phanteks Eclipse P400 but there is absolutely nothing to prevent you should you get that urge.
Testing
To put this case through its cooling paces we will be using a test system consisting of an Intel Core i7-6700K, Sapphire Nitro R9 Fury and an SSD. This system allows us to produce a substantial amount of heat and effectively test the Phanteks Eclipse P400's cooling capabilities.
For stress testing we use AIDA64 to create the maximum heat output to stress our CPU and GPU.
Test System:
Processor: 4.2GHz Intel Core i7-6700K
Motherboard: Asus Maximus VIII Formula
CPU cooler: Phanteks PH-TC12DX
Memory: Corsair Vengeance LPX DDR4-3200MHz RAM
Graphics card: Sapphire Nitro R9 Fury 4GB
Power supply: Seasonic Snow Silent 1050W
Storage drives: SanDisk Extreme SSD
OS: Windows 10 64-bit.
Acoustic Performance Test Procedures:
We placed our Digital Sound Level Meter one metre away from the case.
The case fans are set to Normal mode in the BIOS.
The Phanteks Eclipse P400's default fan configuration is: 1x 120mm front intake, 1x 120mm rear exhaust fans.
Acoustics Performance
The Phanteks Eclipse P400 is impressively quiet. There is a complete absence of sound deadening material so you can clearly hear the fans spinning however the design baffles the air flow and that prevents the case from becoming noisy or annoying. On the other hand if you choose to pack the case with fans and then crank them to the max you only have yourself to blame.
Cooling Performance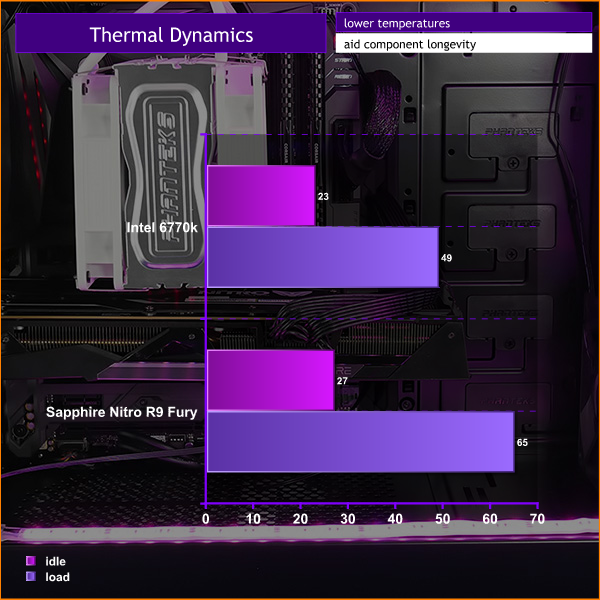 The Phanteks delivers plenty of cooling air, but that is only to be expected when you look at the various perforated panels. Eclipse P400 is intended to inhale air from the front panel and expel it to the rear and the ventilated top panel pretty much guarantees the air will flow one way or the other.
Closing Thoughts
The Phanteks Eclipse P400 is a killer budget case. It may lack the sophistication of the more expensive Phanteks models but it packs a huge list of features at a low price and allows you to do pretty much anything you like with your build. You can plonk an air cooler on your CPU along with a single graphics card and have the build finished in very little time.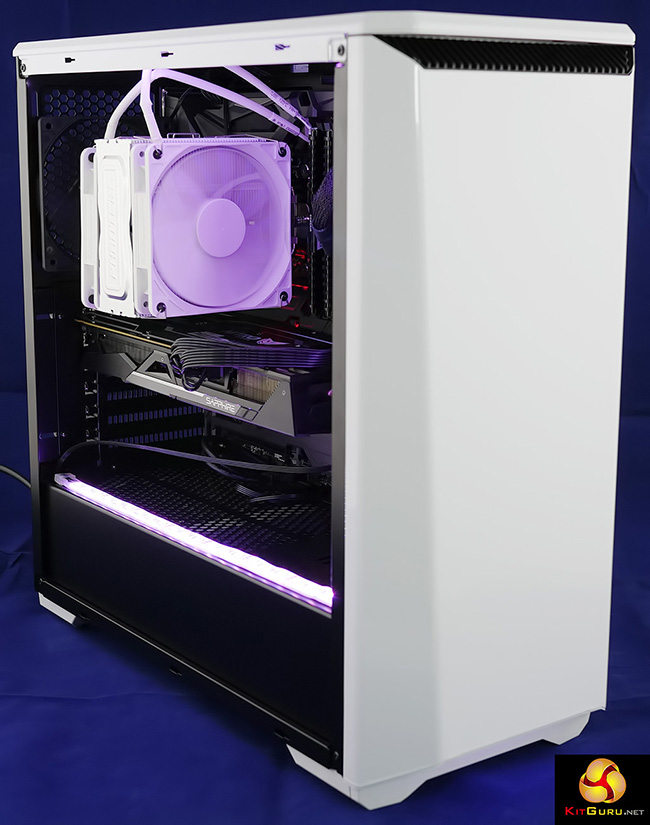 Adding extra drive bays is quick and simple if you have left the front of the case empty.
Alternatively you can opt for an All-In-One liquid cooler with very little extra effort or construct a custom loop for maximum effect.
We had a superb time playing with the lighting and Asus Aura feature. This is the only PC your reviewer has built for KitGuru that got the thumbs up from teenagers in the household. Quote "It's pretty sick. Innit."

You can buy from Overclockers UK HERE and see the full range of Phanteks cases over HERE.
Discuss on our Facebook page, over HERE
Pros:
Supplied with a decent number of drive bays.
Good cable management.
Built in ten colour LED light kit.
Proper air filtration.
You can add optional drive bays.
Easy to add a radiator up to 280mm with a maximum limit of 360mm.
Low price.
LED light kit can be extended.
Lights can be connected to Asus Aura system.
Cons:
A few more cable tie anchor points would be handy.
No optical drive bay.
KitGuru says: Phanteks has broken new ground with Eclipse P400 and delivered a budget case that is a winner.