In Ryzen 3, AMD has delivered another strong addition to its current mainstream CPU line-up that reduces the cost of entry to the enticing AM4 platform. Giving budget-conscious buyers a true quad-core CPU with modern architecture and a strong upgrade path for a little over £100 is what Ryzen 3 brings to the table. And the performance that the 1300X, in particular, delivers is punching against Intel CPUs in a higher weight class in many scenarios.
Stock performance from both the 1200 and the 1300X is positive in computational workloads. Four true cores deliver performance that outpaces Intel's competing 2C4T i3 chips whilst also proving competitive against higher-priced i5s when the unlocked multiplier of Ryzen is leveraged. High-speed – 3200MHz – memory support on budget motherboards is a significant factor that aids the performance of Ryzen 3.
Looking at the above table which shows performance per £ (or bang-for-buck, if you prefer), Ryzen 3 hits a strong value position. That point is particularly true for the cheaper 1200 that can be overclocked with the bundled cooler to frequencies in excess of 3.7GHz.
Equally as important as the strong bang-for-buck that Ryzen 3 offers is the fact that its value as a gaming CPU is clear. Gaming performance from both the 1300X and the 1200 is strong even in comparison to Intel's price point competitors. However, the budget gaming king still looks to be the Kaby Lake Pentium G4560 when examining the landscape from a value – or FPS per £ – perspective.
Taking the Pentium G4560's competitiveness into account, Ryzen 3 cannot be called an outright champion in terms of value. However, the 4C4T AMD chips can be thought of as a good value option which strike a positive balance between computational proficiency and gaming performance. That's before multiplier-unlocked overclocking is added into the equation.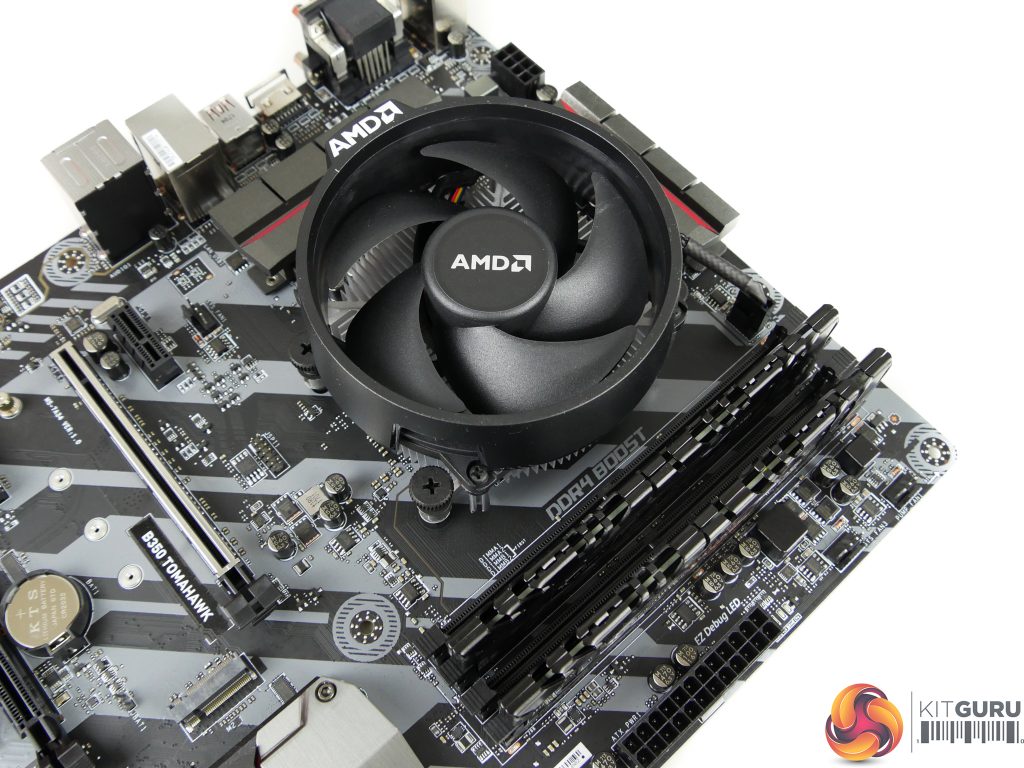 Another clear strength for Ryzen 3 is the AM4 platform it slots into. With budget motherboards allowing for CPU and memory overclocking, 10Gbps USB 3.1 Gen 2 connectivity, and upgrade routes to an eight-core Ryzen 7, Ryzen 3 and a low-cost B350 offering can be seen as a good starting point for cash-strapped buyers.
At a comparable price point, Intel motherboards are forbidden from overclocking, do not support DDR4 faster than 2400MHz, and are unlikely to be equipped with USB 3.1 Gen 2 connectivity. You do, however, still get an upgrade path to the fast Core i7-7700K.
Where Intel does, however, draw a trump card is in the iGPU department. To users with basic display needs, Intel's competing chips and their iGPU can be useful. The basic HD610 or HD630 graphics on the Pentium G4560 and Core i3-7100, respectively, can allow budget buyers to build now and save up longer for a more powerful gaming GPU.
Personally, I would have to think twice before putting Ryzen 3 in my UnRaid servers, given its lack of iGPU. AMD will have APUs to fight that battle but they generally invest resources away from the CPU portion of the chip onto a powerful, gaming-capable GPU section that will be overkill to many users.
Aside from the obvious value victory for the sub-£80 2C4T Pentium G4560, another area where Intel's competition outdoes AMD's Ryzen 3 is power consumption. The Intel chips are far more efficient and demand significantly less power under load. Even on a Cinebench rendering performance per Watt scale, Intel's price competitors outdo Ryzen 3.
Thankfully, AMD's stellar Wraith Stealth cooler manages the chips' thermal loads well and is noticeably quieter and more premium than Intel's competing offering.
The Ryzen 3 1300X will be available for £124.99. The Ryzen 3 1200 will be available for £104.99 (but is currently cheaper at Overclockers UK). We think these price points are fair for Ryzen 3. They offer better value than Intel's Core i3 line-up and deliver a true, modern quad-core solution for just over £100. Intel's Kaby Lake Pentium G4560 still holds the value crown but there are numerous scenarios where a little extra expenditure on AMD's Ryzen 3 makes sense.
Discuss on our Facebook page HERE.
Pros:
Competitive price versus performance.
Significantly lowers AM4 and Ryzen platform entry cost.
Good 1080P60, 1440P60, and slightly higher refresh rate gaming performance at stock and when overclocked.
Unlocked overclocking multiplier.
High-speed memory support (DDR4-3200, for example) with budget chipset motherboards.
On-chip PCIe 3.0×4 NVMe storage link.
Benefits from the excellent AM4 platform – native USB 3.1 Gen 2, cost-effective motherboards, upgrade routes to Ryzen 5 and 7 CPUs.
Wraith Stealth cooler does a stellar job.
Cons:
Power consumption is significantly higher than Intel competitors.
Intel's bargain Pentium G4560 remains a tough thorn in AMD's side.
Lack of iGPU compared to Intel competitors may limit some possible applications or troubleshooting approaches.
KitGuru says: Another positive Ryzen product launch from AMD that gives Intel very tough competition against the Core i3 processors. Ryzen 3 is well-balanced with strong computational and gaming performance and decent gains to be had through overclocking. Despite Ryzen 3's affordable pricing and cost-effective AM4 platform, Intel's bargain basement Pentium G4560 remains a thorn in AMD's side.