Cinebench
Cinebench is an application which renders a photorealistic 3D scene to benchmark a computer's rendering performance, on one CPU core, all CPU cores or using the GPU. We run the test using the all-core CPU and single-thread CPU modes.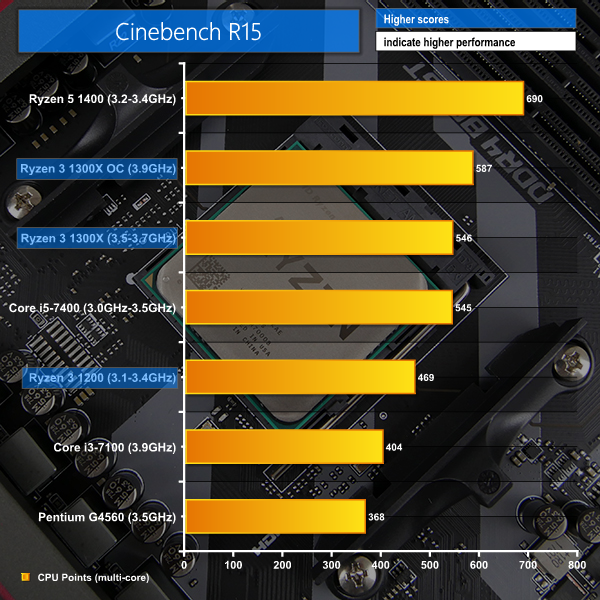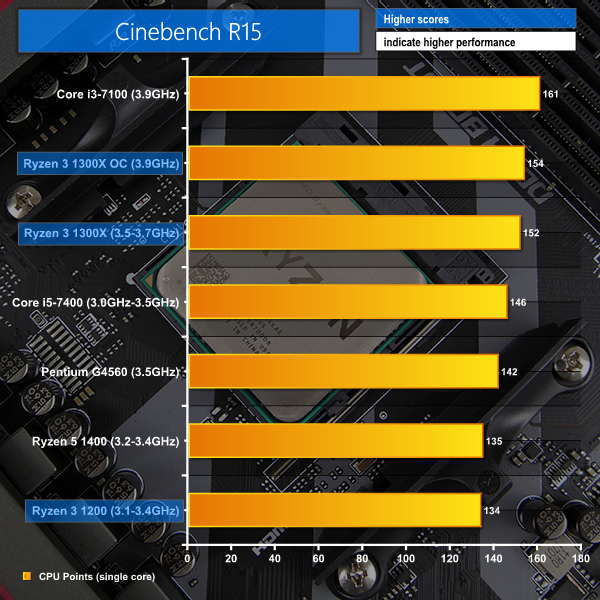 Handbrake Conversion
Handbrake is a free and open-source video transcoding tool that can be used to convert video files between different codecs, formats and resolutions. We measured the average frame rate achieved for a task of converting a 6.27GB 4K video using the Normal Profile setting and MP4 container. The test stresses all CPU cores to 100% and shows an affinity for memory bandwidth.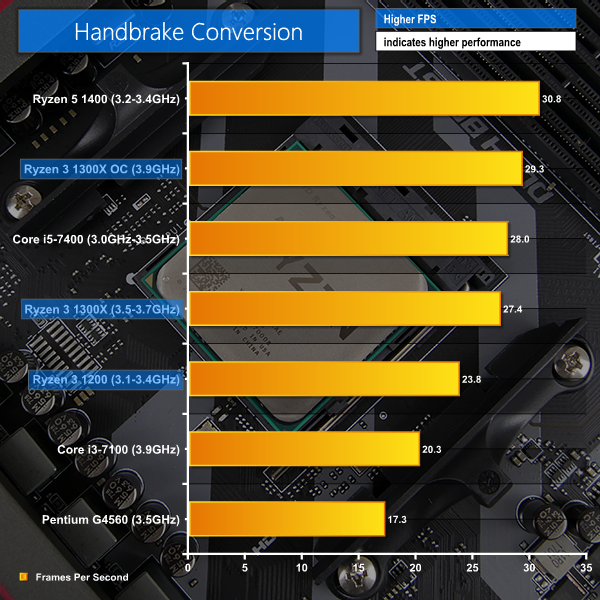 x265 Encoding

x265 Encoding tests system performance by encoding a 1080p test file using the x265/HEVC format.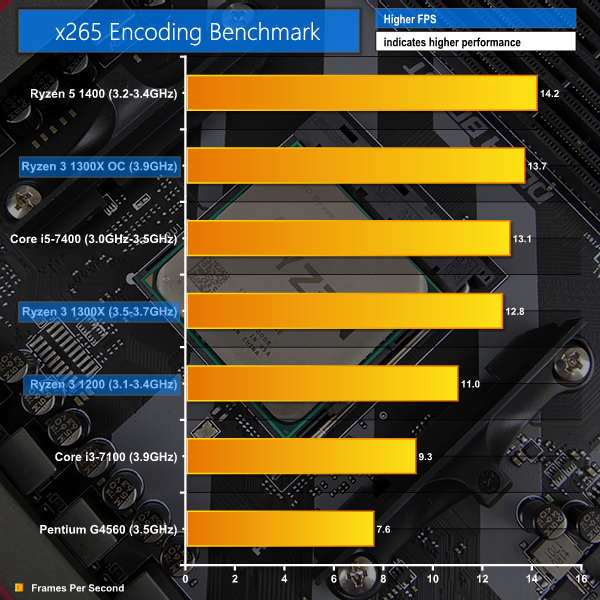 Overview:
Cinebench shows the benefits of having four true cores when it comes to CPU rendering tasks. Ryzen 3 1200 holds a noteworthy performance lead (16%) over its Core i3 competitor while the AMD chip is 27% quicker than the cheap Pentium. AMD's higher-clocked 1300X battles fiercely against Intel's significantly more expensive Core i5-7400. Single-thread performance is clearly Intel's domain and the fast Core i3 wins this test.
The performance per £ data from Cinebench shows Ryzen 3 to be scoring well. Only the Pentium G4560 can outdo the Ryzen chips. Using data from the 3.9GHz 1300X, as well as the knowledge that our 1200 overclocked to 3.9GHz, a £105 Ryzen 3 1200 CPU overclocked to 3.9GHz will deliver superb performance value in Cinebench.
Handbrake again shows the benefit of four true cores, with both Ryzen 3 chips outperforming the Core i3-7100 (by 17% for the 1200 and 35% for the 1300X). Overclock the 1300X to 3.9GHz (as well as the 1200, by extension), and performance improves to a level that beats the more expensive Core i5-7400 by 5%.
X265 encoding paints a similar picture to Handbrake. The Ryzen 3 1200 is 45% quicker than the cheap Pentium and 18% better than the similarly-priced i3-7100. Ryzen 3 1300X is close to the Core i5-7400 at stock and beats the more expensive chip when overclocked to 3.9GHz (which the 1200 can also clock to).
If it's computational performance on a strict budget that you are after, AMD's Ryzen 3 CPUs deliver significantly better performance than an entry-level Core i3 and can offer i5-7400-beating performance when overclocked. Not bad for a couple of £105 and £125 quad-cores.