3DMark
3DMark is a multi-platform hardware benchmark designed to test varying resolutions and detail levels of 3D gaming performance. We test using the Time Spy benchmark which gives an indication of DirectX 12 performance.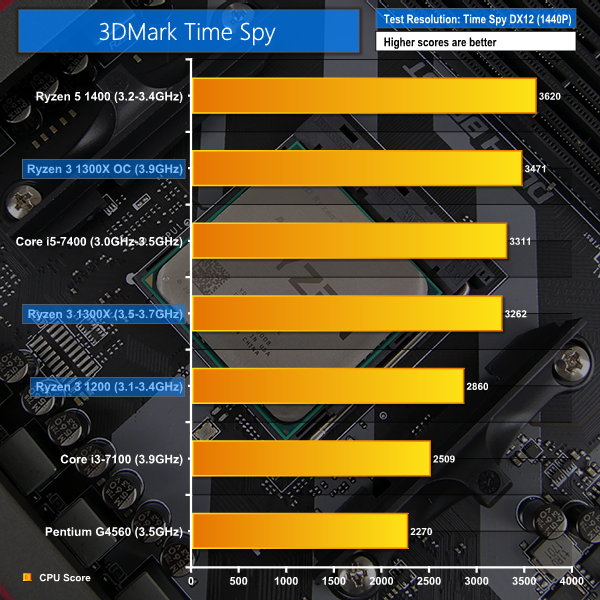 Grand Theft Auto V

Grand Theft Auto V remains an immensely popular game for PC gamers and as such retains its place in our test suite. The well-designed game engine is capable of providing heavy stress to a number of system components, including the GPU, CPU, and Memory, and can highlight performance differences between motherboards.
We run the built-in benchmark using a 1080p resolution and generally Maximum quality settings (including Advanced Graphics). Note: GTA V shows small variations in the reported minimum FPS numbers. As such, the minimum FPS result should be interpreted with care and small differences between competing products should be counted as equal performance.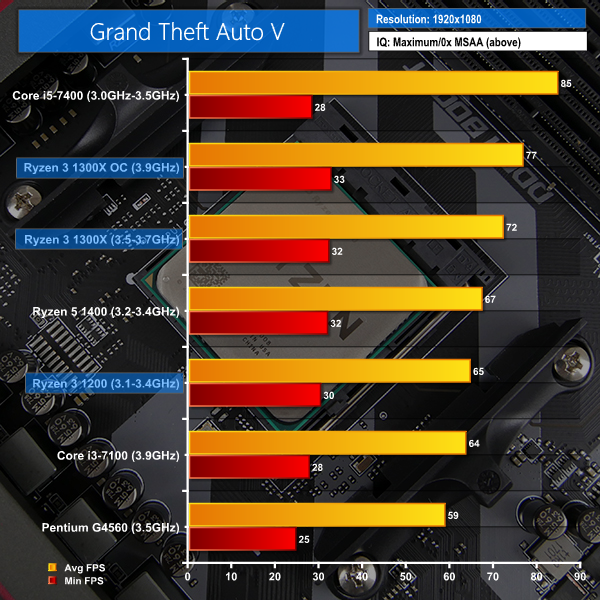 Metro: Last Light Redux

Despite its age, Metro: Last Light Redux remains a punishing title for modern computer hardware. We use the game's built-in benchmark with quality set to Very High, SSAA enabled, AF 16X, and High tessellation.
Note: Metro: Last Light Redux shows high levels of variation in the reported minimum FPS numbers. As such, the minimum FPS result should be interpreted with care.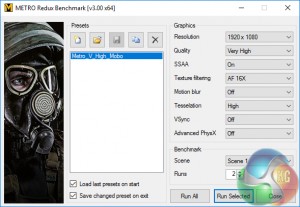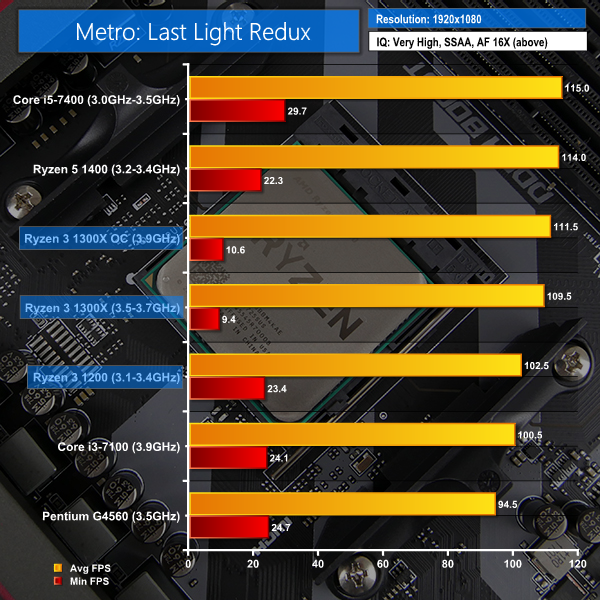 Gaming Performance Overview:

3DMark Time Spy is well optimised to take advantage of cores and threads. As such, Ryzen 3 1200 sits above the dual-core, hyper-threaded Core i3-7100 in the performance chart. Ryzen 3 1300X is a close match for the Core i5-7400, with AMD's chip outgunning the more expensive Intel offering with an overclock applied.
Grand Theft Auto V is known for its preference towards Intel CPUs. However, Ryzen 3 manages to overcome that disadvantage, with the 1200 offering closely-matched performance to the Core i3-7100. While the Ryzen 3 1300X cannot match Core i5-7400 performance levels, the Ryzen 3 chip's enhanced clock speed over the 1200 shows the benefit of CPU overclocking in this game. Taking a quad-core Ryzen 3 from 3.1GHz all-core to 3.9GHz all-core nets an 18% average FPS increase. Also worth noting is the minimal benefit that SMT on the Ryzen 5 1400 offers.
Metro generally shows GPU bottlenecks around the 120 FPS mark with our settings. However, the chips on display today hit their limit below such an FPS level. Ryzen 3 1200 puts up a strong fight by outperforming the similarly-priced Core i3-7100. Ryzen 3 1300X manages higher performance and closes the gap heavily against the Core i5-7400. Intel's Pentium G4560 is at the bottom of the chart, but not by a significant margin given its low price.
Thus far, Ryzen 3 gaming performance looks positive. The provision of four full cores and good clock speeds, particularly for the 1300X, translate into strong gaming performance that generally outperform Intel's 3.9GHz Core i3-7100. The Core i5-7400 is generally faster but it is also more expensive while the Pentium G4560 is generally slower but it is cheaper.