The market for people buying a cost-effective CPU and using it with a GTX 1080 Ti for gaming at 1080p is likely to be very slim. What 1080p does is give a good indication of the CPU's raw gaming performance as GPU power is sufficient to push frame rates to a level where the CPU and memory limitations can be observed.
We supplement the GTX 1080 Ti-based 1080p gaming results with a pair of games tested at 1440P using a far more sensible GTX 1070 graphics card. Before the pricing of graphics cards went crazy due to shortages, the GTX 1070 was a good value option to gamers looking for a 1440P-capable GPU that sits happily alongside a cost-effective CPU. By extension, the RX 580 would have made a good partner for these lower-cost CPUs but we did not have one of the AMD-based cards at hand.

We chose Ghost Recon Wildlands and GTA V as they are computationally-heavy, open-world games with good built-in benchmarks.
Ghost Recon Wildlands

We run the built-in benchmark using a 1440P resolution and the same settings as the 1080p test (Very High preset).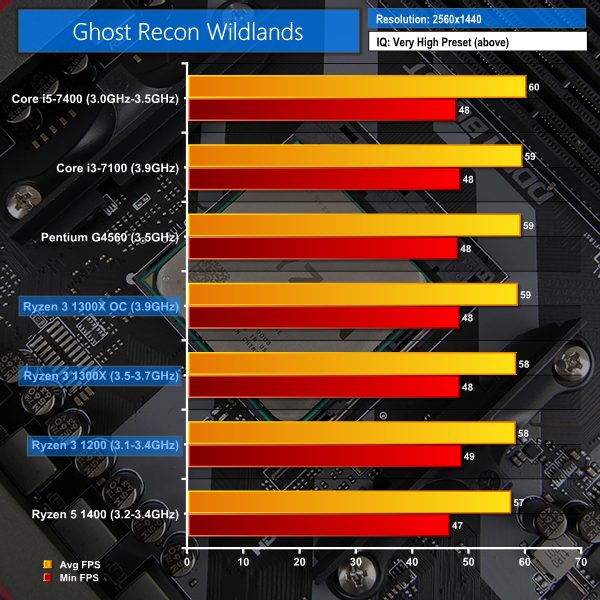 Grand Theft Auto V

We run the built-in benchmark using a 1440P resolution and the same settings as the 1080p test (generally Maximum quality settings including Advanced Graphics).
Note: GTA V shows small variations in the reported minimum FPS numbers. As such, the minimum FPS result should be interpreted with care and small differences between competing products should be counted as equal performance.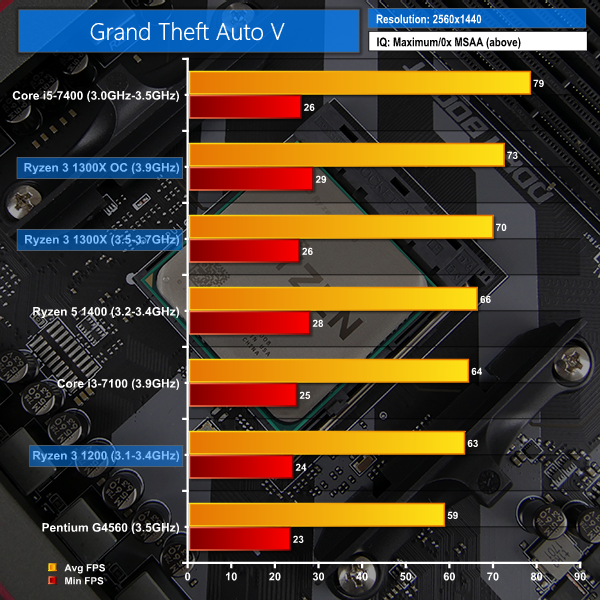 1440P Gaming Performance Overview:
There's little to distinguish between the CPUs at 1440P with a GTX 1070 in Ghost Recon Wildlands. Any chip will do if this is your game of choice and you're targeting 60 FPS average.
However, GTA V paints a different picture. The Core i3-7100 and Ryzen 3 1200 are both very well matched in average frame rates, with the Pentium G4560 slightly behind. But the faster Ryzen 3 1300X, as well as Ryzen 3 overclocked to 3.9GHz, push past 70 FPS average at 1440P with a GTX 1070.
Put simply, there's no harm in opting for a Ryzen 3 chip if you pair it with a 1440P 60Hz display and a sensible graphics card like the GTX 1070 (before GPU pricing went crazy). Ryzen 3 will not act as a significant bottleneck for the GPU in this scenario. That performance allows a buyer to re-allocate budget in order to be able to afford the 1440P monitor or upgrade to a GTX 1070 instead of buying a more expensive Intel or AMD chip.