Skylake is the 'tock' phase for Intel's 14nm manufacturing process. What that means is that Skylake introduces a new architecture based on a manufacturing process node introduced by its predecessor (Broadwell).
But Broadwell was very much a mobile-first chip design, so Skylake's most potent competitors are likely to be the venerable Devil's Canyon chips and their Haswell architecture, notably the i7-4790K.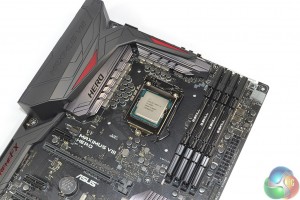 We will be outlining the Skylake Core i7-6700K and Core i5-6600K CPUs' performance while using an Asus Maximus VIII Hero Z170 motherboard. We expect the Skylake 6700K to show slight performance improvements over the Devil's Canyon 4790K thanks to the former's newer architecture. It will be interesting to see how the i7-6700K competes with the closely-priced Haswell-E 5820K and its six hyper-threading cores.
A 16GB (4x4GB) kit of G.Skill's new Ripjaws V DDR4 memory serves our test system. The kit's rated frequency of 3200MHz with CL16 timings should ensure that memory-induced bottlenecks are removed.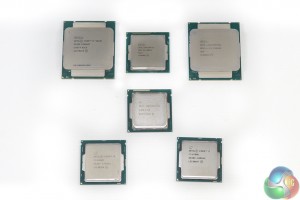 Today's comparison processors come in the form of a Devil's Canyon i7-4790K, Haswell-E i7-5820K, and Haswell-E 5960X. These form some of the best and most popular CPUs in their respective pricing ranges and product hierarchies.
We would have liked to include comparison data from Intel's recently-released 14nm Broadwell Core i7-5775C CPU, as well as some older Ivy Bridge Core i5 and Sandy Bridge Core i7 models. Unfortunately the compressed time scale that these product launches take place in meant that we simply had not enough time to test those additional comparison models.
As such, we will be producing a follow-up article which focuses on a few points, such as gaming, and includes comparisons from a broader range of CPUs. Check back soon for that piece.
CPU-Z has trouble tracking the CPU's voltage, so instead we carefully used Asus' AI Suite 3 software to gather recordings. AI Suite 3 reported stock-clocked voltage levels of 1.20-1.25V depending on whether the CPU was idling or under heavy load.
Applying XMP settings with Asus' motherboard gives the option for multi-core turbo (MCT) to be enabled. MCT locks all of the CPU cores at the maximum turbo frequency at all times. This provides greater performance at the expense of increased power consumption and load temperatures. We tested using MCT settings for all of the CPUs.
CPU Test System Common Components:
Graphics Card: Nvidia GeForce GTX 980Ti.
CPU Cooler: Corsair H100i.
Power Supply: Seasonic Platinum 1000W.
Operating System: Windows 7 Professional with SP1 64-bit (and latest updates).
Corsair's H100i and the Seasonic 1000W Platinum provide ample cooling and power to really push the CPU overclocks. Nvidia's GTX 980Ti is, excluding the Titan X, the fastest gaming GPU on the planet, making it ideal to alleviate GPU-induced bottlenecks.
Polls on our main site and discussion on the Facebook page have shown that Windows 8 (and 8.1) has been incredibly unpopular amongst our readers. That left us with the decision between Windows 7 and Windows 10 for our test system. With the CPU benchmarking being conducted so close to Windows 10's launch, we decided that playing-it-safe with the tried-and-tested Windows 7 OS was the best way of ensuring consistent, accurate, bug-free test results.
Skylake 6600K & 6700K System:

6600K CPU: Intel Core i5-6600K 'Skylake' (Retail) 4 cores, 4 threads (3.9GHz stock MCT & 4.5GHz @ 1.35V overclocked).
6700K CPU: Intel Core i7-6700K 'Skylake' (Retail) 4 cores, 8 threads (4.2GHz stock MCT & 4.7GHz @ 1.40V overclocked).
Motherboard: Asus Maximus VIII Hero (LGA 1151, Z170).
Memory: 16GB (4x4GB) G.Skill Ripjaws V 3200MHz 16-16-16-36 DDR4 @ 1.35V.
System Drive: Crucial BX100 250GB.
Haswell-E 5820K System:

Haswell-E 5960X System:

Devil's Canyon 4790K System:

Software:
Asus Maximus VIII Hero BIOS v0017 (latest).
GeForce 353.30 VGA drivers.
Tests:

Super Pi – 32M test (CPU)
Cinebench R15 – All-core & single-core CPU benchmark (CPU)
7-Zip 15.05 beta – Built-in benchmark and manual video archival (CPU)
HandBrake 0.10.2 – Convert 1.23GB 1080P game recording using the High Profile setting and MP4 container (CPU)
SiSoft Sandra 2015 SP2b (v2142) – Processor arithmetic, cryptography, memory bandwidth (CPU & Memory)
3DMark 1.5.915 – Fire Strike Ultra (System)
PCMark 8 v2.4.304 – Home – OpenCL accelerated (System)
Grand Theft Auto V – 1920 x 1080, near-maximum quality (Gaming)
Middle Earth: Shadow of Mordor – 1920 x 1080, ultra quality (Gaming)
Metro: Last Light – 1920 x 1080, very high quality (Gaming)
Tomb Raider – 1920 x 1080, maximum quality, TressFX disabled (Gaming)