AMD had an excellent year in the CPU market with the launch of Zen in 2017. The first generation Ryzen processors exceeded expectations and ended up giving the competition a serious run for their money. So what can AMD bring to the table this year to keep the pressure on? We've already heard a little bit about Ryzen 2000 in the months leading up to launch, but today AMD is making everything official, with pre-orders going live.
The Ryzen 2000 series is based on AMD's refined Zen+ architecture. For the 2nd generation, AMD has shrunk the die from 14nm to 12nm, which results in faster transistors and some clock speed boosts. We also get some new features, with Precision Boost 2 getting a better algorithm to boost individual core clock speeds and XFR2, which allows more cores to boost higher.
AMD's Ryzen Master software has also been updated to include a feature that determines which core has the best overclocking potential. While most users will likely want a steady overclock across all cores on their CPU, the option is there to push one or two of them further than the rest, which will help in some applications.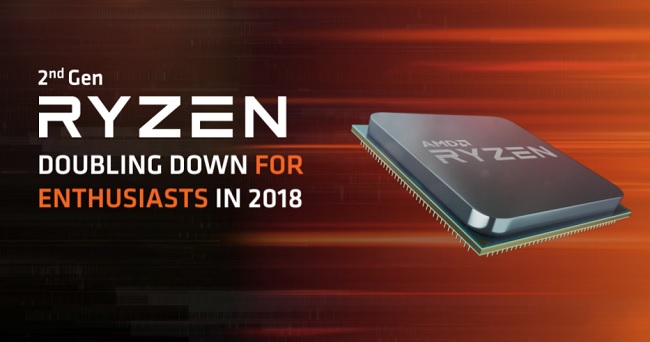 There are four 2nd Gen Ryzen processors hitting the market to start off with, you can view each one, alongside specs and pricing, in the table below:
| | | | | | | | |
| --- | --- | --- | --- | --- | --- | --- | --- |
| CPU | Cores/Threads | Base/Boost (GHz) | Smart Prefetch Cache | TDP | Cooler | Suggested Retail Pricing (USD) | Availability |
| Ryzen 7 2700X | 8/16 | 3.7/4.3 | 20MB | 105W | Wraith Prism (LED) | $329 | April 19th |
| Ryzen 7 2700 | 8/16 | 3.2/4.1 | 20MB | 65W | Wraith Spire (LED) | $299 | April 19th |
| Ryzen 5 2600X | 6/12 | 3.6/4.2 | 19MB | 95W | Wraith Spire | $229 | April 19th |
| Ryzen 5 2600 | 6/12 | 3.4/3.9 | 19MB | 65W | Wraith Stealth | $199 | April 19th |
Each 2nd Gen Ryzen CPU comes with its own cooler out of the box. The two Ryzen 7 CPUs get RGB coolers, which appear to be made by Cooler Master, judging by the RGB software we saw at the briefing earlier this week.
Aside from the launch of new CPUs, today also sees the launch of AMD's X470 chipset, so expect a slew of new motherboards to also hit the market. If you already have an X370 motherboard, then you'll be able to drop in a 2nd Gen Ryzen CPU and have it all work correctly. However, some X370 boards may not be able to utilise updated features like Precision Boost 2 and XFR2.
AMD has said that Socket AM4 will be supported until 2020. The X470 chipset is still made in collaboration with ASMedia, and aside from guaranteed support for updated features, the other advantage it brings is a free copy of AMD's StoreMI software, which allows you to use a portion of your SSD as a super fast cache to boost HDD loading times.
Reviews aren't going live just yet, but we currently have our 2nd Gen Ryzen gear in for testing, so expect more information on that front soon. In the meantime, Leo has a big unboxing going up on the site shortly, featuring the Ryzen 7 2700X and Ryzen 5 2600X, as well as a few X470 motherboards from ASUS, MSI and Gigabyte, so keep an eye out for that!
KitGuru Says: AMD's 2nd Gen Ryzen processors are landing in less than one week, alongside X470 motherboards. Will any of you be upgrading? Do you have a particular CPU in mind already?